High-Stakes Poker Community Strikes Big on Floyd Mayweather Fight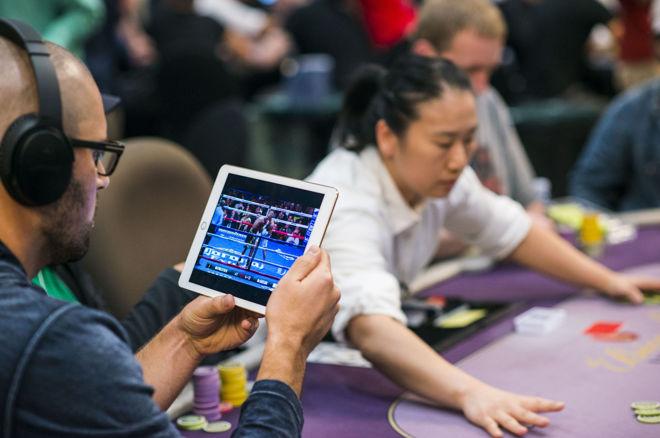 While Flight 1b of the World Poker Tour Legends was taking place at The Bicycle Casino on Saturday, several high-stakes poker pros, including some former WPT champions, were at the Bike Brewery enjoying a free viewing party to see what many have called the fight of the century: the "Money Fight" between Floyd Mayweather and Conor McGregor.
In an unprecedented match, undefeated boxing great Mayweather came out of retirement to take on UFC phenom McGregor at the T-Mobile Arena in Las Vegas. While Mayweather began as a heavy betting favorite with odds reported at -2250 in November of last year (bet $2,250 to win $100), Mayweather's odds got down to around -375 (bet $375 to win $100) just moments before the fight. While the majority of the money was being placed on Mayweather, by far more bets, albeit smaller ones, were being wagered on the entertaining Irish UFC champion.
A few familiar faces from the WPT family shared their picks on the fight during the viewing event at The Bike, and needless to say, as people entrenched in the poker community, the money was on the favourite.
Poker Pros Go for Mayweather
Kristy Arnett was pulling hard for Mayweather, but she was a bit biased. Her husband, professional poker player Andrew Moreno, placed a bet on Mayweather that represented 50 times his previous largest sports bet. In all fairness, his previous biggest bet was for $100, but still, it's a sizable gamble.
After convincing Arnett to support the bet, Moreno said, "It would be really good for my relationship if Mayweather wins."
When asked what prompted him to go for it, Moreno responded, "Well the entire poker community… we're all gamblers at heart, and I think most of us see a plus EV situation—"
"It's not about winning or losing, it's about piling all the money in at like an 80% favourite."
"Don't blame this on the poker community," Arnett jokingly interrupted.
Moreno continued, "It's not about winning or losing, it's about piling all the money in at like an 80% favourite. That's all I can do. The rest is up to the poker gods, or, the judges."
Arnett ultimately supported the bet and admitted, "I'm still nervous though."
When asked if he was nervous, Moreno said with confidence that he really wasn't. He compared it to when he puts the money in when he feels that it is the correct play in a poker hand.
"I know I'm not always going to win. That's just how my mind works now." He added, "And I have a consolation prize of watching Mayweather lose, if that happens, which is definitely worth $5,000."
WPT Commentator Tony Dunst echoed the sentiments of Moreno. Dunst put in a hefty bet, and despite the line moving quite a bit before the fight, making McGregor less of an underdog, Dunst still felt good about it.
Gotta be sharp to make your largest ever bet on a sport you don't watch. #MayweatherVsMacgregor

— Tony Dunst (@TonyDunstWPT)
"I'm feeling a little apprehensive of course, but at the end of the day, I think it was a good bet however it turns out."
Getting It In Good
When asked why he bet so much, Dunst responded, "A lot of people I knew that I believed were smart, informed people thought it was a good bet. The odds opened at Mayweather being like a 25:1 favorite and Conor McGregor is a guy who has never had a professional boxing match in his life, fighting the best boxer of his generation…"
In poker talk, Dunst explained, "It's not that I think Conor can't win, I just don't think he's going to win all that often."
"You're getting it good, and it doesn't mean you can't lose," Dunst continued. "It's just you see a spot that you think is favorable to you, that is advantageous, so you just try to take it, and you cross your fingers you don't lose."
Moreno and Dunst were definitely not alone in the poker community, and it seemed that many savvy, high-stakes pros were firing big on Mayweather.
On Twitter, Brian Rast was offering to book last-minute action on McGregor, and Bill Perkins and Scott Seiver were looking to place bets on Mayweather minutes before the fight went off.
Jennifer Harman was seeking out some advice from the poker community about whether or not she should go all in on Mayweather.
Should I bet my life savings on Mayweather? I don't know if it's incredibly irresponsible or incredibly responsible.

— Jennifer Harman (@REALJenHarman)
She got mixed responses.
What a McGregor Upset Would Have Meant for Poker
Many joked on Twitter about the devastating effect a McGregor win would have on the high stakes poker community.
Max Silver and Doug Polk provided comical insight into just how much many high stakes poker players invested on Mayweather winning.
If bitcoin crashes and Mcgregor wins tonight we might just see the end of poker

— Max Silver (@max_silver)
If Mayweather loses this fight the high stakes poker scene is going to become the mid stakes poker scene

— gN Doug Polk (@DougPolkPoker)
David Peat also posted a tweet comparing a Mayweather loss to Black Friday, saying it would be even worse for poker.
Though obviously exaggerating the percent of peoples' bankrolls that were wagered (or perhaps not), many poker players did have quite the sweat, especially when McGregor came out very strong in the first few rounds.
Spoken like a true poker player with some gamble in him, the response from Tony Dunst when asked, "And what if you do lose?" says it all.
"Just gamble on something else."
The Rich Get Richer
While the majority of the bets in Las Vegas were placed on McGregor, more money was on Mayweather. It seems that the vast majority of the high stakes poker community also went with the favourite, and it paid off big time. The favourite held up. No suck out. This time.
When a bad beat jackpot of this magnitude hits on a local scale, it usually stimulates the poker economy. But then again, it's not typically the high stakes players getting the bankroll boost from the jackpots. It will be interesting to see what, if any, effect the Mayweather win will have in poker.
For Dunst, Moreno, and Seth Davies, who also watched the fight at The Bike Brewery, their wins from the fight may not be life-changing, but they all left that brewery with a smile on their faces. From the looks of Twitter, so did many other high stakes regs.
Photo courtesy of World Poker Tour/Flickr