Dusk Till Dawn Announce £500K DTD 1000 Event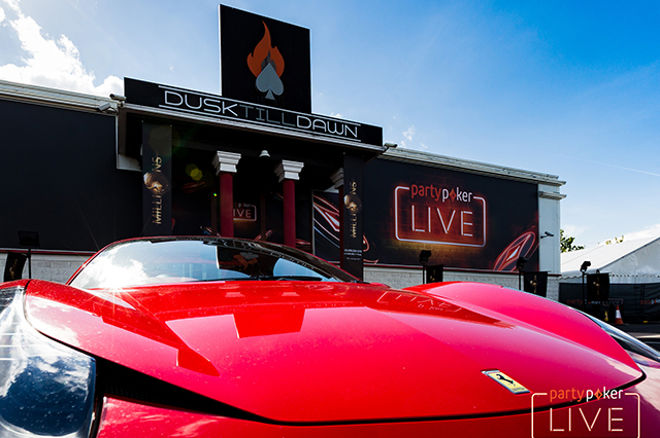 One of the more popular poker tournaments on the British live poker circuit is the DTD 200, a £220 buy-in tournament with a £100,000 guarantee played online at partypoker and live at Dusk Till Dawn in Nottingham.
Now Dusk Till Dawn has announced it is to run a DTD 1000 event during the final weekend of August, a £1,100 buy-in affair with a £500,000 guaranteed prize pool. Thanks to Dusk Till Dawn being in bed with partypoker, it is possible to qualify for the DTD 1000 for a couple of dollars, or even less if players start their quest for glory in the $0.01 buy-in centrolls.
The first two starting flights take place at 9:00 p.m. on Sunday 27 August and Wednesday 30 August at partypoker. These online Day 1s see players sit down with 100,000 chips and play to a superb blind structure that sees the cost of each round increase every 30-minutes. Anyone who navigates their way through eight levels progresses to the Live Day 2 on Saturday 2 September.
Online Day 1s cost $1,450 to enter as partypoker's client is set to U.S. dollars
There are also two live Day 1s taking place at Dusk Till Dawn, Nottingham at 5:00 p.m. on Thursday 31 August and Friday 1 September. Like their online counterparts, these Live Days 1s cost £1,100 to enter, award 100,000 chips to start, but the clock is set at 60-minutes to account for the difference in speed cards can be dealt.
Day 2 sees players battle it out for 12 levels with the third and final day's play continues until a champion is crowned. Once heads-up is reached, the blinds increase every 30-minutes.
DTD 1000 Schedule
| Date | Start Time | Late Reg | Description | Buy-in | Chips | Clock |
| --- | --- | --- | --- | --- | --- | --- |
| Sun 27 Aug | 9:00pm | 12:15am | DTD 1000 Online Day 1A: £500K Gtd | $1,450 | 100,000 | 30-mins |
| Wed 30 Aug | 9:00pm | 12:15am | DTD 1000 Online Day 1B: £500K Gtd | $1,450 | 100,000 | 30-mins |
| Thu 31 Aug | 5:00pm | 1:45am | DTD 1000 Live Day 1A: £500K Gtd | £1,100 | 100,000 | 60-mins |
| Fri 1 Sep | 5:00pm | 1:45am | DTD 1000 Live Day 1B: £500K Gtd | £1,100 | 100,000 | 60-mins |
| Sat 2 Sep | 12:00pm | 4:30pm | 5:00pm | 1:45am | DTD 1000 Live Day 2: £500K Gtd | £1,100 |
| Sun 3 Sep | 12:00pm | Closed | 5:00pm | 1:45am | DTD 1000 Final Day: £500K Gtd | |
25 x £2,200 UK Poker Championship seats make up part of the £500,000 guarantee
An interesting concept is in play during the live element of the DTD 1000 known as the Button Ante. In an attempt to speed up play, Dusk Till Dawn is removing the need for all players at the table to ante up by making the player on the button pay all of the antes. This system reduces the number of 25 chips needed to be in play which helps all-in situations be counted quicker, reduces the need for the dealer to remind people to post their ante and reduces the need to make change for players at the table if someone is hoarding the low domination chips.
Satellites for the DTD 1000 are running online at partypoker in a three-phased system. The $2.20 DTD1000 Quarter-Finals take place four times every day and feed into the $22 buy-in DTD 1000 Semi Finals that run at least twice a day all week. The DTD 1000 Final shuffles up and deals at 9:00 p.m. every Sunday and awards 20 seats worth £1,100 each; tickets won in the final are valid for 90-days.
Download partypoker via PokerNews, enter the bonus code "UKPNEWS16" when making your first deposit and partypoker will match it 100 percent up to £250. All you need to do then is win your way into the DTD 1000 and play your heart out to secure what is likely to be a £100,000 payday for the eventual champion.