Double Sunday Million Winners Discuss Live Poker Strategy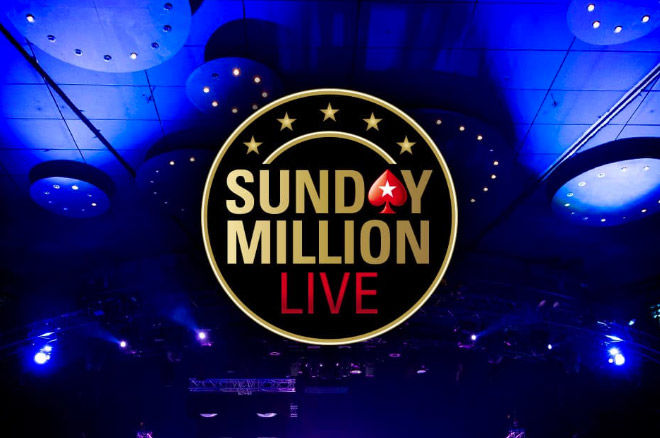 The PokerStars Sunday Million, online poker's biggest weekly tournament, has been running for 11 years and during that time there have been more than 500 champions. Amazingly, only 12 people have managed to take down the event twice, and nobody has yet won the Sunday Million three times.
On Sept. 3, the Sunday Million heads into the live arena for the first time in its history when it takes to the poker tables at King's Casino in Rozvadov, Czech Republic for the inaugural Sunday Million Live. PokerStars players can play a Day 1 online before heading to Rozvadov to complete the tournament in the live arena.
With that in mind, PokerStars quizzed some of the 12 double Sunday Million champions about what it takes to win the Sunday Million and what, if any, tips they have for Sunday Million Live players when they make it through to the live section of the €1 million guaranteed event.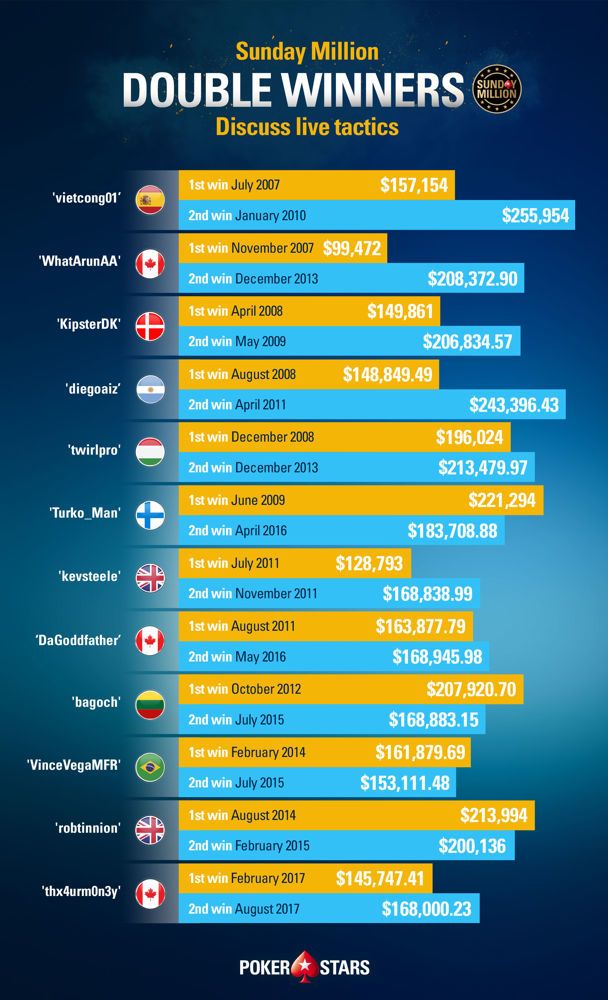 Denmark's Jesper Hougaard was the first double winner of the Sunday Million, taking it down in April 2009 and May 2009 for a combined $356,695. Hougaard said that the "Sunday Million Live is a fun way to change the pace and it's a tournament that both recreational and professional players can enjoy."
Hougaard's approach to the game would be similar for the online and live parts of the tournament. Online, Hougaard would employ a theoretically correct approach based on statistical and mathematical decisions, before adding extra information available to him in the live arena, such as player profiles and live reads and tells.
Canada's "thx4urm0n3y" has come agonizingly close to becoming a three-time winner having won the Sunday Million in Feb. 2017 and again in Aug. 2017 after finishing runner-up in 2014. Being based in Canada means he won't be able to play the Sunday Million Live, but he stated if PokerStars ran a similar concept closer to home he would be there like a shot, sentiments echoed by fellow Canadian "WhatARunnAA," another double Sunday Million champion.
The Canadian's tip for anyone playing in the Sunday Million Live would be to play very aggressively on Day 1 in order to amass a big stack to take into the live arena. This is the same advice dished out by Argentina's Diego Aizenberg, who won the Sunday Million in Aug. 2008 and April 2011 for a combined $392,245.
Rob Tinnion of the United Kingdom won $414,130 by taking down the Sunday Million in Aug. 2014 and Feb. 2015. He advises that playing live poker can be stressful to some players.
"You play faster online so it's easier to deal with; live can be very stressful and people become impatient if they have to wait so long to play a hand so they are more likely to make decisions wrong. Live play is easier as you can read people and you have more information available to you whereas online you only know and can make decisions based on what you can see."
If you want to get involved in the Sunday Million Live event, all you need to do is fire up your PokerStars account and either win your way into one of the Day 1s online or buy in direct for €215. If you don't already have an account with the world's biggest online poker site, download PokerStars via PokerNews, enter the marketing code "PNEWS32" and when you make your first deposit, do so with the bonus code "STARS600" for a 100 percent up to $600 first deposit bonus.