Money Bubble Bursts as 1,084 Advance to Day 4 in WSOP Main Event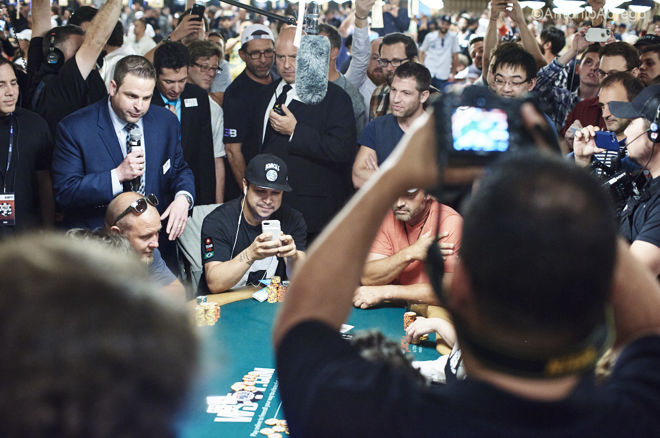 For the first time in the 2017 World Series of Poker Main Event, all of the players still alive in the tournament gathered under one roof on Day 3. There were 2,572 left, and while it took about 14 hours, the money bubble finally burst a little after 1 a.m. local time.
When hand-for-hand play began an hour into the extra level, four different tables saw all-in pots right away. The first two at-risk players, including 2005 WSOP Main Event third-place finisher Tex Barch, found themselves in dominant positions when the cards were tabled and survived.
Roger Campbell, however, got in a raising war on a three-heart flop with ace-king with the ace of hearts. He was all in against Kenny Shih, who flopped a queen-high flush. No further hearts emerged from the deck, leaving Campbell eliminated shy of the money.
At another table, Quan Zhou and Davidi Kitai played a three-bet pot with the Belgian bracelet winner holding kings and making kings full on the river. Zhou tried an all-in overbet bluff on the river with ace-high after missing his gutshot straight draw and got snap-called. With Kitai covering him, that meant Zhou was out on the bubble as well and the remaining players were in the money.
Of course, that set off a raucous celebration that featured plenty of beer and shots going down gullets at tables throughout the Rio. However, there was still the matter of the free seat into next year's WSOP Main Event to settle. Zhou won the flip over Campbell to claim the seat, and everyone else bagged up their chips.
That means 1,084 will come back in the money. Foremost among them in terms of chip stack is Patrick Lavecchia, who bagged 1,552,000. He's followed by Pawel Brzeski (1,546,000), former WSOP Main Event final tablist Antoine Saout (1,529,000), Jeremiah Fitzpatrick (1,523,000), Derek Bowers (1,376,000).
Brzewski said he was happy to bag in second, but he isn't looking too far ahead.
"Of course it feels nice to be second in chips, but we still have more than 1,000 people left, so it doesn't mean much," he said. "But I guess more chips is more life in tournaments. I can lose some flips and still be alive, so that's always nice."
Another player bagging a pile was Mickey Craft. The Wilmington, N.C., native finished with 1,345,000. He said he started with a nice stack and a lot of shorter stacks around him and was able to bully the tight group of opponents to keep building.
However, the fun for him really started when he got moved to Brasilia. There, he sat at a deeper-stacked table with experienced players like Liv Boeree. Instead of looking at it as a challenge, Craft saw it as a fun opportunity to play some more interesting poker.
"This room has been such a blast, people were more fun here," he said after bagging. "They were talkative, plus they had a lot of chips. It was so much more fun. That was a grind, and this was fun."
Craft was able to continue chipping up from about 850,000 to north of 1.3 million. He attributed that in part to having more fun with his new tablemates.
"I like to have fun when I play poker, and I feel like I do better when I'm having fun," Craft said. "The money does mean something. Anyone who says it doesn't is crazy. But, the fun in poker means more than anything money can ever buy."
"Of course, there's way better players than me. There's no doubt. If I get to the final table and there's Daniel Negreanu over here, Jesus Ferguson over here, and whats-her-face over there... I'm going to be the one with the beer in my hand."
Among the players busting before the money bubble were Brian Rast, Cary Katz, Mike Matusow, Sam Greenwood, Adrian Mateos, Jason Mercier and former Main Event champs Joe Hachem, Johnny Chan, Greg Raymer and Tom McEvoy.
The remaining players will come back with just over one hour on the clock in Level 16 (3,000/6,000/1,000). They'll get going early again at 11 a.m., so come back to PokerNews then for more Main Event coverage.
WSOP Main Event Day 3 Leaders
| Place | Player | Country | Chip Count |
| --- | --- | --- | --- |
| 1 | Patrick Lavecchia | United States | 1,552,000 |
| 2 | Pawel Brzeski | Poland | 1,546,000 |
| 3 | Antoine Saout | France | 1,529,000 |
| 4 | Jeremiah Fitzpatrick | United States | 1,523,000 |
| 5 | Derek Bowers | United States | 1,376,000 |
| 6 | Ibrahim Nasief | Mexico | 1,350,000 |
| 7 | Mickey Craft | United States | 1,345,000 |
| 8 | Scott Blumstein | United States | 1,340,000 |
| 9 | Artan Dedusha | United Kingdom | 1,288,000 |
| 10 | Greg Dyer | United States | 1,276,000 |