Viktor Blom, Raul Gonzalez Square Off in Epic Heads-Up Battles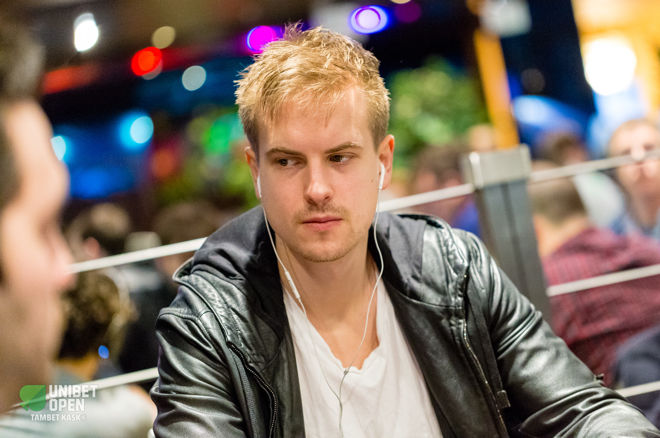 Two of online poker's high stakes cash game regulars have been facing off at PokerStars, and it is safe to say the chips have been flying during the intense battles.
Viktor "Isildur1" Blom and "RaulGonzales" are not the type of players to shy away from anyone, so when two aggressive stars clash at the tables it usually ends with plenty of fireworks.
Last weekend, Blom embarked on a pot-limit Omaha marathon that saw the Swedish star play more than 3,200 hands of $50/$100 over an eight-and-a-half hour period, according to High Stakes Database. Blom mostly played "BERRI SWEET" during that session and although Blom started the session well, his opponent enjoyed a late rally to end the match $105,000 in front.
One of the most decisive hands saw Blom call off a stack with




on the river of the





board only to see BERRI SWEET turn over




for a rivered full house.
Blom returned to the fray at both the $1,000/$2,000 8-Game and $200/$400 pot-limit Omaha tables the following morning where he faced off against RaulGonzales. The 8-Game battle lasted a shade over two hours and saw Blom, as he did the previous day, start the session well. Mirroring the BERRI SWEET heads-up match, Blom ran out a loser when RaulGonzales rallied in the last 30-mins of their encounter; Blom handed over $95,000 of his seemingly bottomless bankroll.
After a short break, Blom and RaulGonzales hit the PLO tables and it was mostly one-way traffic in RaulGonzales' favor. Blom found himself in a $250,000 hole, but a huge $149,000 pot was sli his way when his two pair held against RaulGonzales' aces and gutshot straight draw after the players ran it twice.
That result left Blom $565,000 down in 11 days, but $1.2 million to the good since the final week of May.
The following day, Blom took on both Sami "Lrslzk" Kelopuro and "AmSoGood" and won more than $24,000 from Kelopuro in only 31 hands; Blom ended the day $94,600 to the good thanks in part to Blom securing a $119,200 pot when his set of fours filled up to a full house and then he caught an ace-high flush on the second river of a run-it-twice pot to beat AmSoGood's eight-high straight.
RaulGonzales was next in line to face Blom at a mixture of PLO and 2-7 Triple Draw action. Blom quickly raced to a $100,000 lead before RaulGonzales came back strongly to not only wipe out Blom's profits but end the session in the green by $115,000. RaulGonzales also enjoyed the biggest pot of the day, one weighing in at almost $135,200.
Sweden's Blom and Germany's RaulGonzales met again in what turned out to be a superb session for Blom. After winning more than $114,000 at the $1,000/$2,000 2-7 Triple Draw tables, the duo headed to the $1,000/$2,000 8-Game tables for a length session, a session that saw Blom finish $270,000 up on Gonzales and up $285,000 for the day.
Any celebrations enjoyed by Blom after his profitable session were soon ended when he once again locked horns with RaulGonzalez. Blom rarely got above the $40,000 buy-in stack at the $200/$400 pot-limit Omaha tables and despite winning a $116,200 pot, Blom went to bed pondering how to deal with losing a staggering $367,000 in a single day.
Blom still finds himself up by more than $1 million for the year and is averaging $8.46 per hand. RaulGonzales is back in the black after that epic $367,000 win over Blom, although only by $63,000.
Data and in-article images courtesy of the High Stakes Database