The Hand I'll Never Forget: Greg Raymer and the WSOP Main Event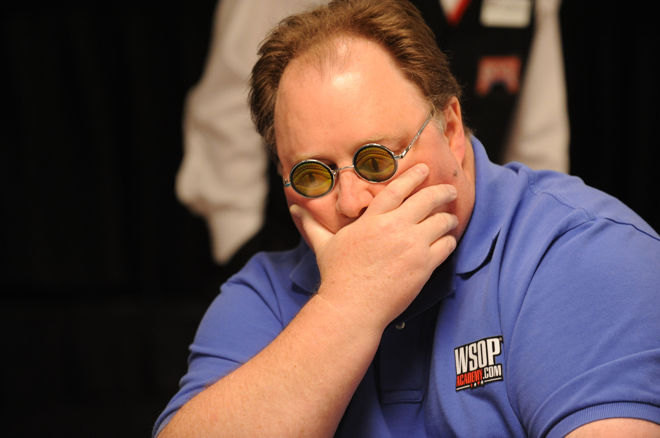 It's the hand that put you over the top. Or the two cards you held that time you were rivered for a monster pot. Everyone has "the hand," that one that you remember no matter how many more tournaments or cash games played. PokerNews takes a look at those hands that stick with players and relive the glory, or misery, depending on the results.
For the fourth edition of this series, we spoke to Greg Raymer about two hands came to his mind – one positive and one negative. The first may be fairly obvious.
2004 World Series of Poker Main Event
"The final hand in 2004 when I won the Main Event is obviously one I'll never forget," Raymer says. "We played six inconsequential hands where no one won more than two or three blinds, and we're very deep in the tournament."
Raymer had about 70 percent of the chips in play against David Williams, playing heads-up for the title, but Williams still had a lot of room to maneuver. Williams raised to preflop 300,000 and Raymer called with


.
"It was certainly a hand worthy of three-betting heads up," Raymer says. "But I felt like some percentage of the time you should just flat there to disguise the fact that you have a decent pair, and I chose that line."
The flop came



and Raymer checked to Williams, who put in a bet of 500,000. Raymer then raised to 1.6 million and his opponent quickly called. The turn brought a

, pairing the board, and Raymer bet 2.5 million. Williams called again, and the river brought the

. Raymer moved all in, and Williams quickly called and showed


for a full house. Raymer tabled pocket eights for a bigger house, securing the bracelet and first-place money of $5 million. However, the immediate river call by Williams, who won $3.5 million as runner-up, at first cast some doubt in Raymer's mind.
"When he snap-called on the river, my first thought wasn't, 'Yes I've won,' it was like 'Oh Jesus, he called that fast,'" Raymer says. "At that point, I was like, 'I must be losing for him to call that fast.' That was obviously a great hand I'll never forget."
2005 World Series of Poker Main Event
The next year, Raymer was back at it – running deep in the Main Event with 25 players left. He had about 4 million in chips, twice the average stack. He picked up


and put in a raise.
"We were down to 25 people on the second to last day and I was one of the bigger stacks," he says.
Aaron Kanter, of Sacramento, Calif., elected to call with


. Raymer said this idea of "floating" with anything to try and bluff a later street was rare then (and the term floating did not really exist yet for this strategy). Raymer said Kanter told him later he had planned to call with any two cards the next time he raised and bluff the turn or river.
The flop came



and Raymer fired 150,000 chips, which Kanter called. The turn then brought the

and Raymer bet 300,000. Kanter then re-raised to 900,000 on with flush draw and with two over cards.
"I'm looking at him the whole time and I'm 100 percent sure he's bluffing and he doesn't have anything," Raymer says. "As soon as he commits to the amount of the raise, as soon as he pushed all those chips forward, I just said, 'I'm all in.'"
Kanter studied a bit and then called.
"I cannot believe Aaron Kanter's chips are all in the middle on this hand," ESPN analyst Norman Chad announced.
The river card brought the

completing Kanter's flush, and Raymer was crushed. Most of his chips were sent over to Kanter's stack, and he was left with only about 400,000 chips.
"That's the nature of the event these days," Chad said. "Aaron Kanter, behind every step of the way, makes a horrendous play for all his chips and he takes the defending champ to the brink of being out of here."
If Raymer had won the pot, he would have had about 10 percent of the chips in play and at least a shot at repeating his Main Event title. He says while there were still some great players left in the tournament (such as Joe Hachem, Phil Ivey, Mike Matusow), there were also still some amateurs left.
"When you look back still, from today's perspective, the field was soft," says Raymer, who now runs FossilManPokerTraining.com. "Even at that point in the tournament, there were guys who just weren't very good. So I would have given myself about 15 percent chance of winning again. With 10 percent of the chips, I would have been the chip leader and could have pushed people around and abused the bubbles. If I had won back to back, then I'd have really etched my name in poker history."
The missed opportunity is still tough to look back on, but has made any bad beats that have come his way since then much easier to get past.
"The good news is the dealer can't deliver a card where I'm just tilted and emotionally destroyed," he says. "It's impossible to beat me in a way that's going to come close to that ever again. And that's the silver lining – it's even easier for me to kind of be tilt-proof."