Rules for the Rail at the World Series of Poker Main Event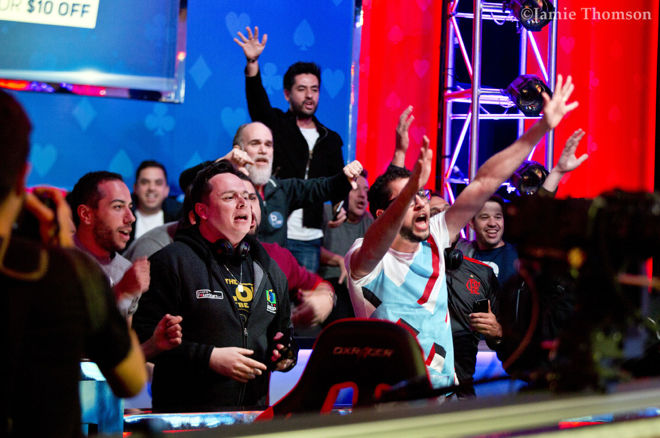 With no November Nine format this year, players who make the final table in the World Series of Poker Main Event will have just two days off to gather their rail. While 48 hours to organize a party may not sound the easiest mission in the world, we have sourced the kind of help money can't buy.
Poker pro Kevin Williams was on the rail when the most recent British player reached the WSOP Main Event final table way back in 2011. If that wasn't enough, he knows exactly how to put posteriors on seats in his professional role outside poker.
1. People Will Definitely Come
Two days to hustle together a rail when you're lacking in energy, too excited to sleep and thinking about the eight players you need to beat to take home over $8 million?
"Whoever makes the final needs have to come up with friends who aren't depressed and haven't lost all their money, who can summons themselves to cheer! I think the secret is to make sure that a lot of people have a piece of you so make sure you've and that you swapped, then they're incentivized. I had a little swap with Sam Holden in that Main Event. When I heard that the November Nine format was no more, it made me sad that it wasn't going to continue. I thought it was great. We were all in the Penn & Teller Theater, which is like a big soccer ground."
2. Write Some Songs
A soccer ground? That instant makes us think of flying beer, kidney pies and the kind of banter that can make wrestling fans seem sweet and innocent. Williams enlightens us on the hidden sophistication of the terrace chants.
"Come up with some catchy songs because watching poker even a big final table isn't always interesting. If your friend is in the last 15, start writing them. We had wigs back in 2011 to support Sam Holden. Brits are pretty good at coming up with self-deprecating football songs that make the whole thing more enjoyable."
3. Shoeboxes at the Ready
It is a well-known fact that British sporting crowds and alcohol mix like Vodka and Martini, like Rhubarb and Advocaat or like Strawberries and Bailey's Irish Cream (dang, we're thirsty). Williams wholeheartedly agrees.
"I think you've got the get the booze flowing. Hopefully, you start a tab and you get the person at the final table who you're supporting to pay the tab. That's a good rule. Sam [Holden] got his fair share of drinks going. Maybe he retired because he felt like he peaked!"
4. Get Your Kit On
As George Michael once sang while dressed in skin-tight jeans and a studded leather jacket, 'Sometimes the clothes do not make the man'. Actually, scrap that. They're clearly integral.
"T-shirts are good. Anything that makes you all stand out and stand together. If your guy or girl loses a pot and is tilted, but turns around and sees a bunch of people with wigs on which match his or her hair, it's all good. It could be intimidating to the other players but you need every boost to your morale you can get at points. Hang on, if they're on the final table of the World Series of Poker Main Event, maybe their morale is fine. Mental game is massive though, right?"
5. Keep the Crowd On Your Side
Williams is used to engaging his audiences, producing diverse plays from the works of Shakespeare to original contemporary production Bodied.
"I'm Artistic Director of a theater company called Raise Dark and working a theater audience is about keeping their attention span," says Williams. "This is especially true nowadays when everyone is addicted to three-minute YouTube videos. Now I want people to sit in one room in a theater for two hours, so pacing it and keeping that focus is important. Anything you can do to keep the attention of your crowd at a poker tournament is good. Some people do gimmicky things anything that can hook the audience and keep them interested. It all helps."
6. Maintain Respect
Griffin Benger told William Kassouf to check his privilege when down to two tables in last year's WSOP Main Event. He plainly should have responded 'Now that's speech-play' when eliciting a call from Kassouf's kings when he himself had aces, but although Benger's final line in that hand ('Hurggghh') could do with a rewrite, his point of maintaining respect for your opponents endures.
"I think you have a tricky job as a player because you don't want to throw the integrity of the game into disrepute or show any disrespect to your opponents. You've got to keep the balance of enjoying the support of your fans, encouraging them and turning around to give them a fist-bump whilst not celebrating or rubbing it in your opponent's face if you didn't have a crowd."
7. Eat Well, Rail Better
Sinking coffee and stuffing yourself with sugar might give you an immediate rush, but there only so many Vodka Red Bulls you can endure before your stomach will be cramping up with all that caffeine. There is a better way.
"Railing is a marathon sport and what you don't want to do is all be passed out by the time your player is heads-up. So, protein bars."
8. Prepare for Heads-Up
Reaching the stage where the player you support is heads-up for a bracelet (or any trophy) is an incredible experience.
"More than anything heads-up is exciting because your guy or girl is in every pot, you don't have to wait for the to open [the betting] to get interested. A tournament can end within two hands at virtually any point. Most of the money is there, then there's the glory and prestige. Often you can pick up stragglers from the guys who have busted; maybe they like your guy better than the other guy. Get momentum on your side by doing some door-knocking and get extra people on your side."
9. Remember History
The Main Event is the most exciting tournament to support a player in. Not only could they win life-changing money, but they might carve their name in history. You don't want to be known as the drunken railer who ruined their winning moment by yelling 'Three-high like a boss!'
"Keep in mind that everyone at that final is having the biggest day of their poker career, keep it friendly, happy and fun. Support your friend or family member without being disrespectful to your opponents."
Williams's own run to the latter stages of the WSOP Main Event wasn't long ago. In 2013, he cashed for $84,786 for the best result of his career. He has a little advice for anyone who is getting close the final table of the WSOP Main Event.
"I came 77th a couple of years ago. I was thinking 'I might be coming back here in November' a little bit. When you're that deep, my personal thought was that you can't be that upset or depressed come what may. Loads of people got knocked out of the Main Event a week earlier and you're still in it, so I was just enjoying it really. All the tables are in the same room, you can see the whole tournament."
Positivity, as Phil Hellmuth might tweet, is obviously key. Hang on, this doesn't sound like a British player at all. Those are really Kevin Williams' thoughts on getting so near to the November Nine?
"Once I busted, I thought 'Am I ever going to get that close again?'" he adds.
There we go. Everything is right with the world again. We're off to the wig shop to pre-order the Sam Grafton look.