Massive Day 1c Turnout Creates Third Largest WSOP Main Event Ever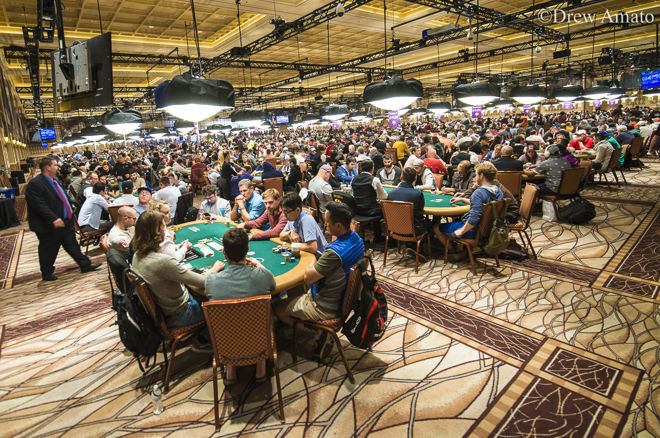 Only topped by Jamie Gold's navigation of 8,773 runners in 2006 and Jonathan Duhamel's dissection of 7,319 entries in 2010, the 2017 World Series of Poker Main Event field has become the third largest ever.
With 795 joining Day 1a, another 2,164 on Day 1b, and a whopping 4,262 today for Day 1c, the grand total of players closed at 7,221. A monstrous prize pool of $67,877,400 has been created and the next World Champion will be awarded $8,150,000. The top 1,084 will reach the money, all taking home at least $15,000. Any player that reaches the final table is once again guaranteed $1,000,000.
Here is how the 2017 Main Event stacks up to previous years:
| | Day 1a | Day 1b | Day 1c | Day 1d | Total | Prize Pool |
| --- | --- | --- | --- | --- | --- | --- |
| 2008 | 1,297 | 1,158 | 1,928 | 2,461 | 6,844 | $64,333,600 |
| 2009 | 1,116 | 873 | 1,696 | 2,809 | 6,494 | $61,043,600 |
| 2010 | 1,125 | 1,489 | 2,314 | 2,391 | 7,319 | $68,798,600 |
| 2011 | 897 | 985 | 2,181 | 2,802 | 6,865 | $64,531,000 |
| 2012 | 1,066 | 2,114 | 3,418 | - | 6,598 | $62,021,200 |
| 2013 | 943 | 1,942 | 3,467 | - | 6,352 | $59,708,800 |
| 2014 | 771 | 2,144 | 3,768 | - | 6,683 | $62,820,200 |
| 2015 | 741 | 1,716 | 3,963 | - | 6,420 | $60,348,000 |
| 2016 | 764 | 1,733 | 4,240 | - | 6,737 | $63,327,800 |
| 2017 | 795 | 2,164 | 4,262 | - | 7,221 | $67,877,400 |
When asked about this year's event, World Series of Poker VP and Tournament Director Jack Effel replied with, "I think that it's amazing on all fronts. The third largest Main Event in history; 7,221 players, huge field, huge prize pool, lots of people getting paid, lots of people making money!"
Effel went on to say, "The Main Event is a special tournament, and I will tell you, whether you're playing with 100 people or 10,000 people, it's the most special tournament on the planet. Of course, $8.15 million is life-changing money and all of that, but winning the Main Event, being one of only 48 people to ever do it, actually it's less because of the duplicates, so knowing you will forever be immortalized as poker's world champion, I think, is a feat in itself.
"This event just has so much energy and it's so much fun. And it requires so much attention, and so much patience, and so much mental and physical endurance."
"This event just has so much energy and it's so much fun. And it requires so much attention, and so much patience, and so much mental and physical endurance, that the person that wins it, I don't even know if they're thinking about the money until way after they've already won it. I can tell you it's a special tournament, it's magical. I don't know why it's magical, the feeling is just magical, every year you feel it, you see everyone here, everyone gets excited about it and I can't wait to see who's gonna win it."
Effel was then asked if he saw this coming. "I can tell you that all the events indicated that we were pacing upwards to do well this year," he said. "There are so many events to choose from, how are you gonna tell what's going to be the most popular this year? We want to give something for everyone to play. The Rio was packed all summer long."
With registration now closed, one player who didn't help pack the Rio for this year's Main Event was Phil Ivey. That left many fans disappointed, but his absence is understandable as Ivey is due in a U.K. Supreme Court on July 13 to defend his edge-sorting case against Genting Casinos.
Filling the void were many former Main Event champions in attendance today. The 1987-88 back-to-back champ Johnny Chan ended play with more than double his starting stack, sitting with 120,600. 1998 winner Scotty Nguyen wasn't too far behind, finishing play with 108,400.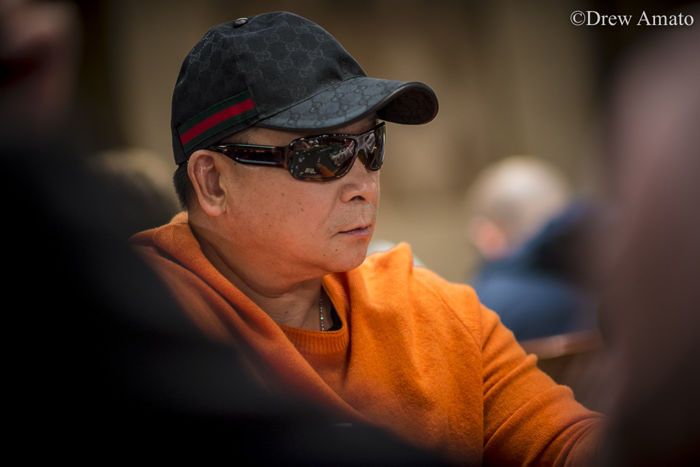 The 1989 world champion Phil Hellmuth made his traditional late-as-possible entry and bagged 87,400. The youngest ever Main Event winner Joe Cada also made it through. "I wasn't above 63 and wasn't below 52. Pretty ideal," Cada told us after play was finished. I feel excited every time I play. It's like Christmas. Cada tossed 63,000 into his bag, while 2000 champ Chris Ferguson has 56,100 going into Day 2.
Jason Mann has run deep in this event previously, finishing in 25th place in 2013. When asked about how his Day 1 was this year compared to his Day 1 that year, he said "I had a good day then, too. I bagged over 100k and that was when we started with 30k, so that was a comfortable stack. But it was nothing like today. I made a ton of hands, especially after dinner ... just building." Mann will carry a stack of 236,000 into Day 2.
Another player with good history in this event is Adam Levy, who hasn't been playing poker as much lately but couldn't miss out on the biggest tournament of the year. Levy bagged 220,700 after a slow start to the day. "I took a step back from poker after the World Series last year," he said. "Moved to LA and tried to get a real job. It's been really good for me from a life standpoint. I needed to take a break from poker after living out of a suitcase after Black Friday for a while. For sure, it's definitely good to be back. The Main Event is fucking the best!"
Six-months pregnant and bagging a big stack was Natasha Mercier. Mercier finished the night with 218,000, well above her husband Jason Mercier (28,500) and the rest of their housemates. "I've got the biggest stack in our house and we'll go home and talk about hands for hours. I was thinking about not playing this tournament because I'm six-months pregnant and it's so long, but when I sat down I had a super friendly table. We were doing side bets and everything. It definitely helped the time pass quicker."
The top stack of the day looks to belong to Jerome Brion who mustered an impressive 248,000. Tyson Mao (242,800), Michael Pedley (240,900), Rudy Sawa (238,600), and Carl Carodenuto (237,800) round out the top five. Official counts will be posted as soon as they become available.
Other notables breaking through in the first stage include Nick Maimone (213,000), Andre Akkari (189,900), Brandon Shack-Harris (160,000), 2017 WSOP Player of the year front-runner John Monnette (123,800), Brian Rast (126,900), and Daniel Negreanu (26,000).
Former two-time November Niner Mark Newhouse won't have a chance to make his third Main Event final table. Newhouse lost his chips midway through Day 1, joining fellow Day 1c casualties John Juanda, Ron Ware, John Duthie, Johnny Lodden, Dan Heimiller, Bill Klein, John Racener, Ari Engel, and Russell Thomas.
The Main Event moves forward on Tuesday as the survivors from Day 1a and Day 1b return for Day 2ab beginning at 11 a.m.
Follow along throughout the day as PokerNews will be on the floor providing live up-to-date coverage.