John Racener – Racing for Gold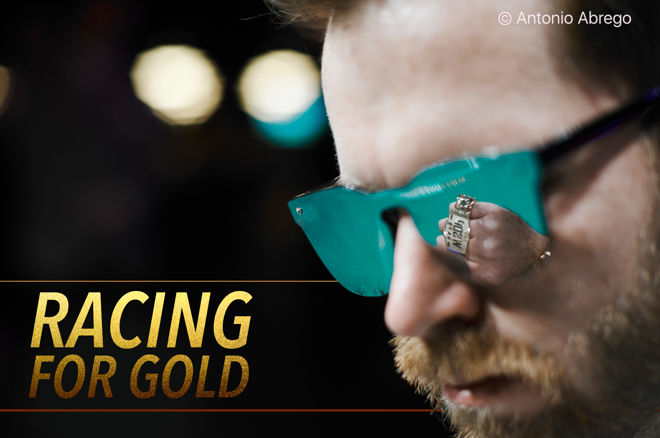 Currently leading the WSOP Player of the Year, John Racener is a man on a poker mission. He's up against some of the very best in the business and with less than a third of the World Series events to play, Racener is in pole position. Can he close it out? PokerNews got a gauge on the efforts of a man desperate for success in the year he finally broke through to win his first WSOP bracelet. It had been a while coming.
"I've been coming out [to the World Series of Poker] since it was legal, since I was 21 years old. I've always played a bunch of events, but my mindset is a lot different now. I used to go out and party; I was drinking a lot and gambling a lot. That's just not me anymore. I've been sober for a couple of years and have no interest in going out. I have a wife and we're about to get married and hopefully have kids. My mindset is poker, poker, poker. It's the World Series and this is my main time to make money throughout the year. That drives me more than anything. When you're doing it for your family to have a nice life, it gives me a drive like I've never had before."
"Today I realised they had Ferguson ahead of me. They gave him double points mistakenly."
Racener has been at the Rio so many times, it's practically a second home to him. A temporary base for the summer he never misses. The rest of the year changes, but Vegas in June and July is just what he does. This year, it's even more consuming than ever before, because Racener is leading the Player of the Year leaderboard with just a dozen events to go.
"Every morning I wake up and click on the World Series of Poker website and look for where I stand, even though I'm calculating in my head where I stand before I sleep. Today I realised they had Ferguson ahead of me. They gave him double points mistakenly but I checked - I'm currently 47 points ahead. We have some big events left like the $50k Poker Players' Championship which I'm playing now. We have the $25,000 Pot Limit Omaha, the $10,000 Stud event. There are still a handful of events that I could pad my lead with."
For Racener, this is no dream born of 2017 and a golden run of cashes never seen before in the neon Nevada poker paradise that has become the center of action for seven weeks. This is the fulfillment of a long-held dream, an obsession.
"This has always been a goal of mine and I really want to get that banner on the wall of the Rio that says Player of the Year with my name on it. The last two or three weeks, I've been really into it. I knew that I had a really good shot and I've been following everyone else who's at the top to see how they're all doing. It's like any other sporting event when you're sweating the other players or teams."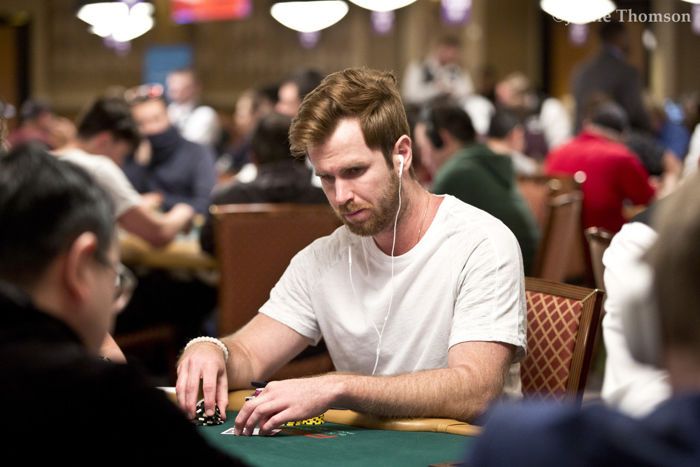 Racener has no easy path to glory and is being chased down by some of the best poker players not just in the moment, but in poker history. He's fully aware of the kind of close-out he needs to execute to get that banner on the Rio wall.
"This has always been a goal of mine and I really want to get that banner on the wall of the Rio"
"The competition is so amazing. [Chris] Ferguson's a great player. Negreanu's up there, James Obst, Mike Leah, the list goes on and on and we're all very close. It's going to be a dogfight, which I love. I got a text from my buddy and he said they had Ferguson ahead of me and that didn't settle well in his stomach. I certainly know that my friends want to see me win ahead of Ferguson."
It might not just be Racener's friends who are anti-railing Chris Ferguson for obvious reasons, although Racener himself credits all of his poker peers and their toughness in the tournaments here in Las Vegas. He also hopes that everything doesn't rest on the biggest tournament in world poker, and not just for professional reasons. He'll have a new family member on the road with him.
"I hope it doesn't just come down to the Main Event because we still have the WSOP Europe and I'm going to be there. It's right after my wedding. We're going to blend our honeymoon and the WSOPE. My wife said that it was fine to do the honeymoon right into the WSOPE. She knows how much it means to me and is always watching online. She brings me lunch and home cooked meals every day. She makes me breakfast in the morning. She's a huge support and we always joke around that it's 'Team Us'. Just knowing that she wants to do that for me, cares about me and wants to see me do well, well, she could obviously do other stuff and hang out with friends. But she'll shape her routine around bringing me lunch and dinner. My nutrition keeps me energized why I'm playing. If I'm not eating well then I get very tired and drained. When she brings me good protein-rich meals, chicken, vegetables, and shakes, it keeps me energized at the table. We've been together four years and we're finally getting married. It's my time of the year in Vegas. I'll do anything she wants the rest of the year, so these are my seven weeks."

The nourishment of a loving relationship is clearly a huge edge for Racener and he speaks with a glowing affection for the woman about to become his wife in a few weeks' time. She's not the only personal motivation that he has, either. After winning his first ever WSOP bracelet in the $10,000 Dealer's Choice 6-Handed Championship earlier this series, he dedicated that victory to his mother.
"I would say not a couple minutes go by without thinking about my Mom and Dad. I used to text my Mom the results from every single break of every single tournament. If I didn't, she'd know to text me around that mark. She was always my biggest fan and I always wanted to win my first bracelet for her. I've had it in my mind the last three years I came out here, because she passed away three years ago. I wanted to have a t-shirt with 'For Mom' written on it. I never did it the last couple of years. This year I bought the t-shirts before I came out to Las Vegas and the first time I pulled the trigger and did it, I won.
Family heritage in poker goes back to Racener's father, who taught him the game at a very young age. It's a difficult question whenever any poker player is asked about whether they'd want their own child to go through the obviously demanding swings professionals experience in the game.
"My dad passed away about ten years ago now. I always used to pick 5-card draw as a mixed game and that's because it was the first game I learned. I was eight years old at the kitchen table when my Dad taught me. The other guys didn't know that game so well but to me, it was just basic. I felt like I was already given an advantage."
"Me and my fiancée have been talking about children a lot recently. She asked if we had a boy, would I want him to play poker. I really just want him to be happy. I think we'll be playing cards in the house a lot so I think he'll end up playing cards, but I want to make sure he knows about money and bankroll management. There are a lot of highs and lows. I want him to be secure financially and if he then wants to play poker with money, then he can. But I don't want to make his mood swings too high or low. It's a tough way to make a great living."
"I'm in the running to win Player of the Year and I'm so hungry for it. The hunger never leaves me."
Racener has been through the mill in poker terms. He waited a long time for his first ever bracelet. Now the momentum of that win earlier this summer has given him a kind of aura that it's evident he feels himself.
"I'm in the running to win Player of the Year and I'm so hungry for it. I have 14 cashes so far and I think the record coming into this year was 13. I want to get to 15, 16, or 17 cashes to pad my Player of the Year run. The hunger never leaves me."
Racener only has to hold onto his position at the top of the leaderboard to seal the most remarkable fairytale year of his long poker career. The other players are fighting tooth and nail to stop him at every flop, turn and river. But there's an old saying that it's not the dog in the fight that counts but the fight in the dog. If that's true, then Racener is currently pulling away from the pack and could be top dog when the race is over.
---
John Racener is currently playing the $50,000 Poker Players Championship. Unfortunately, he bust on Day 2, follow the tournament's progress, right here on PokerNews.com.
---