Fedor Holz Helps Players Get Their Mind Primed for WSOP Main Event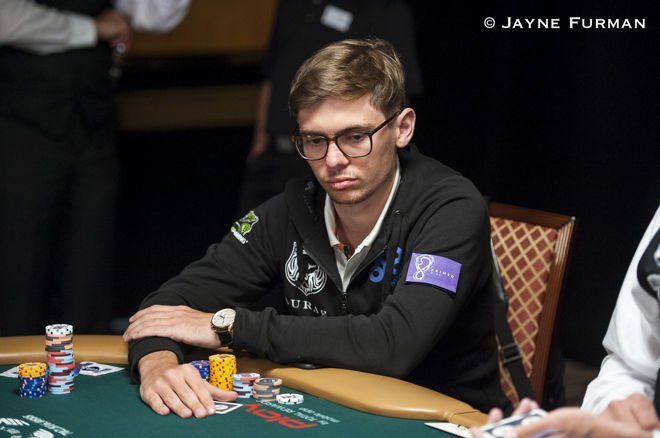 With almost $30 million in live poker tournament winnings, Fedor Holz knows what it takes to win. Along with card skills, Holz believes it is imperative to play with the proper mindset. While there are many poker training, sites, apps, books, etc., to help players with their game on the felt, Holz's new Primed Mind app is designed to help players prepare between the ears.
"I think the role of mindset is huge in anything," says Holz, who serves as the company's CEO and co-founder. "There's a lot of skilled people, but just a few that actually focus on something and put their skills to use. I believe that especially the average player that constantly struggles with mindset issues will benefit from Primed Mind, being more focused and tilt-resistant throughout the day."
Losing focus, going on tilt, negativity, and stress can all have negative effects on a player's approach to the game.
With Primed Mind, users choose a specific topic of interest through a series of courses and primers tailored towards specific goals, and are then guided through a 12-minute audio session with mindset coach Elliot Roe. Each session is meant to provide the listener with "powerful visualization and relaxation tools in order to experience transformative mental and personal growth," according to Holz.
The app is free to download and available in both the Apple App Store and the Google Play Store. There are free primers to download, but it costs $14.99 per month for all the content. The company said the app had 2,100 downloads in the first 24 hours it was available. The goal was to create a product for regular players to be able to access mindset coaching at a lower cost. Holz has grown fascinated with the psychological aspects of mindset in the pursuit of success.
"It's amazing to see the positive impact that mindset coaching can have on a person's life," Holz says. "The problem is very few people have access to it. We wanted to create an accessible and affordable way for people to utilize mindset coaching, in a format millions can benefit from."
Holz says the preparation and focus learned from the app can also be applied to other sports, competitions, and situations. The company markets its approaches to more than just poker players.
"We have students, traders, entrepreneurs, athletes, and many more using it already to get the best out of their day," he says. "Now the next step is to reach even more people so they can unlock their potential."
According to Holz, with Primed Mind users can:
Listen to multi-day mindset courses to develop confidence, determination, personal growth, health, communication, and recovery skills.
Mentally prepare for specific situations with quick primers for daily habits, personal goals, business, studies, and social settings.
Improve athletic and playing performance with exclusive pro primers, created with the expertise from world-renowned champions.
"I came up with the idea and generally my role is to make sure that we always strive to improve us and the product every day," Holz says. "I'm currently focusing on recruiting, development, and the strategic side of Primed."
The goal for Primed Mind is to have a personalised mindset coach and journal for each user to access at any time. Users can listen or review their individual paths to success daily or when a competition approaches. The company has even designed a free primer for the WSOP Main Event so players can get prepared for the biggest event in poker.
The psychology of success and perfecting one's approach to the game has long been a popular topic in poker. From coaches to psychologists to positivity training to yoga, there have been numerous approaches to the idea through the years with many players looking for something to keep their minds and focus on track. Phil Hellmuth and Daniel Negreanu regularly discuss their approach to staying positive as well as goal setting, so there definitely may be a market for Primed Mind. On Sunday, Hellmuth even noted:
After 6-week-long, gruelling @WSOP, it's down to me and my great friend: The Main Event. Heading into ME w my game groomed and my mind right.

— phil_hellmuth (@phil_hellmuth)
As the Main Event gets into the third day of action, a calm demeanour and focused mind should have some benefit to helping rake in those chips. Holz hopes more players will be ready to get their minds primed.