WSOP Day 30: Jason Mercier Making Deep Run in $1,500 No-Limit Hold'em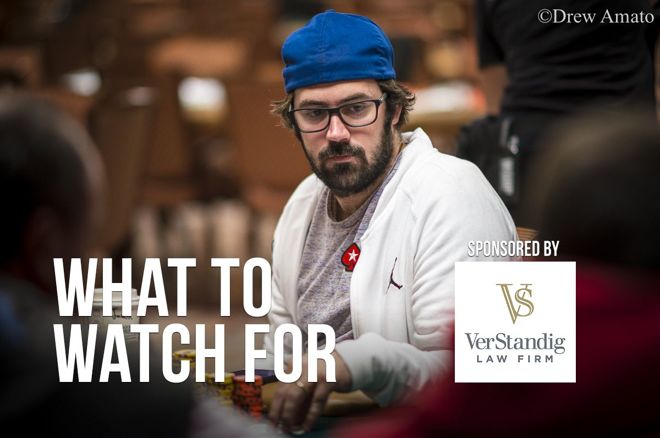 Today's What to Watch For is brought to you by the VerStandig Law Firm, LLC. Combining a keen understanding of the gaming world and an equally keen understanding of the law, Mac VerStandig and his colleagues are devoted to fighting on behalf of the poker community and its members.
The VerStandig Law Firm, LLC represents poker professionals, sports bettors and advantage players across the United States. The firm assists clients in connection with legal issues including personal LLC formation and operation, tax planning that focuses on gaming deductions and exemptions, casino disputes, and personal matters spanning from divorce to criminal dust-ups.
Many in the poker community will be following the conclusion of the $1,500 No-Limit Hold'em event on Thursday as Jason Mercier is among the 23 remaining and looking for his sixth WSOP bracelet. A fourth day was also added to the $1,500 No-Limit Hold'em Bounty event, while numerous pros remain in the $10,000 Pot-Limit Omaha 8-Handed Championship including Ben Lamb, Justin Bonomo, Mike Sexton and Jeff Madsen.
A fourth day was added to this event as five players still remain from the original 1,927-entry field. Bryan Emory holds a nice lead currently with 6,130,000. Hailing from Florida, Emory has only $37,794 in tournament winnings and is looking for the biggest score of his career.
Emory is followed in the counts by James Gilbert (3,300,000), Chris Bolek (1,700,000), Zhaoxing Wang (1,675,000) and Tobias Peters (1,650,000).
There is a big $2,601,450 prize pool in this event, including the $500-per-elimination bounties being claimed by players who knock out others. Today's winner will take home a bracelet and $266,646.
Players return to the Rio on Thursday at 1 p.m., and the PokerNews team will have all your live updates. Click here to follow along.
After Day 2, only 23 players remain from a field of 1,580 in this one, with the winner due to take home $364,438. Samuel Phillips (1,289,000) presently leads the field followed by Jamie Florence (1,284,000), Brandon Ageloff (1,200,000) and Griffin Malatino (1,114,000). Phillips has more than $1.7 million in tournament winnings, but is looking for his first WSOP bracelet.
Other players still remaining include 2016 WSOP Player of the Year and five-time bracelet winner Jason Mercier (457,000), Andy Frankenberger (525,000) and Rainer Kempe (240,000).
This one also starts back up at 12 noon today, and PokerNews will have it all covered. Follow along with the live updates by clicking here.
With only seven players remaining, the champion of this short-handed event will be crowned on Thursday. Max Silver (1,021,000) will be returning to the lead as the only player with more than a million chips.
Silver has more than $1.1 million in tournament winnings, but is seeking his first bracelet. He's already had a close call this summer, finishing sixth for $73,510 in the $3,000 No-Limit Hold'em 6-Handed event. He also finished 33rd in last year's Main Event for $216,211 and is pleased to have another shot at earning WSOP gold:
Coming back tomorrow 1/7 with a bit over 25% of chips in play in the 3k limit holdem 6 max. 170k ftw and I still don't know what I'm doing

— Max Silver (@max_silver)
The other six who'll be competing against Silver for the title today are Ayman Qutami (792,000), Guowei Zhang (510,000), Georgios Kapalas (475,000), Mickey Craft (445,000), Lena Wang (395,000) and David Olson (97,000).
Follow PokerNews for all the short-handed play when the event resumes on Thursday at 2 p.m. Click here for the live updates.
The PLO championship got started on Wednesday and attracted a big turnout of 428 players, the largest of this tournament's history (bettering the previous high of 418 players in 2014). After 10 levels of play, 186 remain for Day 2 hoping to reach the massive $938,732 top prize.
Leading to start today is Sorin Drajneanu with 469,200. The Romanian has only about $100,000 in tournament winnings and looking for the biggest score of his career. Rounding out the top three are Andjelko Andrejevic (369,400) and Arvi Vainionkulma (320,200).
Numerous big names and bracelet winners remain including last year's winner of this event Brandon Shack-Harris (299,500), Johnny Lodden (270,000), Jeff Madsen (219,800), Dermot Blain (214,000), Ben Lamb (189,200), Roberto Romanello (179,800), Justin Bonomo (160,500), Mike Gorodinsky (150,200), Shaun Deeb (144,600), John Monnette (128,800) and Mike Sexton (73,500).
Check back here for all the pot-sized bets and as Day 2 begins on Thursday at 12 noon.
Stud was played at the Rio All-Suite Hotel and Casino on Wednesday as 298 players gathered for this event to create a $402,300 prize pool. After 10 levels of play, just 68 of them will return for Day 2.
Bryan Slick leads the field currently with 92,400 followed by Jonathan Ulrich (77,300), John Bunch (69,000), Joseph Cappello (66,000) and Marcel Luske (64,300).
Other notables advancing include Rod Pardey Sr. (60,400), Wes Hickey (58,400), Tom Koral (58,200), Andre Akkari (54,000), Ian Johns (49,000), Adam Owen (45,300), Dan Heimiller (37,100), Chris Tryba (32,900) and Andrey Zaichenko (16,200). Also advancing is Chris Vitch (61,700), fresh off winning his second bracelet of the summer in the $10,000 Seven Card Stud Hi-Lo 8 or Better Championship.
The Day 2 resumes on Thursday at 2 p.m. Check back to PokerNews to follow the coverage from the live updates team.
Event #56: $5,000 No-Limit Hold'em
This mid-tier tournament featuring poker's classic game should make for a nice prize pool and attract plenty of players.
The 2016 entry attracted 863 entries and built a prize pool of more than $4 million. Yue Du of China lived every poker player's dream to become last year's champion, collecting $800,586 — only the second WSOP cash of his career.
The tournament gets underway at 11 a.m. on Thursday. Follow along with PokerNews as events play out.
Event #57: $2,500 Omaha Hi-Lo 8 or Better/Seven Card Stud Hi-Lo 8 or Better Mix
Be prepared to test your split-pot poker skills if you register for this one. Fans of this game will be out in force hoping to catch a few breaks and scoop some big pots — and hopefully to notch a nice score.
Israel's Hani Awad scored his first bracelet in this event last year for $213,186 after having finished runner-up in the same tournament in 2015.
Play begins at 3 p.m. Check back to PokerNews for all the updates.