WSOP Day 19: Heimiller Making Another Seniors Run, Matusow in $10K 2-7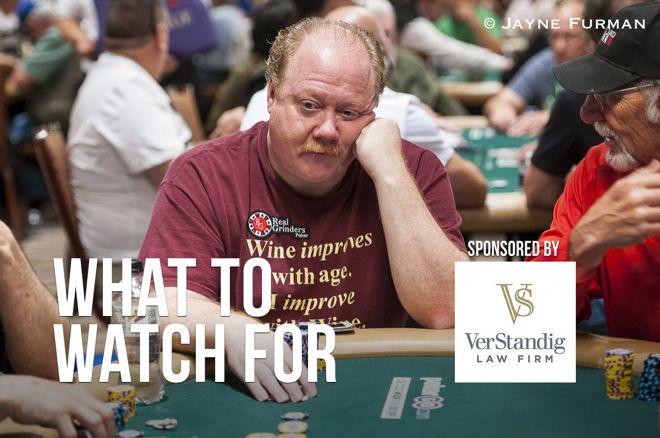 Today's What to Watch For is brought to you by the VerStandig Law Firm, LLC. Combining a keen understanding of the gaming world and an equally keen understanding of the law, Mac VerStandig and his colleagues are devoted to fighting on behalf of the poker community and its members.
The VerStandig Law Firm, LLC represents poker professionals, sports bettors and advantage players across the United States. The firm assists clients in connection with legal issues including personal LLC formation and operation, tax planning that focuses on gaming deductions and exemptions, casino disputes, and personal matters spanning from divorce to criminal dust-ups.
Thousands of players crowded into the Rio on Saturday for the Seniors No-Limit Hold'em Championship, another $1,500 No-Limit Hold'em event and the $1,500 Omaha Hi-Lo 8 or Better Mix. The $10,000 2-7 Championship also brought out many big names including Shaun Deeb, David Benyamine and Mike Matusow, all of whom have nice stacks going into today's Day 2. Meanwhile Dan Heimiller leads the Seniors Championship after winning it in 2014.
From a 1,086-entry starting field just two players remain in Event #29: $2,500 No-Limit Hold'em.
James Calvo and Guarav Raina will come back on Sunday to determine a winner, with Calvo enjoying a better than 2-to-1 chip advantage with 9.6 million to Raina's 4 million. Among those making the final table last night but coming up shy of the finish were Asi Moshe (third), Eddy Sabat (fourth), Eric Cloutier (fifth) and Scott Margereson (ninth).
A first-place prize of $456,822 awaits the winner. Stick with PokerNews to find out who claims the bracelet.
Seniors from around the world converged on the Rio for this event, and 67 return on Sunday. First place will take home a sweet $617,303, and Dan Heimiller leads the pack with 1,021,000 chips. Heimiller won this event in 2014, and is looking for his third bracelet overall.
Closest to him in the counts at present are Eluterio Rodriguez (983,000) and Paul Spitzberg (859,000). Other notables still alive include David Michaud (836,000), Gina Bacon (788,000), Anthony Licastro (645,000) and Bill Klein (480,000).
Play resumes on Sunday at 11 a.m. Click here for all PokerNews live updates. Don't miss a hand.
The Omaha hi-lo mixed event was back at it on Sunday and played down to 224 players. The event began with a starting field of 688 and the winner will take home $194,323.
The leader is Howard Smith with 466,500 chips followed by Erle Mankin (465,000), Yueqi Zhu (448,500) and Igor Sharaskin (445,000). Others remaining include Vladimir Shchemelev (256,000), Mark Herm (200,000), Nikolai Yakovenko (120,000), Allyn Shulman (109,500), Allen Kessler (74,500) and John Racener (27,000).
Play picks back up on Sunday at 2 p.m. and the PokerNews team will be following all the hands. For all the live updates, click here.
This bargain-priced event attracted 1,698 entries on Saturday with a prize pool of $2,292,300. First place awards $384,833 and 274 players return to play Day 2 on Sunday.
Valentin Vornicu ended the day as slight chip leader with 198,000. Vornicu also ended as the chip leader of Day 1b in The Giant in the early morning hours on Sunday. He has several nice wins and nice scores on his poker résumé including a number of WSOP Circuit wins.
Vornicu is followed in the counts by Paul Awodey (169,300) and Jonathan Abdellatif (168,400). Also remaining in the field are Joseph Cheong (83,200), Garrett Greer (81,900), Max Pescatori (74,500), David Pham (46,500), Allen Cunningham (52,400) and Brandon Cantu (38,300). The bubble bursts on Sunday and 255 players will get paid at least a min-cash of $2,251.
Day 2 cranks up at 12 noon on Sunday and for all the PokerNews live updates, click here.
This lowball championship attracted 80 players for a $752,000 prize pool. The winner will earn $232,738 and 26 players return on Sunday for Day 2.
Adam Owen leads the field with 336,000 chips after Saturday's Day 1. The 24-year-old Owen lacks a bracelet, but has four top 10 finishes at the WSOP as well as numerous other big online and live cashes.
Others still alive include Robert Campbell (291,000), Chris Kruk (264,500), Mike Watson (261,500), Mike Ross (248,000) and James Obst (227,000). Ross finished runner-up in the $1,500 8-Game, while Obst just won his first bracelet in the $10,000 Razz Championship.
Also coming back for Day 2 will be David Benyamine (223,500), Anthony Zinno (204,000), Shaun Deeb (117,000), Mike Matusow (90,500), Todd Brunson (31,000) and JC Tran (17,500).
Join PokerNews on Sunday at 2 p.m. for all the live updates. Click here to follow all the coverage.
Event #35: $1,000 Super Seniors No-Limit Hold'em
The super seniors event should be a favourite again this year as players aged 65 and over battle it out for a bracelet. Last year's event attracted 1,476 players for a prize pool of $1,328,400. James Moore, a medical physician and radiologist from New Hope, Pennsylvania, won last year's event for $230,626.
Players are allowed one re-entry and the cards go in the air early at 10 a.m. Check back with PokerNews for all the live updates.
Event #36: $5,000 No-Limit Hold'em 6-Handed
Short-handed action returns to the WSOP today, and this event should create a nice prize pool with its mid-tier price point. Last year's event brought in 541 entries and had a $2,542,700 prize pool, and was won by Belgium's Michael Gathy for a hefty $560,843. Gathy also added two runner-up finishes in 2016.
Play in Event #36 gets underway at 3 p.m. and PokerNews will have all the live updates.