WSOP Day 18: Daniel Negreanu Leads Final 15 in H.O.R.S.E. Championship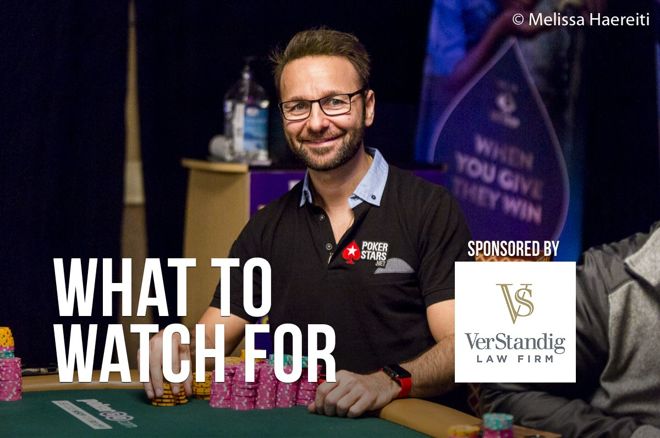 Today's What to Watch For is brought to you by the VerStandig Law Firm, LLC. Combining a keen understanding of the gaming world and an equally keen understanding of the law, Mac VerStandig and his colleagues are devoted to fighting on behalf of the poker community and its members.
The VerStandig Law Firm, LLC represents poker professionals, sports bettors and advantage players across the United States. The firm assists clients in connection with legal issues including personal LLC formation and operation, tax planning that focuses on gaming deductions and exemptions, casino disputes, and personal matters spanning from divorce to criminal dust-ups.
After Chris Moorman's rail rocked the big stage in the Brasilia Room at the Rio on Friday night, another big rail is expected on Saturday as Daniel Negreanu and Jason Mercier are still alive in the $10,000 H.O.R.S.E. Championship. Meanwhile, nearly 700 players will return for Day 2 of the Seniors Championship, and three other events will take place throughout the Rio Convention Center.
Negreanu. Mercier. Rast. Zinno. The big guns will be out in full force on Saturday when the final 15 return in the $10,000 H.O.R.S.E. Championship. Six-time WSOP bracelet winner Daniel Negreanu bagged an impressive 1,213,000 in chips and owns 450,000 more than his nearest rival going into Day 3 of this event. Negreanu rode a heat wave of cards that began just before dinner break and then on return which saw him become the first person to enter the seven-figure club.
Jason Mercier, the defending champ of this event, is still alive and sitting with 541,000. Although Mercier is having a relatively quiet WSOP compared to his normal lofty standards, a back-to-back victory here in this H.O.R.S.E. Championship may just be one of the more impressive feats seen at the WSOP in a while.
Scott Bohlman (756,000), Don Zewin (704,000), Richard Chase (647,000), and Brian Rast (553,000) will be the next closest competitors to Negreanu when action resumes at 2 p.m. on Saturday. You won't want to miss this; follow all of the updates right here at PokerNews.com.
Thirty players will return Saturday to play for a bracelet in the $2,500 No-Limit Hold'em event. Twenty-nine of them will be chasing the massive chip leader Eddy Sabat (1,866,000), who boasts more than double the chips of Asi Moshe in second place with 921,000. Tom Thomas follows in third place with 861,000. Among the other big stacks and notables still in contention are Scott Margereson (712,000), Chi Zhang (674,000), Giuseppe Pantaleo (568,000), Curt Kohlberg (376,000), John Dolan (305,000), Jonathan Abdellatif (252,000) and 2015 November Niner Federico Butteroni (236,000).
Play will resume at noon on Saturday. The PokerNews live reporting team will be there to provide all the action from the floor.
A record-breaking field sat down Friday morning for Event #31: Seniors Event and at the end of it less than 700 remain. A total of 5,389 entries were recorded, besting the previous record of 4,499 from last year. This was in part due to the new re-entry policy available to players.
By the end of the day it was Kevin Dowling who led the 694 remaining players, bagging up an astonishing 160,800 from the starting stack of 5,000. Others returning for Day 2 include Greg Raymer (101,400), Dan Heimiller (22,500), Bill Klein (23,300), Cliff Josephy (19,900) and defending champion Johnnie Craig (95,000). Players will return for Day 2 on Saturday at 11 a.m and you can follow all of the updates right here.
Event #32 drew 688 entries on Friday and roughly 220 players remain. Leading the way into Day 2 is Daniel Zack with 92,375. He is followed by Igor Sharaskin with 85,500, Allen Kessler with 73,450 and Leif Force with 70,050. Only 104 places pay, so more than half the returning field will go home empty handed on Day 2. Play resumes on Saturday at 2 pm and the PokerNews team will be on the floor to provide live updates of the action.
Event #33: $1,500 No-Limit Hold'em
Another Saturday $1,500 NLHE event begins at 11 a.m. David "The Dragon" Pham won the first edition this summer, besting a field of 1,739 to claim the $391,960 top prize. Last weekend's $1,500 Millionaire Maker attracted a crowd of 7,761, with Pablo Mariz taking it down for $1.2 million. This weekend's version won't come close to matching that, but expect another 1,500-plus runners to create a sizable prize pool. PokerNews will be covering the action from start to finish.
Event #34: $10,000 Limit 2-7 Lowball Triple Draw Championship
Another star-studded field is expected to compete for the title in the Limit 2-7 Lowball Triple Draw Championship. John Hennigan is the defending champion of this event having finished ahead of 124 players last year. Also expected in attendance on Saturday is Tuan Le, who won this tournament in 2014 and 2015. The action starts at 3 p.m., so tune in to PokerNews for all the action from the three-day championship event.