Tweet, Tweet, Bad Beat: Bikinis and Drinks in the Extreme Vegas Heat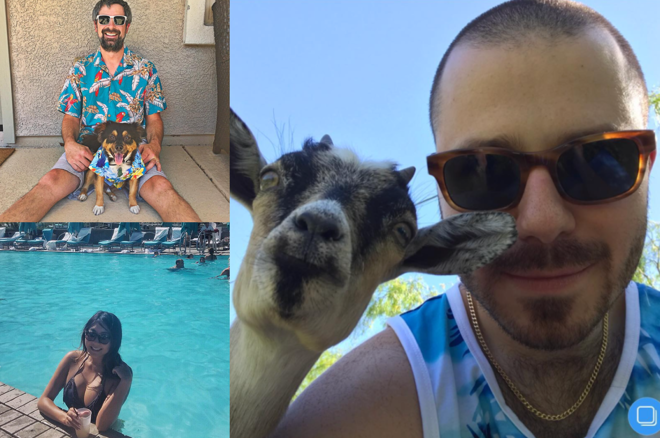 Things are heating up as week four of the 2017 World Series of Poker concludes, both inside and outside! Inside the Rio the record for most WSOP cashes just might fall this year, as three players are already tied with nine cashes after forty events. Outside, record-tying Las Vegas temperatures of 117 degrees have kept many players inside, but a few brave souls have ventured out to local pools and Red Rock Canyon.
That's the kind of grind we can get behind, Maria!
Kindness is contagious. Spread it!
The weather in Vegas is super Gross.
These are the deep conversations going on at the table? #relationshipgoals?
Looks more like "cruising" through these events to us! But definitely one of the top tweets of the summer!
We highly recommend having a cold drink in the afternoon, give it a try! Especially if you're in the Vegas heat.
Looks like you've been on a world tour this summer. Living the dream!
Trading the grind for the peaks of the Rockies, not the worst option.
Bro, this dude was bluffing you. (Not Chance the Rapper)
You might want to consider changing your name to farmerdan23. Just a suggestion.
We'll take the chill, and leave the hard work to you, Natalia.
Island life looks good on you!
That is no rock-climbing wall, Charlie!
Now we see why you weren't at the Rio last weekend.
Now that you broke your golf shoes, put on your poker shoes and get to the WSOP!!!
Twinning and winning! Justin Young and Otter show off their matching summer styles.
Heating up the scene at Green Valley Ranch, as if it's not hot enough!
What a way to poker prep!
We know who the muscle of the relationship is here!
Phil, we dare you to wear that jacket at the next tournament! On second thought, maybe we shouldn't encourage him.