74 Twitter Accounts You Must Follow During the World Series of Poker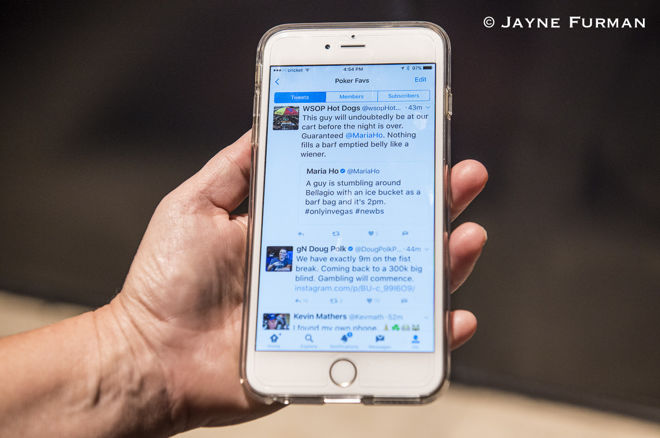 Twitter has taken a bit of a hit in the business world lately, but it reigns supreme in the poker world. #PokerTwitter is responsible for the Cate Hall and Mike Dentale grudge match, the gender reveal of Jason and Natasha Mercier's baby, the latest chip count of your favorite pros, and a hell of a lot more — especially during the World Series of Poker.
Paying homage to the number of bracelet events in the 2017 WSOP, we gathered 74 of the most prolific tweeters in poker to help you feel like you are in the middle of the action. If you want to follow them all, we made it easy for you. Just head over to Twitter and subscribe to the WSOP Must-Follow List.
Fan Favorites
Nice Guys (and Girl)
Pot Stirrers
Good for More Than Just Poker
Good for a Laugh
Media
PokerNews (@PokerNews): We're everywhere.
Kevin Mathers (@Kevmath): The friendliest czar in poker.
Sarah Herring (@AuntyChardonnay) If you don't know who Sarah is and you aren't following her, you're missing out. Oh, and where've you been?
Frank Op de Woerd (@webjoker): He's running the PokerNews Live Reporting Team. He's a good person to know.
Short-Stacked Shamus (@hardboiledpoker): PokerNews strategy editor and "your average jingle-brained sap."
Kara Scott (@KaraOTR): 888Poker Ambassador and ESPN Sideline Reporter. She has serious Twitter game.
Norman Chad (@NormanChad): "American poker talker/bowler/Couch Slouch/husband."
David Tuchman (@TuckonSports): "Listen more. Talk less. Ironic coming from me huh?"
Tatjana Pasalic (@Tattytats): "Sideline reporter, nemophilist, cycling enthusiast, and seasonal leaf peeper."
Did we miss any? Be sure to list your favourites below!