Poker and Life Balance: Does it Exist?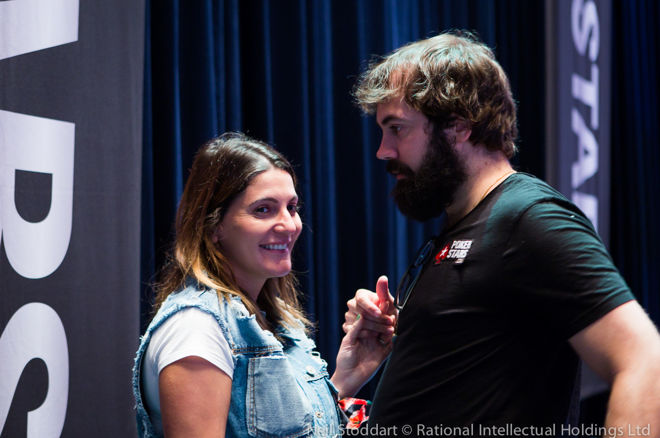 As the World Series of Poker approaches each year, you can expect #positivity tweets from Phil Hellmuth and goal-setting from Daniel Negreanu.
It used to be when heading into the summer, you would hear about time spent with a poker coach, sick poker house parties and where the latest table service meetup was going to be.
But this summer is a little different. This summer is shaping up to be one of balance and positivity.
We've noticed that mindsets are focused, sleep is winning over all-night ragers, All-American Dave is busy delivering bags and bags of healthy meals, players are skipping tournaments (gasp) by getting out of town, and many of those first internet wizards have grown up and found they are part of a family.
All of that brings up the question of whether poker and life balance exists and achievable. What exactly does poker-life balance mean in a world of nights that turn into mornings, regularly scheduled bathroom breaks and eating, getting a massage, and sometimes even sleeping at your desk?
If you Google "work-life balance," you'll find plenty of articles with steps to achieve it, where to find it and how to get it. Reading these articles makes it seems as if unplugging for a specified period every day and exercising often is the way to find balance. But what works for most professions may not be realistic for the crazy, upside down world of poker.
So we went out and tried to find a glimpse of poker-life balance with some of our favorite pros.
It's well known that Negreanu has a trailer onsite at the WSOP for quick naps. He also eats healthier than most everyone and focuses on achieving the goals he set through his pre-WSOP intention. "Intention isn't a goal. I'm not attached to the result at all. It's simply starting my day visualizing how I'd like to see it go," he says.
"Never thought I'd say this but my favorite sport to watch is now soccer. Six-year-old girls soccer to be exact."
Newlywed and expectant mother Natasha Mercier had this to say: "Before even getting pregnant, I made sure as a couple we kept a balance between gambling and life. With or without a family, I always needed that special time for me to enjoy time away from the felt. We usually just go really hard during a poker stop and then take a week or two off in between. And by off, I mean completely off, not a hand of poker. We still don't know how we're going to balance poker and life with a new baby yet, but I'm sure we'll learn as we go!"
Seth Berger told PokerNews' Sasha Salinger, "The hardest thing about being a poker dad is leaving. It's a choice, but I feel guilty every time I leave. Finding the balance is hard. It's hard treating poker like a job and leaving without feeling guilty."
Liv Boeree believes that taking nature trips helps her with her game, and she had this to say to PokerNews' Brandi Williams: "I just like to get out of the city as much as possible during the WSOP. I get stir crazy if I spend too much time indoors. I always feel reinvigorated after an adventure, and that obviously helps with [my] mental game. Getting out and about provides a fresh perspective on the grind!"
Dan Shak also believes taking time off is important as he said right before he left Vegas for a few weeks. "Part of me wants to keep playing, but the rational, smart part of me says I need a break," Shak told us. "I'm not the youngest anymore. I'm going to take a break and come back stronger."
Bernard Lee, who is celebrating the ten-year anniversary of his self-titled poker show puts his family first, always. "Poker isn't my number one priority. My family is my number one priority. It shouldn't be a chore to play; it's a game. I'm very fortunate I get paid to be around a game I love. I get talk about the game and people actually listen — so I just have to smile. I don't grind as hard as most. I play and study the game, but I take breaks, and I go home, so I stay excited about it all. I don't stay away too long where it feels like a grind."
Poker commentator and player David Tuchman is a brand new dad for the second time. Tuchman says he had his take on poker-life balance passed down from his grandfather. "I remember my grandfather saying, 'Remember why you work.' Balancing any job with family and life is challenging. Poker offers unique challenges in the sense that you're potentially traveling a lot and you don't work a normal nine-to-five. It's really important to have the support of the people that are most important to you. If I didn't have the support of my wife, something would have to give. Balance is defined by people in different ways. For me, I've chosen not to travel as much. I'm very aware of how much traveling I'll do, and there will be some sacrifices I'll make to make things work at home."
The Twitterverse even hints to a little balance. While your feed won't ever be free from rants, politics and the latest controversy, you'll also find your favorite pros sharing how they are spending time off the felt.
Chris Moneymaker tweeted about his WSOP schedule: "Had a lot of questions as to why I'm not at the WSOP. Since winning, I never play more than 3-5 events each year."
Jeremy Ausmus has long been balancing poker and life and tweeted, "Never thought I'd say this but my favorite sport to watch is now soccer. Six-year-old girls soccer to be exact."
Matt Glantz, who mostly stays and plays close to home, took a quick jaunt back to his family. "Heading home for Father's Day. I will be back for the $10k Stud8. So glad the @WSOP got new cards. Excited to get back in it."
And then there's adorable father's day tweet from Shaun Deeb's wife, Ashley.
Happy Father's Day @shaundeeb who works long sessions to provide the best life for us; still wakes up early so he… https://t.co/GyGPnsD7F8

— Ashley Deeb (@crashleyonfire)
What has become crystal clear during the writing of this article is that finding a balance between poker and life starts by creating a life outside of poker and what that looks like is different for everyone.
In answering the question, does poker-life balance exist? The answer is yes, if you want it to and define what balance means to you and those that support you. A good place to start might be a willingness to miss a tournament or two, occasionally leaving poker behind, and spending more time with the people that matter most.