Player of the Week: Ray Henson Takes Lead in POY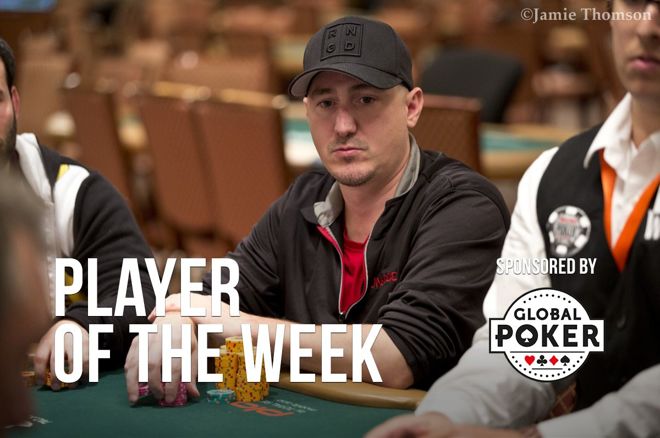 Going back to the 1990s, Ray Henson was strictly a cash game player. In fact, Henson used to travel the poker tournament circuit just to chase the best cash games in the U.S.
And then in 2007, after a deep run in the World Series of Poker Main Event, the tournament bug hit.
"I would come out to the World Series and mostly play cash and an occasional tournament here and there. I just wasn't very good at tournaments back then."
Fast forward to today, and you'll find Henson sitting atop the WSOP Player of the Year leaderboard, having already racked up eight cashes, including three final tables. Two of those final tables happened this past week.
The transition from cash to tournaments was relatively easy for Henson. He credits his 12th-place finish in the 2007 Main Event for ultimately turning a cash player into a tournament grinder.
"The night I busted the Main Event, I went out and celebrated with some friends. Eric Lindgren was there, and I remember him saying, 'Every time someone has a big score, they catch fire. Let me give you one piece of advice: play as many tournaments as you can.' I looked up to Eric at the time; we were friendly, so I started playing a lot of tournaments and started doing well."
Since that year, Henson has played anywhere from 20-40 events each summer while trying to manage travel and tournament play with raising his children.
"Every year in the middle of the WSOP, I head home for a week," Henson said. "My son's birthday is June 13, my daughter's is June 18, not to mention that Father's Day is always somewhere around there. So every single year I've gone home except for one year when it was flooded really bad, and I couldn't get home.
"That's the only year I haven't been back, until this year. The kids' mom asked if she could take the kids to Disney World for their birthdays. So I didn't go home this year, and that is the week that I did really well. Everything happens for a reason, I guess."
Doing "really well" is an understatement. During the week that was never supposed to be, Henson earned four cashes with two final tables. So what does someone do when they earn some serious cash and final table everything? They turn their eye towards Player of the Year.
We met up with Henson earlier this month while talking to the pros regarding the new player of the year formula. At that time he was sitting in 14th place and wasn't paying too much attention to making a run for it. But he's paying attention now that he has a legitimate shot.
"Honestly, I am. I would love to say I'm not, but I would love to win it. But I would also love to earn it. I know that sounds weird, but I just don't like the scoring system. I think it has a lot of flaws."
If Henson doesn't feel that eight cashes including three final tables are worthy, the logical next question is what would make him feel like he earned it?
"Obviously, I would like to win one. Has anyone won the POY without winning a bracelet? I don't think it's right to min cash your way to the POY award. I'm not saying that if I did win and I didn't feel like I deserved it that I wouldn't take it. But I would really like to win one and cement it. And then run well in the Main Event."
To answer Henson's question, no. No one has won POY without having at least one bracelet. With the POY as a real consideration and the goal of winning one, Henson has started to reevaluate his schedule.
"I just show up at 11 a.m. every day and see what tournament I can buy into. Then if I bust out, I see what's happening at 3 p.m."
"I honestly wasn't going to play this event [Event #51: $10,000 Pot-Limit Omaha Hi-Lo 8 or Better Championship]. I don't like this game at all. I final tabled it the other day, and some of my friends said I play it pretty well, so here I am. I don't play many 10Ks because I haven't had great results in the mixed games in the past. This year, I already cashed in the dealer's choice, cashed horse, and a pot-limit Omaha. I don't know if my game is better now or if it's just that when you start to run better, people start to respect you, you get the fold, and you have the confidence to back it up."
With three weeks left and 21 events yet to start, Henson has some time to earn his first bracelet. Other than taking a few days off to celebrate his and his fiance's birthday, he'll be showing up every day to see what he can play.
"I just show up at 11 a.m. every day and see what tournament I can buy into. Then if I bust out, I see what's happening at 3 p.m. I'm not going to play the 50K, and I don't know how many 10Ks are left, but I probably won't play many of those. Other than that, I plan to play much everything."
Sounds like the perfect plan to earn Player of the Year and feel like it's deserved when it happens.