Pints & Poker: UK Pub Owner Wins WSOP Trip; Huge Fan Base Follows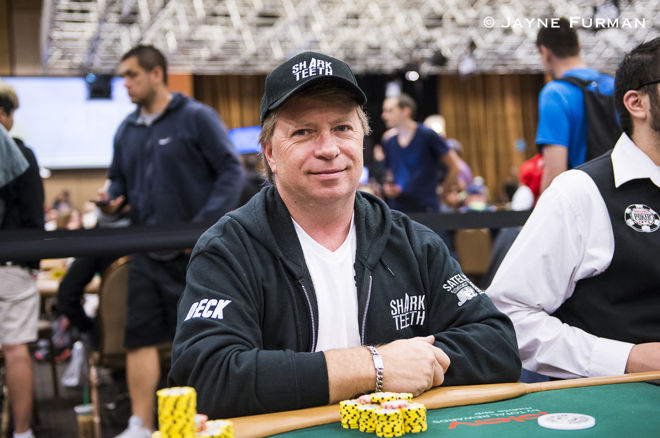 As he wages poker battle on Day 2 of the Colossus, recreational player Adrian Fazakerley's cheering section back in his hometown of Chesterfield, U.K., is a bit bigger than most. The 53-year-old owner of a pub and inn won a WSOP package from Redtooth Poker, an English pub poker league popular throughout the country. Friends and fans of the league and his pub are following his action via Facebook and PokerNews live updates.
"I've also got another group following me called Aces High poker group and there are about 4,000 members," he says. "They're all going to be watching the live updates and rooting for me as well."
Introduced to poker by a nephew, Fazakerley is making use of PokerNews' MyStack app so followers can keep track of his chip stack throughout tournaments and also posting on Facebook some of the live updates. Redtooth has also been hyping up his play a bit as well.
"This is the first year I've played one for a bracelet," he says. "Last year I came and played a couple of the DeepStacks, just to get a feel for it."
Fazakerley fired a few bullets in the Colossus's early days and then tried one more time to advance on Sunday. He changed his tactics by starting an afternoon flight instead of the morning flight, and found some success, advancing to play on Monday.
"I played really good, solid poker," he says. "Yesterday I felt more in the zone. I am absolutely loving it."
"I've played since 2009, and it's been a big learning curve online and it's helped me learn a lot."
Back in England, Fazakerley is a busy man. He owns the Dusty Miller Inn and Pub, located between Sheffield and Chesterfield in the small country village of Barlborough. The Dusty Miller offers a nice place to have a drink, socialise with friends, hear some live entertainment, eat a tasty authentic British meal, and stay the night in one the six guest rooms. Managing a popular eatery and bar takes plenty of his time.
"It's very difficult," he says of finding time to play poker outside of his own pub. "It's very rare that I get to play live. It's mainly online, that's how I've gained my experience. I've played since 2009, and it's been a big learning curve online and it's helped me learn a lot."
His place is popular and he has numerous fans cheering him on as he plays in Las Vegas this summer. The pub also hosts a Redtooth Poker night on Mondays and Fazakerley's success in his own establishment helped kickstart his journey to the WSOP this summer.
"This year I won a free trip to Vegas for a week," says Fazakerley, who is a father of two grown daughters. "We all get flown over here to play in the Redtooth UK Pub Poker Championship. It's massive, the biggest pub poker league in the U.K."
Redtooth players play at their local pubs regularly in the 13-week league to accumulate points and then advance to the area tournament. The league is mostly just fun and competition, but players are allowed to buy-in for £5 with the chance to win a small cash prize. This year, Fazakerley bested a field of 176 players in his area competition, winning a trophy and his free trip to Vegas.
As part of the Redtooth Vegas100, winning players head to the Orleans Casino after flying to Vegas to compete in the championship and those who do well receive a cash prize and series buy-in. Fazakerley finished 18th and was 15th two years ago.
"This year after the week's free holiday, I decided to stay on another week to try and give the WSOP a proper shot," he says.
Away from the table, this pub owner/poker player enjoys travelling – especially to the U.S. In the last several years, he's visited Los Angeles, Hawaii, San Francisco, and also Portugal and the Caribbean. He's hoping one day his busy schedule with his business clears up and he can pursue some more of his passions.
"I used to play golf so eventually when I'm finished running the business I'm going to take that back up," he says. "I'd also like to pursue poker more."
Whether or not he makes a deep run in the Colossus, there should be quite a few pints being knocked back at the Dusty Miller when he returns home. Cheers!