Here's How to Play for a Share of £1M for Only $0.01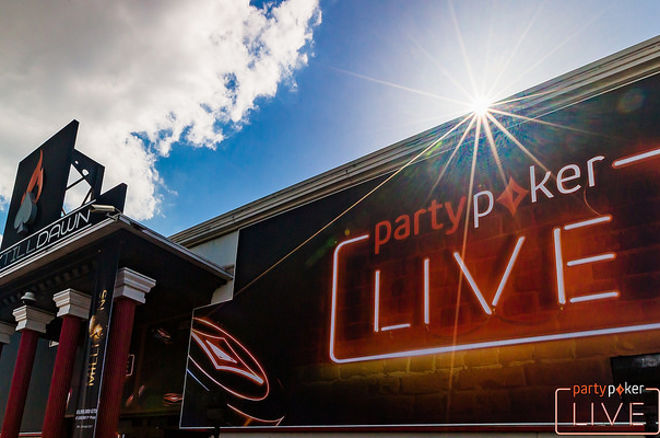 The Grand Prix UK is a live event taking place online at partypoker and live at Dusk Till Dawn which has a massive £1 million guaranteed prize pool despite the tournament only costing £220 to buy into.
Thanks to the special relationship PokerNews enjoys with partypoker, you have the chance to win your way into the £1 million guaranteed Grand Prix UK for as little as $0.01 thanks to a PokerNews-exclusive "centroll" taking place online at partypoker on June 14.
Dusk Till Dawn and partypoker have kindly created a $0.01 buy in online tournament that has 10 Online Day 1 tickets, each worth £220 ($275), guaranteed. Win one of these 10 tickets and then try to navigate your way through the 16 levels of an Online Day 1 and you can choose to play Day 2 online or live at Dusk Till Dawn in Nottingham.
Getting involved in this centroll is easy and because it is only open to players based in the United Kingdom or Ireland the number of entrants should be much lower than a similarly sized tiny buy-in tournament.
Head to partypoker and find the $0.01 buy-in Grand Prix UK PokerNews Centroll, click register to buy-in for one cent, then enter the password "uknews". All you need to do then is finish in the top 10 of the tournament to win a £220 ($275) Grand Prix UK Online Day 1 ticket.
If you don't have a partypoker account, download partypoker via UK & Ireland PokerNews, enter the bonus code "UKPNEWS16" when making your first deposit and partypoker will match the deposit amount 100 percent up to a maximum of £250.
£1 Million Grand Prix Schedule
| Date | Time (BST) | Tournament | Buy-in |
| --- | --- | --- | --- |
| June 11 | 9 p.m. | Grand Prix U.K. Online Day 1: £1m Gtd | $275 |
| June 17 | 1 p.m. | Grand Prix U.K. Live Day 1: £1m Gtd | £220 |
| | 9 p.m. | Grand Prix U.K. Online Day 1: £1m Gtd | $275 |
| June 18 | 1 p.m. | Grand Prix U.K. Live Day 1: £1m Gtd | £220 |
| | 6 p.m. | Grand Prix U.K. Live Day 1: £1m Gtd | £220 |
| | 7 p.m. | Grand Prix U.K. Online Day 1: £1m Gtd | $275 |
| | 9 p.m. | Grand Prix U.K. Online Day 1: £1m Gtd | $275 |
| | 9:15 p.m. | Grand Prix U.K. Online Day 2: £1m Gtd | |
| June 19 | 7 p.m. | Grand Prix U.K. Online Day 1: £1m Gtd | $275 |
| | 9 p.m. | Grand Prix U.K. Online Day 1: £1m Gtd | $275 |
| June 20 | 7 p.m. | Grand Prix U.K. Online Day 1: £1m Gtd | $275 |
| | 9 p.m. | Grand Prix U.K. Online Day 1: £1m Gtd | $275 |
| June 21 | 7 p.m. | Grand Prix U.K. Live Day 1: £1m Gtd | £220 |
| | 7 p.m. | Grand Prix U.K. Online Day 1: £1m Gtd | $275 |
| | 9 p.m. | Grand Prix U.K. Online Day 1: £1m Gtd | $275 |
| June 22 | 12 p.m. | Grand Prix U.K. Live Day 1: £1m Gtd | £220 |
| | 7 p.m. | Grand Prix U.K. Live Day 1: £1m Gtd | £220 |
| | 7 p.m. | Grand Prix U.K. Online Day 1: £1m Gtd | $275 |
| | 9 p.m. | Grand Prix U.K. Online Day 1: £1m Gtd | $275 |
| June 23 | 12 p.m. | Grand Prix U.K. Live Day 1: £1m Gtd | £220 |
| | 1 p.m. | Grand Prix U.K. Live Day 2A: £1m Gtd | |
| | 5 p.m. | Grand Prix U.K. Live Day 1: £1m Gtd | £220 |
| | 7 p.m. | Grand Prix U.K. Online Day 1: £1m Gtd | $275 |
| | 9 p.m. | Grand Prix U.K. Online Day 1: £1m Gtd | $275 |
| | 9 p.m. | Grand Prix U.K. Live Day 1 Turbo: £1m Gtd | £220 |
| June 24 | 11 a.m. | Grand Prix U.K. Live Day 1 Turbo: £1m Gtd | £220 |
| | 12 p.m. | Grand Prix U.K. Online Day 1 Turbo: £1m Gtd | $275 |
| | 3:30 p.m. | Grand Prix U.K. Live Day 2B: £1m Gtd | |
| June 25 | 1 p.m. | Grand Prix U.K. Live Final Day: £1m Gtd | |