Chris Bolek Wins WSOP Event #50: $1,500 No-Limit Hold'em BOUNTY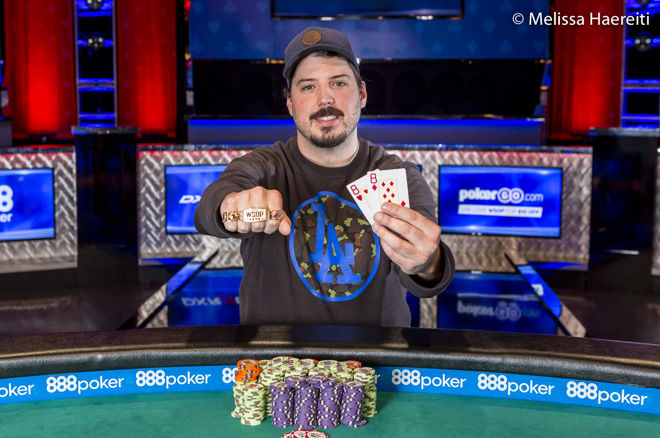 A new champion was crowned at the 2017 World Series of Poker on Thursday afternoon as Chris Bolek emerged victorious after defeating Bryan Emory heads-up to claim his first gold bracelet and $266,646 in Event #50: $1,500 No-Limit Hold'em BOUNTY.
The tournament drew a field of 1,927 entries, which created a prize pool of $2,601,450, and each elimination added $500 to the pocket of the winner. The final table also included 2014 November Niner Dan Sindelar, Argentina's Richard Dubini and Dutch poker stalwart Govert Metaal. An unscheduled fourth day was added after 121 hands of the official final table saw five players bag up and return to the Rio All-Suite Hotel and Casino at 1 p.m. local time on Thursday.
Bolek previously won a WSOP Circuit ring at the Palm Beach Kennel Club in 2014, and he had already cashed four times at the 2017 WSOP with a total of $404,388 in WSOP and Circuit cashes prior to his victory. He came into the final day as one of the three short-stacks on just 14 big blinds and ran extremely well to emerge victoriously, that also included seven bounties and his own for $500 apiece.
Born in Quito, Ecuador, Bolek now resides in Boca Raton, Florida. The professional poker player learned the game while playing home games in high school.
"It feels very surreal," Bolek said after his win. "I came in pretty short to the final table and I just wanted to give myself a shot to win. People say how good it is to visualise things so I spent some time trying to do that this morning to get into the right mindset and it just kind of all came together, perfectly."
While Bolek likes to travel, most big scores so far came back home in Florida and he took previously missed chances as a learning opportunity.
"I just told myself when I do get back there, just try and maker better decisions," he said. "When I was playing in Jacksonville for the WPT, I was pretty nervous for the live stream. That definitely helped a little bit. I was happy we didn't have a stream yesterday, just because it allows you to concentrate on what is going on and use the same cards. I just felt super comfortable this time around and I think that helped a lot. I had a roommate watching and just hoped that I would last long enough to get the value of watching the live stream at first. Luckily it worked out."
When asked what he had planned for the rest of the series, Bolek replied with the following: "I had a schedule in my head before hand, so I probably won't adjust it too much. I think I am just going to enjoy the win and let it set in, and then get ready for the Main Event."
Runner-up Bryan Emory came into the day as the chip leader and kept his 11 bounty chips next to his stack the entire time. After pulling away early on, Emory seemed poised to claim the title and was still all smiles before entering heads-up with a crushing chip deficit.
Event #50 Final Table Results
| Place | Winner | Country | Prize (USD) |
| --- | --- | --- | --- |
| 1 | Chris Bolek | United States | $266,646 |
| 2 | Bryan Emory | United States | $164,735 |
| 3 | James Gilbert | United States | $119,479 |
| 4 | Tobias Peters | Netherlands | $87,516 |
| 5 | Zhaoxing Wang | United States | $64,746 |
| 6 | Govert Metaal | Netherlands | $48,386 |
| 7 | Thomas Lutz | United States | $36,530 |
| 8 | Richard Dubini | Argentina | $27,865 |
| 9 | Dan Sindelar | United States | $21,477 |
Day 4 Action
The day began with Zhaoxing Wang moving all in on the first hand, which induced folds from the rest of the table, but he did it again in the fourth hand and was called by initial raiser James Gilbert. Wang tabled ace-nine suited and Gilbert had the dominating ace-ten suited and filled up to a full house, tens over aces, by the river.
Soon after, Bolek came from behind to double through James Gilbert when his queen-ten met ace-jack suited of Gilbert. An ace-king-king flop left Bolek with a gutshot, and the river brought a jack to complete the straight.
In hand #147 of the official final table, Bolek moved all in from the small blind and Tobias Peters called in the big blind for slightly less. Bolek tabled pocket jacks and Peters had ace-ten. A jack on the flop and a jack on the turn gave Bolek quads, and Peters had to settle for fourth place.
Only five hands later, Bolek scored another vital double through Emory when the latter defended his big blind with king-eight. Bolek flopped an open-ended straight draw with jack-ten suited and a king on the river gave Emory top pair while Bolek improved to the nut straight. Bolek's shove was reluctantly called and that vaulted him into the top spot. Soon after, Emory also paid off the trips tens of Bolek when holding pocket sevens and that created a commanding lead.
On hand #162, Gilbert moved all in for his last 11 big blinds from the button and Bolek called in the big blind with pocket queens. Gilbert only had queen-jack and was drawing dead on the turn of a king-high board to give Bolek a 6-1 lead for heads up.
It took ten hands from there to determine a champion. Emory moved all in for most of the hands to build his stack slightly, but his three-bet shove in hand #172 was quickly called by Bolek with red eights. Emory's ace-four suited failed to connect with the board and Emory had to settle for second place and a payday of $164,735.