888poker Introduces Fast BLAST Tournaments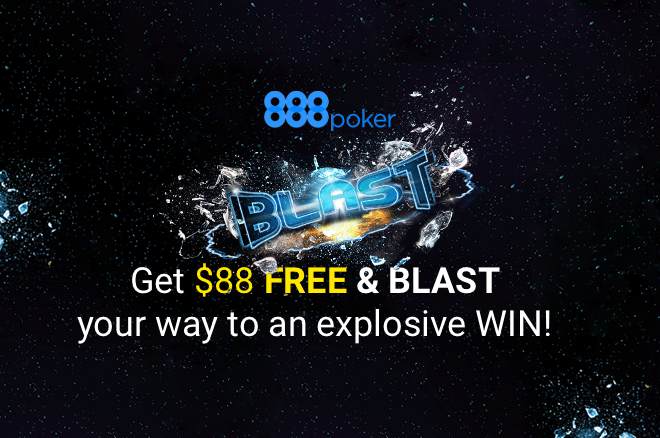 One of the most action-packed online poker tournament variants is set to become even crazier after 888poker introduced a turbocharged version of its popular BLAST games.
BLAST tournaments are 888poker's version of the so-called "jackpot sit & go" tournaments. All BLAST tournaments are played on four-handed tables and start when four players have entered either the $1, $5, $10, $15, $30 or $100 buy-in game.
Like in other online poker sites' jackpot sit & go games, the prize pool is randomly selected before any cards are dealt, but then comes the major difference which separates BLAST from the competition.
Instead of playing out like a typical sit & go, BLAST games have a timer displayed, which is typically five minutes, and once this timer hits zero, any remaining players are set all-in until a champion is decided. As you can imagine, this can lead to some crazy plays when the timer has almost counted down.
As if only having five minutes didn't promote enough frantic action, 888poker is in the process of introducing Fast BLAST tournaments, which have a time limit of a mere two minutes. The rules are still the same and you can still play for a share of a prize pool up to 10,000 times your buy-in amount, but now you only have 120 seconds in which to build a large enough stack to give you an increased chance of winnings some prize money.
Another new addition to the 888poker BLAST offering is the $10 BLAST WSOP Package edition where triggering the jackpot awards the winner a $12,500 package to the 2017 World Series of Poker Main Event. These $10 buy in games see eight percent of the buy-in paid as fees and the prize pool multiplier is either twice, five times or 1,250 times the buy-in. Prizes are awarded at the following frequencies.
| Prize Pool Multiplier | Prize Pool | Frequency |
| --- | --- | --- |
| 1,250 | $12,500 | 450 in 1,000,000 |
| 5 | $50 | 372,800 in 1,000,000 |
| 2 | $20 | 626,750 in 1,000,000 |
Get involved in these exciting new tournaments by downloading 888poker via PokerNews today. Once you have created your free 888poker account, you will receive a free $88 (free £20 in the UK) worth of cash and tournament tickets, and when you make your first deposit it will be matched 100 percent up to a maximum of $888.