WSOP.com Online Summer Schedule: What You Need to Know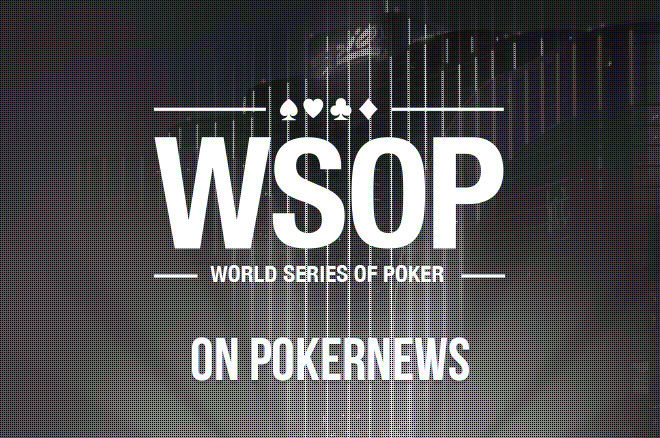 Like every summer, poker players from around the world are soon to be heading to Las Vegas to play on the poker's biggest stage, the 2017 World Series of Poker.
Not all the big WSOP action will take place live at the Rio. Nevada's biggest regulated online poker room, WSOP.com, is also hosting the Summer Grind Tour which features hundreds of events June 1 to July 12 including three WSOP Online Bracelet tournaments, the WSOP.com Online Championships and tons of satellites to live and online events.
Players planning to visit Nevada this summer can play at WSOP.com regardless of whether or not they are a resident of the state. Players must simply be located within the state's borders when logging into WSOP.com.
Players that do not already have an account, can sign-up to WSOP.com through our links and will not only be able to play in huge online events but also be awarded a huge 100 percent deposit bonus up to $400.
WSOP Online Bracelet Events
The first of the three WSOP Online Bracelet Events is the WSOP Event #8: The $333 Little Grind Online Bracelet [Re-entry] $333,333 GTD on June 3 at 3:33 p.m. Players will start off the one-day event with 15,000 chips and blinds increasing every 15 minutes.
Unlimited reentry is allowed for the first three hours and 45 minutes. Players planning to reenter if they bust out early on their first bullet should have sufficient funds ready in their online poker wallet as a reentry can only take place within 30 seconds of elimination.
The next WSOP Online Bracelet event, WSOP Event #61: The $3,333 Big Grind Online Bracelet, takes place about a month later on July 1 at 3:33 p.m. followed by WSOP Event #71: The $1,000 Classic Online Bracelet on July 7 at 2 p.m.
WSOP.com Online Championships
To add to the excitement, the WSOP.com Online Championships feature three events every day from June 3 to July 8. The 108 event poker festival guarantees at least $85,000 in guaranteed prizes.
The festival is suitable for players with any bankroll with events ranging from $5 to $500 in addition to the many satellites.
The online poker festival kicks off with the $20,000 GTD Online Championships Event #1 [Deepstack, R&A] with a $100 buy-in on June 3 at 4 p.m. The biggest event of the poker festival, the $75,000 GTD Online Championships Event #106 [Re-entry] is on the final day of the festival, July 8, at 4 p.m.
The best performing player of the Online Championships will be awarded a WSOP.com Champion's Ring.
Here is a look at the complete schedule of the Summer Grind Tour at WSOP.com.
| | | | | |
| --- | --- | --- | --- | --- |
| Date | Time | Tournament | Buy-in | Guarantee |
| June 1 | 3:30 p.m. | Satellite to WSOP Event #71 The $1,000 Classic Online Bracelet [R&A] | $30 | $1,000 |
| | 3:30 p.m. | Satellite to WSOP Event #71 The $1,000 Classic Online Bracelet [R&A] | $30 | $1,000 |
| | 6 p.m. | WSOP Kick-off Weekend Package [R&A] | $30 | $898 |
| | 6 p.m. | Satellite to WSOP #5 - The Colossus III [R&A] | $10 | $565 |
| | 6:30 p.m. | Satellite to WSOP Event #71 The $1,000 Classic Online Bracelet [R&A] | $15 | $1,000 |
| | 7:30 p.m. | Satellite to WSOP Event #61 The $3,333 Big Grind Online Bracelet [R&A] | $50 | $3,333 |
| | 8 p.m. | [2 Seats GTD] $1,000 WSOP Seat Satellite [R&A] | $20 | $2,000 |
| | 8:30 p.m. | Satellite to WSOP Event #71 The $1,000 Classic Online Bracelet [R&A] | $20 | $1,000 |
| | 10:30 p.m. | $1,000 WSOP Seat Satellite [Turbo, R&A] | $10 | $1,000 |
| | 11:30 p.m. | $1,000 WSOP Seat Satellite [ Super Turbo, R&A] | $30 | $1,000 |
| June 2 | 3:30 p.m. | Satellite to WSOP Event #71 The $1,000 Classic Online Bracelet [R&A] | $30 | $1,000 |
| | 5 p.m. | The Marquee 33 [33 Seats GTD to The Little Grind Online Bracelet] | $22 | $10,989 |
| | 6 p.m. | WSOP Kick-off Weekend Package [R&A] | $30 | $898 |
| | 6 p.m. | Satellite to WSOP Event #5 - The Colossus III [R&A] | $10 | $565 |
| | 6:30 p.m. | Satellite to WSOP Event #71 The $1,000 Classic Online Bracelet [R&A] | $15 | $1,000 |
| | 7:30 p.m. | Satellite to WSOP Event #61 The $3,333 Big Grind Online Bracelet [R&A] | $50 | $3,333 |
| | 8 p.m. | [2 Seats GTD] $1,000 WSOP Seat Satellite [R&A] | $20 | $2,000 |
| | 8:30 p.m. | Satellite to WSOP Event #71 The $1,000 Classic Online Bracelet [R&A] | $20 | $1,000 |
| | 10:30 p.m. | $1,000 WSOP Seat Satellite [Turbo, R&A] | $10 | $1,000 |
| | 11:30 p.m. | $1,000 WSOP Seat Satellite [ Super Turbo, R&A] | $30 | $1,000 |
| June 3 | 2 p.m. | $2,000 WSOP Satellite [Turbo, R&A] | $20 | $2,000 |
| | 3:30 p.m. | Satellite to WSOP Event #71 The $1,000 Classic Online Bracelet [R&A] | $30 | $1,000 |
| | 3:33 p.m. | WSOP Event #8 The $333 Little Grind Online Bracelet [Re-entry] $333,333 GTD | $333 | $333,333 |
| | 4 p.m. | $20,000 GTD Online Championships Event #1 [Deepstack, R&A] | $100 | $20,000 |
| | 5 p.m. | The Colossal XXII [22 Seats GTD to the Colossus III] | $22 | $12,430 |
| | 5 p.m. | Satellite to WSOP Event # The Millionaire Maker [R&A] | $10 | $1,500 |
| | 6 p.m. | Satellite to WSOP Event #5 - The Colossus III [R&A] | $10 | $565 |
| | 6:30 p.m. | Satellite to WSOP Event #71 The $1,000 Classic Online Bracelet [R&A] | $15 | $1,000 |
| | 7 p.m. | $5,000 GTD Online Championships Event #2 [R&A] | $30 | $5,000 |
| | 7:15 p.m. | Satellite to the 2017 $10,000 Main Event [Re-entry] | $200 | $10,000 |
| | 7:30 p.m. | Satellite to WSOP Event #61 The $3,333 Big Grind Online Bracelet [R&A] | $50 | $3,333 |
| | 8 p.m. | [2 Seats GTD] $1,000 WSOP Seat Satellite [R&A] | $20 | $2,000 |
| | 8:30 p.m. | Satellite to WSOP Event #71 The $1,000 Classic Online Bracelet [R&A] | $20 | $1,000 |
| | 9 p.m. | $5,000 GTD Online Championships Event #3 [Turbo, R&A] | $50 | $5,000 |
| | 10:30 p.m. | $1,000 WSOP Seat Satellite [Turbo, R&A] | $10 | $1,000 |
| | 11:30 p.m. | $1,000 WSOP Seat Satellite [ Super Turbo, R&A] | $30 | $1,000 |
| June 4 | 3:30 p.m. | Satellite to WSOP Event #71 The $1,000 Classic Online Bracelet [R&A] | $30 | $1,000 |
| | 4 p.m. | $10,000 GTD Online Championships Event #4 [Deepstack, Freezeout] | $50 | $10,000 |
| | 4:30 p.m. | Satellite to the 2017 $10,000 Main Event [Re-entry] | $200 | $10,000 |
| | 5 p.m. | Satellite to WSOP Event #20 - $1,500 Millionaire Maker [R&A] | $10 | $1,500 |
| | 5 p.m. | $30,000 Weekly Sunday Guarantee [Re-entry] | $200 | $30,000 |
| | 6 p.m. | Satellite to any $1,000 WOP Event [R&A] | $10 | $1,000 |
| | 6:30 p.m. | Satellite to WSOP Event #71 The $1,000 Classic Online Bracelet [R&A] | $15 | $1,000 |
| | 7 p.m. | $1,000 Online Bracelet Freeroll | $0 | $1,000 |
| | 7 p.m. | $30,000 GTD Online Championships Event #5 [Re-entry] | $200 | $30,000 |
| | 7:15 p.m. | Satellite to the 2017 $10,000 Main Event [Re-entry] | $200 | $10,000 |
| | 7:30 p.m. | Satellite to WSOP Event #61 The $3,333 Big Grind Online Bracelet [R&A] | $50 | $3,333 |
| | 8 p.m. | [2 Seats GTD] $1,000 WSOP Seat Satellite [R&A] | $20 | $2,000 |
| | 8 p.m. | 5 Seats GTD to the 25 Seat Scramble [R&A] | $10 | $1,000 |
| | 8:30 p.m. | Satellite to WSOP Event #71 The $1,000 Classic Online Bracelet [R&A] | $20 | $1,000 |
| | 9 p.m. | $7,500 GTD Online Championships Event #6 [R&A] | $20 | $7,500 |
| | 10:30 p.m. | $1,000 WSOP Seat Satellite [Turbo, R&A] | $10 | $1,000 |
| | 11:30 p.m. | $1,000 WSOP Seat Satellite [ Super Turbo, R&A] | $30 | $1,000 |
| June 5 | 3:30 p.m. | Satellite to WSOP Event #71 The $1,000 Classic Online Bracelet [R&A] | $30 | $1,000 |
| | 4 p.m. | $2,500 GTD Online Championships Event #7 [R&A] | $5 | $2,500 |
| | 5 p.m. | Satellite to WSOP Event #20 - $1,500 Millionaire Maker [R&A] | $10 | $1,500 |
| | 6 p.m. | Satellite to WSOP Event #12 - $1,500 No Limit Hold'em [R&A] | $15 | $1,500 |
| | 6:30 p.m. | Satellite to WSOP Event #71 The $1,000 Classic Online Bracelet [R&A] | $15 | $1,000 |
| | 7 p.m. | $13,000 GTD Online Championships Event #8 [Freezeout] | $100 | $13,000 |
| | 7:30 p.m. | Satellite to WSOP Event #61 The $3,333 Big Grind Online Bracelet [R&A] | $50 | $3,333 |
| | 8 p.m. | [2 Seats GTD] $1,000 WSOP Seat Satellite [R&A] | $20 | $2,000 |
| | 8:30 p.m. | Satellite to WSOP Event #71 The $1,000 Classic Online Bracelet [R&A] | $20 | $1,000 |
| | 9 p.m. | $3,000 GTD Online Championships Event #9 [Turbo, R&A] | $10 | $3,000 |
| | 10:30 p.m. | $1,000 WSOP Seat Satellite [Turbo, R&A] | $10 | $1,000 |
| | 11:30 p.m. | $1,000 WSOP Seat Satellite [ Super Turbo, R&A] | $30 | $1,000 |
| June 6 | 3:30 p.m. | Satellite to WSOP Event #71 The $1,000 Classic Online Bracelet [R&A] | $30 | $1,000 |
| | 4 p.m. | $4,000 GTD Online Championships Event #10 [4 Max, R&A] | $20 | $4,000 |
| | 5 p.m. | Satellite to WSOP Event #20 - $1,500 Millionaire Maker [R&A] | $10 | $1,500 |
| | 6 p.m. | Satellite to any $1,500 WSOP Event [R&A] | $15 | $1,500 |
| | 6:30 p.m. | Satellite to WSOP Event #71 The $1,000 Classic Online Bracelet [R&A] | $15 | $1,000 |
| | 7 p.m. | $5,000 GTD Online Championships Event #11 [6 Max, KO] | $25 | $5,000 |
| | 7:30 p.m. | Satellite to WSOP Event #61 The $3,333 Big Grind Online Bracelet [R&A] | $50 | $3,333 |
| | 8 p.m. | [2 Seats GTD] $1,000 WSOP Seat Satellite [R&A] | $20 | $2,000 |
| | 8:30 p.m. | Satellite to WSOP Event #71 The $1,000 Classic Online Bracelet [R&A] | $20 | $1,000 |
| | 9 p.m. | $1,000 GTD Online Championships Event #12 [Super Turbo, R&A] | $5 | $1,000 |
| | 10:30 p.m. | $1,000 WSOP Seat Satellite [Turbo, R&A] | $10 | $1,000 |
| | 11:30 p.m. | $1,000 WSOP Seat Satellite [ Super Turbo, R&A] | $30 | $1,000 |
| June 7 | 3:30 p.m. | Satellite to WSOP Event #71 The $1,000 Classic Online Bracelet [R&A] | $30 | $1,000 |
| | 4 p.m. | $2,000 GTD Online Championships Event #13 [6 Max, 1R1A] | $20 | $2,000 |
| | 5 p.m. | Satellite to WSOP Event #20 - $1,500 Millionaire Maker [R&A] | $10 | $1,500 |
| | 6 p.m. | Satellite to WSOP #16 - $1,500 Six-Max No Limit Hold'em [6 Max, R&A] | $15 | $1,500 |
| | 6:30 p.m. | Satellite to WSOP Event #71 The $1,000 Classic Online Bracelet [R&A] | $15 | $1,000 |
| | 7 p.m. | $4,500 GTD Online Championships Event #14 [Freezeout] | $30 | $4,500 |
| | 7:30 p.m. | Satellite to WSOP Event #61 The $3,333 Big Grind Online Bracelet [R&A] | $50 | $3,333 |
| | 8 p.m. | [2 Seats GTD] $1,000 WSOP Seat Satellite [R&A] | $20 | $2,000 |
| | 8:30 p.m. | Satellite to WSOP Event #71 The $1,000 Classic Online Bracelet [R&A] | $20 | $1,000 |
| | 9 p.m. | $1,000 GTD Online Championships Event #15 [Turbo, R&A] | $5 | $1,000 |
| | 10:30 p.m. | $1,000 WSOP Seat Satellite [Turbo, R&A] | $10 | $1,000 |
| | 11:30 p.m. | $1,000 WSOP Seat Satellite [ Super Turbo, R&A] | $30 | $1,000 |
| June 8 | 3:30 p.m. | Satellite to WSOP Event #71 The $1,000 Classic Online Bracelet [R&A] | $30 | $1,000 |
| | 4 p.m. | $3,500 GTD Online Championships Event #16 [R&A] | $20 | $3,500 |
| | 5 p.m. | Satellite to WSOP Event #20 - $1,500 Millionaire Maker [R&A] | $10 | $1,500 |
| | 6 p.m. | Satellite to WSOP Event #18 - $565 PLO [R&A] | $10 | $565 |
| | 6:30 p.m. | Satellite to WSOP Event #71 The $1,000 Classic Online Bracelet [R&A] | $15 | $1,000 |
| | 7 p.m. | $10,000 GTD Online Championships Event #17 [Freezeout] | $100 | $10,000 |
| | 7:30 p.m. | Satellite to WSOP Event #61 The $3,333 Big Grind Online Bracelet [R&A] | $50 | $3,333 |
| | 8 p.m. | [2 Seats GTD] $1,000 WSOP Seat Satellite [R&A] | $20 | $2,000 |
| | 8:30 p.m. | Satellite to WSOP Event #71 The $1,000 Classic Online Bracelet [R&A] | $20 | $1,000 |
| | 9 p.m. | $3,500 GTD Online Championships Event #18 [Turbo, 1R1A] | $20 | $3,500 |
| | 10:30 p.m. | $1,000 WSOP Seat Satellite [Turbo, R&A] | $10 | $1,000 |
| | 11:30 p.m. | $1,000 WSOP Seat Satellite [ Super Turbo, R&A] | $30 | $1,000 |
| June 9 | 3:30 p.m. | Satellite to WSOP Event #71 The $1,000 Classic Online Bracelet [R&A] | $30 | $1,000 |
| | 4 p.m. | $1,500 GTD Online Championships Event #19 [8 Max, R&A] | $10 | $1,500 |
| | 5 p.m. | Satellite to WSOP Event #31 Seniors Championship [R&A] | $10 | $1,000 |
| | 5 p.m. | Satellite to WSOP Event #20 - $1,500 Millionaire Maker [R&A] | $10 | $1,500 |
| | 6 p.m. | Satelite to WSOP Event #20 - $1,500 Millionaire Maker [R&A] | $15 | $1,500 |
| | 6:30 p.m. | Satellite to WSOP Event #71 The $1,000 Classic Online Bracelet [R&A] | $15 | $1,000 |
| | 7 p.m. | $3,000 GTD Online Championships Event #20 [Freezeout] | $20 | $3,000 |
| | 7:30 p.m. | Satellite to WSOP Event #61 The $3,333 Big Grind Online Bracelet [R&A] | $50 | $3,333 |
| | 8 p.m. | [2 Seats GTD] $1,000 WSOP Seat Satellite [R&A] | $20 | $2,000 |
| | 8:30 p.m. | Satellite to WSOP Event #71 The $1,000 Classic Online Bracelet [R&A] | $20 | $1,000 |
| | 9 p.m. | $1,000 GTD Online Championships Event #21 [Super Turbo, R&A] | $5 | $1,000 |
| | 10:30 p.m. | $1,000 WSOP Seat Satellite [Turbo, R&A] | $10 | $1,000 |
| | 11:30 p.m. | $1,000 WSOP Seat Satellite [ Super Turbo, R&A] | $30 | $1,000 |
| June 10 | 2 p.m. | $2,000 WSOP Satellite [Turbo, R&A] | $20 | $2,000 |
| | 3:30 p.m. | Satellite to WSOP Event #71 The $1,000 Classic Online Bracelet [R&A] | $30 | $1,000 |
| | 4 p.m. | $4,500 GTD Online Championships Event #22 [Teams, Deepstack, R&A] | $20 | $4,500 |
| | 5 p.m. | Satellite to WSOP Event #20 - $1,500 Millionaire Maker [R&A] | $15 | $1,500 |
| | 6 p.m. | Satellite to WSOP Event #20 - $1,500 Millionaire Maker [R&A] | $15 | $1,500 |
| | 6:30 p.m. | Satellite to WSOP Event #71 The $1,000 Classic Online Bracelet [R&A] | $15 | $1,000 |
| | 7 p.m. | $6,000 GTD Online Championships Event #23 [Turbo, Re-entry] | $100 | $6,000 |
| | 7:15 p.m. | Satellite to the 2017 $10,000 Main Event [Re-entry] | $200 | $10,000 |
| | 7:30 p.m. | Satellite to WSOP Event #61 The $3,333 Big Grind Online Bracelet [R&A] | $50 | $3,333 |
| | 8 p.m. | [2 Seats GTD] $1,000 WSOP Seat Satellite [R&A] | $20 | $2,000 |
| | 8:30 p.m. | Satellite to WSOP Event #71 The $1,000 Classic Online Bracelet [R&A] | $20 | $1,000 |
| | 9 p.m. | $7,500 GTD Online Championships Event #24 [6 Max, R&A] | $30 | $7,500 |
| | 10:30 p.m. | $1,000 WSOP Seat Satellite [Turbo, R&A] | $10 | $1,000 |
| | 11:30 p.m. | $1,000 WSOP Seat Satellite [ Super Turbo, R&A] | $30 | $1,000 |
| June 11 | 3:30 p.m. | Satellite to WSOP Event #71 The $1,000 Classic Online Bracelet [R&A] | $30 | $1,000 |
| | 4 p.m. | $50,000 GTD Online Championships Event #25 [Re-entry] | $500 | $50,000 |
| | 4:30 p.m. | Satellite to the 2017 $10,000 Main Event [Re-entry] | $200 | $10,000 |
| | 5 p.m. | Satellite to WSOP Event #31 Seniors Championship [R&A] | $10 | $1,000 |
| | 5 p.m. | $30,000 Weekly Sunday Guarantee [Re-entry] | $200 | $30,000 |
| | 6 p.m. | Satellite to WSOP Event #23 - $2,620 The Marathon [R&A] | $25 | $2,620 |
| | 6:30 p.m. | Satellite to WSOP Event #71 The $1,000 Classic Online Bracelet [R&A] | $15 | $1,000 |
| | 7 p.m. | $1,000 Online Bracelet Freeroll | $0 | $1,000 |
| | 7 p.m. | $4,000 GTD Online Championships Event #26 [Freezeout] | $20 | $4,000 |
| | 7:15 p.m. | Satellite to the 2017 $10,000 Main Event [Re-entry] | $200 | $10,000 |
| | 7:30 p.m. | Satellite to WSOP Event #61 The $3,333 Big Grind Online Bracelet [R&A] | $50 | $3,333 |
| | 8 p.m. | [2 Seats GTD] $1,000 WSOP Seat Satellite [R&A] | $20 | $2,000 |
| | 8 p.m. | 5 Seats GTD to the 25 Seat Scramble [R&A] | $10 | $1,000 |
| | 8:30 p.m. | Satellite to WSOP Event #71 The $1,000 Classic Online Bracelet [R&A] | $20 | $1,000 |
| | 9 p.m. | $7,000 GTD Online Championships Event #27 [Super Turbo, R&A] | $50 | $7,000 |
| | 10:30 p.m. | $1,000 WSOP Seat Satellite [Turbo, R&A] | $10 | $1,000 |
| | 11:30 p.m. | $1,000 WSOP Seat Satellite [ Super Turbo, R&A] | $30 | $1,000 |
| June 12 | 3:30 p.m. | Satellite to WSOP Event #71 The $1,000 Classic Online Bracelet [R&A] | $30 | $1,000 |
| | 4 p.m. | $5,000 GTD Online Championships Event #28 [R&A, Super Add-on] | $10 | $5,000 |
| | 6 p.m. | Satellite to WSOP Event #25 - $1,000 PLO [R&A] | $10 | $1,000 |
| | 6:30 p.m. | Satellite to WSOP Event #71 The $1,000 Classic Online Bracelet [R&A] | $15 | $1,000 |
| | 7 p.m. | $7,500 GTD Online Championships Event #29 [8 Max, R&A] | $30 | $7,500 |
| | 7:30 p.m. | Satellite to WSOP Event #61 The $3,333 Big Grind Online Bracelet [R&A] | $50 | $3,333 |
| | 8 p.m. | [2 Seats GTD] $1,000 WSOP Seat Satellite [R&A] | $20 | $2,000 |
| | 8:30 p.m. | Satellite to WSOP Event #71 The $1,000 Classic Online Bracelet [R&A] | $20 | $1,000 |
| | 9 p.m. | $4,000 GTD Online Championships Event #30 [Super Turbo, Rebuy] | $5 | $4,000 |
| | 10:30 p.m. | $1,000 WSOP Seat Satellite [Turbo, R&A] | $10 | $1,000 |
| | 11:30 p.m. | $1,000 WSOP Seat Satellite [ Super Turbo, R&A] | $30 | $1,000 |
| June 13 | 3:30 p.m. | Satellite to WSOP Event #71 The $1,000 Classic Online Bracelet [R&A] | $30 | $1,000 |
| | 4 p.m. | $1,000 GTD Online Championships Event #31 [Teams, Freezeout] | $20 | $1,000 |
| | 5 p.m. | Satellite to WSOP Event #31 Seniors Championship [R&A] | $10 | $1,000 |
| | 6 p.m. | Satellite to WSOP Event #27 - $3,000 No Limit Hold'em [6 Max, R&A] | $30 | $3,000 |
| | 6:30 p.m. | Satellite to WSOP Event #71 The $1,000 Classic Online Bracelet [R&A] | $15 | $1,000 |
| | 7 p.m. | $20,000 GTD Online Championships Event #32 [R&A] | $100 | $20,000 |
| | 7:30 p.m. | Satellite to WSOP Event #61 The $3,333 Big Grind Online Bracelet [R&A] | $50 | $3,333 |
| | 8 p.m. | [2 Seats GTD] $1,000 WSOP Seat Satellite [R&A] | $20 | $2,000 |
| | 8:30 p.m. | Satellite to WSOP Event #71 The $1,000 Classic Online Bracelet [R&A] | $20 | $1,000 |
| | 9 p.m. | $10,000 GTD Online Championships Event #33 [Turbo, 6 Max, R&A] | $50 | $10,000 |
| | 10:30 p.m. | $1,000 WSOP Seat Satellite [Turbo, R&A] | $10 | $1,000 |
| | 11:30 p.m. | $1,000 WSOP Seat Satellite [ Super Turbo, R&A] | $30 | $1,000 |
| June 14 | 3:30 p.m. | Satellite to WSOP Event #71 The $1,000 Classic Online Bracelet [R&A] | $30 | $1,000 |
| | 4 p.m. | $3,500 GTD Online Championships Event #34 [R&A] | $100 | $3,500 |
| | 5 p.m. | Satellite to WSOP Event #31 Seniors Championship [R&A] | $10 | $1,000 |
| | 6 p.m. | Satellite to WSOP Event #29 - $2,500 No Limit Hold'em [R&A] | $25 | $2,500 |
| | 6:30 p.m. | Satellite to WSOP Event #71 The $1,000 Classic Online Bracelet [R&A] | $15 | $1,000 |
| | 7 p.m. | $7,500 GTD Online Championships Event #35 [Deepstack, Re-enty] | $50 | $7,500 |
| | 7:30 p.m. | Satellite to WSOP Event #61 The $3,333 Big Grind Online Bracelet [R&A] | $50 | $3,333 |
| | 8 p.m. | [2 Seats GTD] $1,000 WSOP Seat Satellite [R&A] | $20 | $2,000 |
| | 8:30 p.m. | Satellite to WSOP Event #71 The $1,000 Classic Online Bracelet [R&A] | $20 | $1,000 |
| | 9 p.m. | $2,500 GTD Online Championships Event #36 [Super Turbo, 6 Max, R&A] | $20 | $2,500 |
| | 10:30 p.m. | $1,000 WSOP Seat Satellite [Turbo, R&A] | $10 | $1,000 |
| | 11:30 p.m. | $1,000 WSOP Seat Satellite [ Super Turbo, R&A] | $30 | $1,000 |
| June 15 | 3:30 p.m. | Satellite to WSOP Event #71 The $1,000 Classic Online Bracelet [R&A] | $30 | $1,000 |
| | 4 p.m. | $7,000 GTD Online Championships Event #37 [Freezeout] | $50 | $7,000 |
| | 5 p.m. | Satellite to WSOP Event #31 Seniors Championship [R&A] | $10 | $1,000 |
| | 6 p.m. | Satellite to WSOP Event #31 Seniors Championship [R&A] | $10 | $1,000 |
| | 6:30 p.m. | Satellite to WSOP Event #71 The $1,000 Classic Online Bracelet [R&A] | $15 | $1,000 |
| | 7 p.m. | $1,000 GTD Online Championships Event #38 [Super Turbo, R&A] | $5 | $1,000 |
| | 7:30 p.m. | Satellite to WSOP Event #61 The $3,333 Big Grind Online Bracelet [R&A] | $50 | $3,333 |
| | 8 p.m. | [2 Seats GTD] $1,000 WSOP Seat Satellite [R&A] | $20 | $2,000 |
| | 8:30 p.m. | Satellite to WSOP Event #71 The $1,000 Classic Online Bracelet [R&A] | $20 | $1,000 |
| | 9 p.m. | $7,000 GTD Online Championships Event #39 [6 Max, Freezeout] | $50 | $7,000 |
| | 10:30 p.m. | $1,000 WSOP Seat Satellite [Turbo, R&A] | $10 | $1,000 |
| | 11:30 p.m. | $1,000 WSOP Seat Satellite [ Super Turbo, R&A] | $30 | $1,000 |
| June 16 | 3:30 p.m. | Satellite to WSOP Event #71 The $1,000 Classic Online Bracelet [R&A] | $30 | $1,000 |
| | 4 p.m. | $5,000 GTD Online Championships Event #40 [R&A] | $50 | $5,000 |
| | 6 p.m. | Satellite to WSOP #33 - $1,500 No Limit Hold'em [R&A] | $15 | $1,500 |
| | 6:30 p.m. | Satellite to WSOP Event #71 The $1,000 Classic Online Bracelet [R&A] | $15 | $1,000 |
| | 7 p.m. | $15,000 GTD Online Championships Event #41 [Re-entry +1A] | $100 | $15,000 |
| | 7:30 p.m. | Satellite to WSOP Event #61 The $3,333 Big Grind Online Bracelet [R&A] | $50 | $3,333 |
| | 8 p.m. | [2 Seats GTD] $1,000 WSOP Seat Satellite [R&A] | $20 | $2,000 |
| | 8:30 p.m. | Satellite to WSOP Event #71 The $1,000 Classic Online Bracelet [R&A] | $20 | $1,000 |
| | 9 p.m. | $3,000 GTD Online Championships Event #42 [Super Turbo, 6 Max, R&A] | $30 | $3,000 |
| | 10:30 p.m. | $1,000 WSOP Seat Satellite [Turbo, R&A] | $10 | $1,000 |
| | 11:30 p.m. | $1,000 WSOP Seat Satellite [ Super Turbo, R&A] | $30 | $1,000 |
| June 17 | 2 p.m. | $2,000 WSOP Satellite [Turbo, R&A] | $20 | $2,000 |
| | 3:30 p.m. | Satellite to WSOP Event #71 The $1,000 Classic Online Bracelet [R&A] | $30 | $1,000 |
| | 4 p.m. | $15,000 GTD Online Championships Event #43 [Freezeout, Deepstack] | $200 | $15,000 |
| | 5 p.m. | Satellite to WSOP Event #36 - $5,000 Six-Max No Limit Hold'em [6 Max, R&A] | $50 | $5,000 |
| | 6:30 p.m. | Satellite to WSOP Event #71 The $1,000 Classic Online Bracelet [R&A] | $15 | $1,000 |
| | 7 p.m. | $10,000 GTD Online Championships Event #44 [Re-entry] | $100 | $10,000 |
| | 7:15 p.m. | Satellite to the 2017 $10,000 Main Event [Re-entry] | $200 | $10,000 |
| | 7:30 p.m. | Satellite to WSOP Event #61 The $3,333 Big Grind Online Bracelet [R&A] | $50 | $3,333 |
| | 8 p.m. | [2 Seats GTD] $1,000 WSOP Seat Satellite [R&A] | $20 | $2,000 |
| | 8:30 p.m. | Satellite to WSOP Event #71 The $1,000 Classic Online Bracelet [R&A] | $20 | $1,000 |
| | 9 p.m. | $3,000 GTD Online Championships Event #45 [PLO, R&A] | $30 | $3,000 |
| | 10:30 p.m. | $1,000 WSOP Seat Satellite [Turbo, R&A] | $10 | $1,000 |
| | 11:30 p.m. | $1,000 WSOP Seat Satellite [ Super Turbo, R&A] | $30 | $1,000 |
| June 18 | 3:30 p.m. | Satellite to WSOP Event #71 The $1,000 Classic Online Bracelet [R&A] | $30 | $1,000 |
| | 4 p.m. | $1,000 GTD Online Championships Event #46 [$5 + $5 Knockout] | $5 | $1,000 |
| | 4:30 p.m. | Satellite to the 2017 $10,000 Main Event [Re-entry] | $200 | $10,000 |
| | 5 p.m. | Satellite to WSOP Event #47 Monster Stack [R&A] | $10 | $1,500 |
| | 5 p.m. | $30,000 Weekly Sunday Guarantee [Re-entry] | $200 | $30,000 |
| | 6 p.m. | Satellite to WSOP Event #37 - $1,000 No Limit Hold'em [R&A] | $10 | $1,000 |
| | 6:30 p.m. | Satellite to WSOP Event #71 The $1,000 Classic Online Bracelet [R&A] | $15 | $1,000 |
| | 7 p.m. | $1,000 Online Bracelet Freeroll | $0 | $1,000 |
| | 7 p.m. | $2,000 GTD Online Championships Event #47 [Re-entry] | $20 | $2,000 |
| | 7:15 p.m. | Satellite to the 2017 $10,000 Main Event [Re-entry] | $200 | $10,000 |
| | 7:30 p.m. | Satellite to WSOP Event #61 The $3,333 Big Grind Online Bracelet [R&A] | $50 | $3,333 |
| | 8 p.m. | [2 Seats GTD] $1,000 WSOP Seat Satellite [R&A] | $20 | $2,000 |
| | 8 p.m. | 5 Seats GTD to the 25 Seat Scramble [R&A] | $10 | $1,000 |
| | 8:30 p.m. | Satellite to WSOP Event #71 The $1,000 Classic Online Bracelet [R&A] | $20 | $1,000 |
| | 9 p.m. | $1,500 GTD Online Championships Event #48 [Super Turbo, R&A] | $10 | $1,500 |
| | 10:30 p.m. | $1,000 WSOP Seat Satellite [Turbo, R&A] | $10 | $1,000 |
| | 11:30 p.m. | $1,000 WSOP Seat Satellite [ Super Turbo, R&A] | $30 | $1,000 |
| June 19 | 3:30 p.m. | Satellite to WSOP Event #71 The $1,000 Classic Online Bracelet [R&A] | $30 | $1,000 |
| | 4 p.m. | $3,000 GTD Online Championships Event #49 [Freezeout] | $30 | $3,000 |
| | 5 p.m. | Satellite to WSOP Event #47 Monster Stack [R&A] | $10 | $1,500 |
| | 6 p.m. | Satellite to any $1,000 WSOP Event [R&A] | $10 | $1,000 |
| | 6:30 p.m. | Satellite to WSOP Event #71 The $1,000 Classic Online Bracelet [R&A] | $15 | $1,000 |
| | 7 p.m. | $3,500 GTD Online Championships Event #50 [Teams, R&A] | $20 | $3,500 |
| | 7:30 p.m. | Satellite to WSOP Event #61 The $3,333 Big Grind Online Bracelet [R&A] | $50 | $3,333 |
| | 8 p.m. | [2 Seats GTD] $1,000 WSOP Seat Satellite [R&A] | $20 | $2,000 |
| | 8:30 p.m. | Satellite to WSOP Event #71 The $1,000 Classic Online Bracelet [R&A] | $20 | $1,000 |
| | 9 p.m. | $7,500 GTD Online Championships Event #51 [Turbo, R&A] | $50 | $7,500 |
| | 10:30 p.m. | $1,000 WSOP Seat Satellite [Turbo, R&A] | $10 | $1,000 |
| | 11:30 p.m. | $1,000 WSOP Seat Satellite [ Super Turbo, R&A] | $30 | $1,000 |
| June 20 | 3:30 p.m. | Satellite to WSOP Event #71 The $1,000 Classic Online Bracelet [R&A] | $30 | $1,000 |
| | 4 p.m. | $5,000 GTD Online Championships Event #52 [6 Max, Rebuy] | $30 | $5,000 |
| | 5 p.m. | Satellite to WSOP Event #47 Monster Stack [R&A] | $10 | $1,500 |
| | 6 p.m. | Satellite to WSOP Event #41 - $1,500 Pot Limit Omaha [PLO, R&A] | $15 | $1,500 |
| | 6:30 p.m. | Satellite to WSOP Event #71 The $1,000 Classic Online Bracelet [R&A] | $15 | $1,000 |
| | 7 p.m. | $1,000 GTD Online Championships Event #53 [Teams, Freezeout] | $10 | $1,000 |
| | 7:30 p.m. | Satellite to WSOP Event #61 The $3,333 Big Grind Online Bracelet [R&A] | $50 | $3,333 |
| | 7:30 p.m. | Satellite to WSOP Event #61 The $3,333 Big Grind Online Bracelet [R&A] | $50 | $3,333 |
| | 8 p.m. | [2 Seats GTD] $1,000 WSOP Seat Satellite [R&A] | $20 | $2,000 |
| | 8:30 p.m. | Satellite to WSOP Event #71 The $1,000 Classic Online Bracelet [R&A] | $20 | $1,000 |
| | 9 p.m. | $1,000 GTD Online Champioships Event #54 [Super Turbo, 1R1A] | $10 | $1,000 |
| | 10:30 p.m. | $1,000 WSOP Seat Satellite [Turbo, R&A] | $10 | $1,000 |
| | 11:30 p.m. | $1,000 WSOP Seat Satellite [ Super Turbo, R&A] | $30 | $1,000 |
| June 21 | 3:30 p.m. | Satellite to WSOP Event #71 The $1,000 Classic Online Bracelet [R&A] | $30 | $1,000 |
| | 4 p.m. | $5,000 GTD Online Championships Event #55 [Re-entry] | $30 | $5,000 |
| | 5 p.m. | Satellite to WSOP Event #47 Monster Stack [R&A] | $10 | $1,500 |
| | 6 p.m. | Satellite to WSOP Event #43 - $1,500 No Limit Hold'em Shootout [R&A] | $15 | $1,500 |
| | 6:30 p.m. | Satellite to WSOP Event #71 The $1,000 Classic Online Bracelet [R&A] | $15 | $1,000 |
| | 7 p.m. | $12,000 GTD Online Championships Event #56 [Deepstack, R&A] | $50 | $12,000 |
| | 7:30 p.m. | Satellite to WSOP Event #61 The $3,333 Big Grind Online Bracelet [R&A] | $50 | $3,333 |
| | 8 p.m. | [2 Seats GTD] $1,000 WSOP Seat Satellite [R&A] | $20 | $2,000 |
| | 8:30 p.m. | Satellite to WSOP Event #71 The $1,000 Classic Online Bracelet [R&A] | $20 | $1,000 |
| | 9 p.m. | $3,000 GTD Online Championships Event #57 [Super Turbo, R&A] | $30 | $3,000 |
| | 10:30 p.m. | $1,000 WSOP Seat Satellite [Turbo, R&A] | $10 | $1,000 |
| | 11:30 p.m. | $1,000 WSOP Seat Satellite [ Super Turbo, R&A] | $30 | $1,000 |
| June 22 | 3:30 p.m. | Satellite to WSOP Event #71 The $1,000 Classic Online Bracelet [R&A] | $30 | $1,000 |
| | 4 p.m. | $2,000 GTD Online Championships Event #58 [R&A] | $5 | $2,000 |
| | 5 p.m. | Satellite to WSOP Event #47 Monster Stack [R&A] | $10 | $1,500 |
| | 6 p.m. | Satellite to WSOP Event #45 - $5,000 No Limit Hold'em [R&A] | $50 | $5,000 |
| | 6:30 p.m. | Satellite to WSOP Event #71 The $1,000 Classic Online Bracelet [R&A] | $15 | $1,000 |
| | 7 p.m. | $15,000 GTD Online Championships Event #59 [R&A] | $50 | $15,000 |
| | 7:30 p.m. | Satellite to WSOP Event #61 The $3,333 Big Grind Online Bracelet [R&A] | $50 | $3,333 |
| | 8 p.m. | [2 Seats GTD] $1,000 WSOP Seat Satellite [R&A] | $20 | $2,000 |
| | 8:30 p.m. | Satellite to WSOP Event #71 The $1,000 Classic Online Bracelet [R&A] | $20 | $1,000 |
| | 9 p.m. | $6,000 GTD Online Championships Event #60 [Turbo, R&A] | $30 | $6,000 |
| | 10:30 p.m. | $1,000 WSOP Seat Satellite [Turbo, R&A] | $10 | $1,000 |
| | 11:30 p.m. | $1,000 WSOP Seat Satellite [ Super Turbo, R&A] | $30 | $1,000 |
| June 23 | 3:30 p.m. | Satellite to WSOP Event #71 The $1,000 Classic Online Bracelet [R&A] | $30 | $1,000 |
| | 4 p.m. | $5,000 GTD Online Championships Event #61 [6 Max, Freezeout] | $50 | $5,000 |
| | 5 p.m. | Satellite to WSOP Event #47 Monster Stack [R&A] | $10 | $1,500 |
| | 6 p.m. | Satellite to WSOP Event #47 Monster Stack [R&A] | $15 | $1,500 |
| | 6:30 p.m. | Satellite to WSOP Event #71 The $1,000 Classic Online Bracelet [R&A] | $15 | $1,000 |
| | 7 p.m. | $7,500 GTD Online Championships Event #62 [R&A] | $30 | $7,500 |
| | 7:30 p.m. | Satellite to WSOP Event #61 The $3,333 Big Grind Online Bracelet [R&A] | $50 | $3,333 |
| | 8 p.m. | [2 Seats GTD] $1,000 WSOP Seat Satellite [R&A] | $20 | $2,000 |
| | 8:30 p.m. | Satellite to WSOP Event #71 The $1,000 Classic Online Bracelet [R&A] | $20 | $1,000 |
| | 9 p.m. | $1,000 GTD Online Championships Event #63 [Turbo, 1R1A] | $5 | $1,000 |
| | 10:30 p.m. | $1,000 WSOP Seat Satellite [Turbo, R&A] | $10 | $1,000 |
| | 11:30 p.m. | $1,000 WSOP Seat Satellite [ Super Turbo, R&A] | $30 | $1,000 |
| June 24 | 2 p.m. | $2,000 WSOP Seat Satellite [Turbo, R&A] | $20 | $2,000 |
| | 3:30 p.m. | Satellite to WSOP Event #71 The $1,000 Classic Online Bracelet [R&A] | $30 | $1,000 |
| | 4 p.m. | $5,000 GTD Online Championships Event #64 [2R1A] | $20 | $5,000 |
| | 5 p.m. | Satellite to WSOP Event #47 Monster Stack [R&A] | $10 | $1,500 |
| | 6 p.m. | Satellite to WSOP Event #47 Monster Stack [R&A] | $15 | $1,500 |
| | 6:30 p.m. | Satellite to WSOP Event #71 The $1,000 Classic Online Bracelet [R&A] | $15 | $1,000 |
| | 7 p.m. | $8,000 GTD Online Championships Event #65 [4 Max, R&A] | $50 | $8,000 |
| | 7:15 p.m. | Satellite to the 2017 $10,000 Main Event [Re-entry] | $200 | $10,000 |
| | 7:30 p.m. | Satellite to WSOP Event #61 The $3,333 Big Grind Online Bracelet [R&A] | $50 | $3,333 |
| | 8 p.m. | [2 Seats GTD] $1,000 WSOP Seat Satellite [R&A] | $20 | $2,000 |
| | 8:30 p.m. | Satellite to WSOP Event #71 The $1,000 Classic Online Bracelet [R&A] | $20 | $1,000 |
| | 9 p.m. | $4,000 GTD Online Championships Event #66 [Turbo R&A] | $30 | $4,000 |
| | 10:30 p.m. | $1,000 WSOP Seat Satellite [Turbo, R&A] | $10 | $1,000 |
| | 11:30 p.m. | $1,000 WSOP Seat Satellite [ Super Turbo, R&A] | $30 | $1,000 |
| June 25 | 3:30 p.m. | Satellite to WSOP Event #71 The $1,000 Classic Online Bracelet [R&A] | $30 | $1,000 |
| | 4 p.m. | $15,000 GTD Online Championships Event #67 [Deepstack, Freezeout] | $100 | $15,000 |
| | 4:30 p.m. | Satellite to the 2017 $10,000 Main Event [Re-entry] | $200 | $10,000 |
| | 5 p.m. | Satellite to WSOP Event #60 Crazy Eights [R&A] | $10 | $888 |
| | 5 p.m. | $30,000 Weekly Sunday Guarantee [Re-entry] | $200 | $30,000 |
| | 6 p.m. | Satellite to WSOP Event #50 - $1,500 Bounty No Limit Hold'em [R&A] | $15 | $1,500 |
| | 6:30 p.m. | Satellite to WSOP Event #71 The $1,000 Classic Online Bracelet [R&A] | $15 | $1,000 |
| | 7 p.m. | $1,000 Online Bracelet Freeroll | $0 | $1,000 |
| | 7 p.m. | $20,000 GTD Online Championships Event #68 [Re-entry] | $200 | $20,000 |
| | 7:15 p.m. | Satellite to the 2017 $10,000 Main Event [Re-entry] | $200 | $10,000 |
| | 7:30 p.m. | Satellite to WSOP Event #61 The $3,333 Big Grind Online Bracelet [R&A] | $50 | $3,333 |
| | 8 p.m. | [2 Seats GTD] $1,000 WSOP Seat Satellite [R&A] | $20 | $2,000 |
| | 8 p.m. | 5 Seats GTD to the 25 Seat Scramble [R&A] | $10 | $1,000 |
| | 8:30 p.m. | Satellite to WSOP Event #71 The $1,000 Classic Online Bracelet [R&A] | $20 | $1,000 |
| | 9 p.m. | $3,000 GTD Online Championships Event #69 [Super Turbo, R&A] | $30 | $3,000 |
| | 10:30 p.m. | $1,000 WSOP Seat Satellite [Turbo, R&A] | $10 | $1,000 |
| | 11:30 p.m. | $1,000 WSOP Seat Satellite [ Super Turbo, R&A] | $30 | $1,000 |
| June 26 | 3:30 p.m. | Satellite to WSOP Event #71 The $1,000 Classic Online Bracelet [R&A] | $30 | $1,000 |
| | 4 p.m. | $2,000 GTD Online Championships Event #70 [R&A] | $5 | $2,000 |
| | 5 p.m. | Satellite to WSOP Event #60 Crazy Eights [R&A] | $10 | $888 |
| | 6 p.m. | Satellite to WSOP Event #52 - $1,500 No Limit Hold'em [R&A] | $15 | $1,500 |
| | 6:30 p.m. | Satellite to WSOP Event #71 The $1,000 Classic Online Bracelet [R&A] | $15 | $1,000 |
| | 7 p.m. | $14,000 GTD Online Championships Event #71 [Re-entry + 1 Add-on] | $100 | $14,000 |
| | 7:30 p.m. | Satellite to WSOP Event #61 The $3,333 Big Grind Online Bracelet [R&A] | $50 | $3,333 |
| | 8 p.m. | [2 Seats GTD] $1,000 WSOP Seat Satellite [R&A] | $20 | $2,000 |
| | 8:30 p.m. | Satellite to WSOP Event #71 The $1,000 Classic Online Bracelet [R&A] | $20 | $1,000 |
| | 9 p.m. | $6,000 GTD Online Championships Event #72 [Turbo, R&A] | $20 | $6,000 |
| | 10:30 p.m. | $1,000 WSOP Seat Satellite [Turbo, R&A] | $10 | $1,000 |
| | 11:30 p.m. | $1,000 WSOP Seat Satellite [ Super Turbo, R&A] | $30 | $1,000 |
| June 27 | 3:30 p.m. | Satellite to WSOP Event #71 The $1,000 Classic Online Bracelet [R&A] | $30 | $1,000 |
| | 4 p.m. | $2,500 GTD Online Championships Event #73 [6 Max, Re-entry] | $20 | $2,500 |
| | 5 p.m. | Satellite to WSOP Event #60 Crazy Eights [R&A] | $10 | $888 |
| | 6 p.m. | Satellite to any $1,500 WSOP Event [R&A] | $15 | $1,500 |
| | 6:30 p.m. | Satellite to WSOP Event #71 The $1,000 Classic Online Bracelet [R&A] | $15 | $1,000 |
| | 7 p.m. | $7,500 GTD Online Championships Event #74 [Turbo, Deepstack, R&A] | $50 | $7,500 |
| | 7:30 p.m. | Satellite to WSOP Event #61 The $3,333 Big Grind Online Bracelet [R&A] | $50 | $3,333 |
| | 8 p.m. | [2 Seats GTD] $1,000 WSOP Seat Satellite [R&A] | $20 | $2,000 |
| | 8:30 p.m. | Satellite to WSOP Event #71 The $1,000 Classic Online Bracelet [R&A] | $20 | $1,000 |
| | 9 p.m. | $2,500 GTD Online Championships Event #75 [Turbo, Rebuy] | $10 | $2,500 |
| | 10:30 p.m. | $1,000 WSOP Seat Satellite [Turbo, R&A] | $10 | $1,000 |
| | 11:30 p.m. | $1,000 WSOP Seat Satellite [ Super Turbo, R&A] | $30 | $1,000 |
| June 28 | 3:30 p.m. | Satellite to WSOP Event #71 The $1,000 Classic Online Bracelet [R&A] | $30 | $1,000 |
| | 4 p.m. | $3,000 GTD Online Championships Event #76 [4 Max, R&A] | $10 | $3,000 |
| | 5 p.m. | Satellite to WSOP Event #60 Crazy Eights [R&A] | $10 | $888 |
| | 6 p.m. | Satellite to WSOP Event #56 - $5,000 No Limit Hold'em [R&A] | $50 | $5,000 |
| | 6:30 p.m. | Satellite to WSOP Event #71 The $1,000 Classic Online Bracelet [R&A] | $15 | $1,000 |
| | 7 p.m. | $6,000 GTD Online Championships Event #77 [Turbo, 1R1A] | $30 | $6,000 |
| | 7:30 p.m. | Satellite to WSOP Event #61 The $3,333 Big Grind Online Bracelet [R&A] | $50 | $3,333 |
| | 8 p.m. | [2 Seats GTD] $1,000 WSOP Seat Satellite [R&A] | $20 | $2,000 |
| | 8:30 p.m. | Satellite to WSOP Event #71 The $1,000 Classic Online Bracelet [R&A] | $20 | $1,000 |
| | 9 p.m. | $1,000 GTD Online Championships Event #78 [Super Turbo, R&A] | $5 | $1,000 |
| | 10:30 p.m. | $1,000 WSOP Seat Satellite [Turbo, R&A] | $10 | $1,000 |
| | 11:30 p.m. | $1,000 WSOP Seat Satellite [ Super Turbo, R&A] | $30 | $1,000 |
| June 29 | 3:30 p.m. | Satellite to WSOP Event #71 The $1,000 Classic Online Bracelet [R&A] | $30 | $1,000 |
| | 4 p.m. | $3,000 GTD Online Championships Event #79 [R&A] | $10 | $3,000 |
| | 5 p.m. | Satellite to WSOP Event #60 Crazy Eights [R&A] | $10 | $888 |
| | 6 p.m. | Satellite to WSOP Event #58 - $1,500 No Limit Hold'em [R&A] | $15 | $1,500 |
| | 6:30 p.m. | Satellite to WSOP Event #71 The $1,000 Classic Online Bracelet [R&A] | $15 | $1,000 |
| | 7 p.m. | $6,000 GTD Online Championships Event #80 [Deepstack, Rebuy] | $50 | $6,000 |
| | 8 p.m. | [2 Seats GTD] $1,000 WSOP Seat Satellite [R&A] | $20 | $2,000 |
| | 8:30 p.m. | Satellite to WSOP Event #71 The $1,000 Classic Online Bracelet [R&A] | $20 | $1,000 |
| | 9 p.m. | $7,500 GTD Online Championships Event #81 [Turbo, R&A] | $50 | $7,500 |
| | 10:30 p.m. | $1,000 WSOP Seat Satellite [Turbo, R&A] | $10 | $1,000 |
| | 11:30 p.m. | $1,000 WSOP Seat Satellite [ Super Turbo, R&A] | $30 | $1,000 |
| June 30 | 3:30 p.m. | Satellite to WSOP Event #71 The $1,000 Classic Online Bracelet [R&A] | $30 | $1,000 |
| | 4 p.m. | $4,000 GTD Online Championships Event #82 [6 Max, Freezeout] | $50 | $4,000 |
| | 5 p.m. | Satellite to WSOP Event #70 Ladies Championship [R&A] | $10 | $1,000 |
| | 5 p.m. | Satellite to WSOP Event #60 Crazy Eights [R&A] | $10 | $888 |
| | 6 p.m. | Satellite to WSOP Event #60 Crazy Eights [R&A] | $10 | $888 |
| | 6:15 p.m. | 5 Seats GTD to WSOP Event #61 The $3,333 Big Grind Online Bracelet [R&A] | $100 | $16,665 |
| | 6:30 p.m. | Satellite to WSOP Event #71 The $1,000 Classic Online Bracelet [R&A] | $15 | $1,000 |
| | 7 p.m. | $10,000 GTD Online Championships Event #83 [Turbo, Deepstack, Re-entry] | $100 | $10,000 |
| | 7:30 p.m. | Satellite to WSOP Event #61 The $3,333 Big Grind Online Bracelet [R&A] | $50 | $3,333 |
| | 8 p.m. | [2 Seats GTD] $1,000 WSOP Seat Satellite [R&A] | $20 | $2,000 |
| | 8:30 p.m. | Satellite to WSOP Event #71 The $1,000 Classic Online Bracelet [R&A] | $20 | $1,000 |
| | 9 p.m. | $5,000 GTD Online Championships Event #84 [Turbo, R&A] | $20 | $5,000 |
| | 10:30 p.m. | $1,000 WSOP Seat Satellite [Turbo, R&A] | $10 | $1,000 |
| | 11:30 p.m. | $1,000 WSOP Seat Satellite [ Super Turbo, R&A] | $30 | $1,000 |
| July 1 | 2 p.m. | $2,000 WSOP Satellite [Turbo, R&A] | $20 | $2,000 |
| | 3:30 p.m. | Satellite to WSOP Event #71 The $1,000 Classic Online Bracelet [R&A] | $30 | $1,000 |
| | 3:33 p.m. | WSOP Event #61 The $3,333 Big Grind Online Bracelet | $3,333 | |
| | 4 p.m. | $50,000 GTD Online Championships Event #85 [Re-entry] | $500 | $50,000 |
| | 5 p.m. | Satellite to WSOP Event #70 Ladies Championship [R&A] | $10 | $1,000 |
| | 5 p.m. | Satellite to WSOP Event #60 Crazy Eights [R&A] | $10 | $888 |
| | 6 p.m. | Satellite to WSOP Event #60 Crazy Eights [R&A] | $10 | $888 |
| | 6:30 p.m. | Satellite to WSOP Event #71 The $1,000 Classic Online Bracelet [R&A] | $15 | $1,000 |
| | 7 p.m. | $15,000 GTD Online Championships Event #86 [Re-entry] | $200 | $15,000 |
| | 7:15 p.m. | Satellite to the 2017 $10,000 Main Event [Re-entry] | $200 | $10,000 |
| | 7:30 p.m. | Satellite to WSOP Event #61 The $3,333 Big Grind Online Bracelet [R&A] | $50 | $3,333 |
| | 8 p.m. | [2 Seats GTD] $1,000 WSOP Seat Satellite [R&A] | $20 | $2,000 |
| | 8:30 p.m. | Satellite to WSOP Event #71 The $1,000 Classic Online Bracelet [R&A] | $20 | $1,000 |
| | 9 p.m. | $7,000 GTD Online Championships Event #87 [Turbo, R&A] | $100 | $7,000 |
| | 10:30 p.m. | $1,000 WSOP Seat Satellite [Turbo, R&A] | $10 | $1,000 |
| | 11:30 p.m. | $1,000 WSOP Seat Satellite [ Super Turbo, R&A] | $30 | $1,000 |
| July 2 | 3:30 p.m. | Satellite to WSOP Event #71 The $1,000 Classic Online Bracelet [R&A] | $30 | $1,000 |
| | 4 p.m. | $7,500 GTD Online Championships Event #88 [R&A] | $20 | $7,500 |
| | 4:30 p.m. | Satellite to the 2017 $10,000 Main Event [Re-entry] | $200 | $10,000 |
| | 5 p.m. | Satellite to WSOP Event #70 Ladies Championship [R&A] | $10 | $1,000 |
| | 5 p.m. | $30,000 Weekly Sunday Guarantee [Re-entry] | $200 | $30,000 |
| | 6 p.m. | Satellite to WSOP Event #63 - $1,000 No Limit Hold'em [R&A] | $10 | $1,000 |
| | 6:30 p.m. | Satellite to WSOP Event #71 The $1,000 Classic Online Bracelet [R&A] | $15 | $1,000 |
| | 7 p.m. | $1,000 Online Bracelet Freeroll | $0 | $1,000 |
| | 7 p.m. | $15,000 GTD Online Championships Event #89 [Freezeout] | $200 | $15,000 |
| | 7:15 p.m. | Satellite to the 2017 $10,000 Main Event [Re-entry] | $200 | $10,000 |
| | 7:30 p.m. | Satellite to WSOP Event #61 The $3,333 Big Grind Online Bracelet [R&A] | $50 | $3,333 |
| | 8 p.m. | [2 Seats GTD] $1,000 WSOP Seat Satellite [R&A] | $20 | $2,000 |
| | 8 p.m. | 5 Seats GTD to the 25 Seat Scramble [R&A] | $10 | $1,000 |
| | 8:30 p.m. | Satellite to WSOP Event #71 The $1,000 Classic Online Bracelet [R&A] | $20 | $1,000 |
| | 9 p.m. | $5,000 GTD Online Championships Event #90 [Turbo, 1R1A] | $20 | $5,000 |
| | 10:30 p.m. | $1,000 WSOP Seat Satellite [Turbo, R&A] | $10 | $1,000 |
| | 11:30 p.m. | $1,000 WSOP Seat Satellite [ Super Turbo, R&A] | $30 | $1,000 |
| July 3 | 3:30 p.m. | Satellite to WSOP Event #71 The $1,000 Classic Online Bracelet [R&A] | $30 | $1,000 |
| | 4 p.m. | $1,500 GTD Online Championships Event #91 [R&A] | $5 | $1,500 |
| | 5 p.m. | Satellite to WSOP Event #70 Ladies Championship [R&A] | $10 | $1,000 |
| | 6 p.m. | Satellite to WSOP Event #65 - $1,000 No Limit Hold'em [Turbo, R&A] | $10 | $1,000 |
| | 6:30 p.m. | Satellite to WSOP Event #71 The $1,000 Classic Online Bracelet [R&A] | $15 | $1,000 |
| | 7 p.m. | $6,000 GTD Online Championships Event #92 [8 Max, R&A] | $30 | $6,000 |
| | 7:30 p.m. | Satellite to WSOP Event #61 The $3,333 Big Grind Online Bracelet [R&A] | $50 | $3,333 |
| | 8 p.m. | [2 Seats GTD] $1,000 WSOP Seat Satellite [R&A] | $20 | $2,000 |
| | 8:30 p.m. | Satellite to WSOP Event #71 The $1,000 Classic Online Bracelet [R&A] | $20 | $1,000 |
| | 9 p.m. | $3,500 GTD Online Championships Event #93 [Super Turbo, R&A] | $10 | $3,500 |
| | 10:30 p.m. | $1,000 WSOP Seat Satellite [Turbo, R&A] | $10 | $1,000 |
| | 11:30 p.m. | $1,000 WSOP Seat Satellite [ Super Turbo, R&A] | $30 | $1,000 |
| July 4 | 3:30 p.m. | Satellite to WSOP Event #71 The $1,000 Classic Online Bracelet [R&A] | $30 | $1,000 |
| | 4 p.m. | $2,500 GTD Online Championships Event #94 [Freezeout] | $20 | $2,500 |
| | 5 p.m. | Satellite to WSOP Event #70 Ladies Championship [R&A] | $10 | $1,000 |
| | 6 p.m. | Satellite to WSOP Event #66 - $1,500 No Limit Hold'em [Turbo, R&A] | $15 | $1,500 |
| | 6:30 p.m. | Satellite to WSOP Event #71 The $1,000 Classic Online Bracelet [R&A] | $15 | $1,000 |
| | 7 p.m. | $5,000 GTD Online Championships Event #95 [Turbo, Freezeout] | $100 | $5,000 |
| | 7:30 p.m. | Satellite to WSOP Event #61 The $3,333 Big Grind Online Bracelet [R&A] | $50 | $3,333 |
| | 8 p.m. | [2 Seats GTD] $1,000 WSOP Seat Satellite [R&A] | $20 | $2,000 |
| | 8:30 p.m. | Satellite to WSOP Event #71 The $1,000 Classic Online Bracelet [R&A] | $20 | $1,000 |
| | 9 p.m. | $3,000 GTD Online Championships Event #96 [Super Turbo, R&A] | $30 | $3,000 |
| | 10:30 p.m. | $1,000 WSOP Seat Satellite [Turbo, R&A] | $10 | $1,000 |
| | 11:30 p.m. | $1,000 WSOP Seat Satellite [ Super Turbo, R&A] | $30 | $1,000 |
| July 5 | 3:30 p.m. | Satellite to WSOP Event #71 The $1,000 Classic Online Bracelet [R&A] | $30 | $1,000 |
| | 4 p.m. | $1,000 GTD $1,000 Online Championships Event #97 [$5 + $5 Knockout] | $5 | $1,000 |
| | 5 p.m. | Satellite to WSOP Event #70 Ladies Championship [R&A] | $10 | $1,000 |
| | 6 p.m. | Satellite to WSOP Event #68 - $3,000 No Limit Hold'em [R&A] | $30 | $3,000 |
| | 6:30 p.m. | Satellite to WSOP Event #71 The $1,000 Classic Online Bracelet [R&A] | $15 | $1,000 |
| | 7 p.m. | $5,500 GTD Online Championships Event #98 [R&A] | $20 | $5,500 |
| | 7:30 p.m. | Satellite to WSOP Event #61 The $3,333 Big Grind Online Bracelet [R&A] | $50 | $3,333 |
| | 8 p.m. | [2 Seats GTD] $1,000 WSOP Seat Satellite [R&A] | $20 | $2,000 |
| | 8:30 p.m. | Satellite to WSOP Event #71 The $1,000 Classic Online Bracelet [R&A] | $20 | $1,000 |
| | 9 p.m. | $4,000 GTD Online Championships Event #99 [6 Max, Freezeout] | $50 | $4,000 |
| | 10:30 p.m. | $1,000 WSOP Seat Satellite [Turbo, R&A] | $10 | $1,000 |
| | 11:30 p.m. | $1,000 WSOP Seat Satellite [ Super Turbo, R&A] | $30 | $1,000 |
| July 6 | 3:30 p.m. | Satellite to WSOP Event #71 The $1,000 Classic Online Bracelet [R&A] | $30 | $1,000 |
| | 4 p.m. | $4,000 GTD Online Championships Event #100 [2R1A] | $20 | $4,000 |
| | 5 p.m. | Satellite to WSOP Event #70 Ladies Championship [R&A] | $10 | $1,000 |
| | 5 p.m. | Satellite to WSOP Event #74 The Little One for One Drop [R&A] | $10 | $1,111 |
| | 6 p.m. | Satellite to WSOP Event #70 Ladies Championship [R&A] | $10 | $1,000 |
| | 6:30 p.m. | 10 Seats GTD to WSOP Event #71 The $1,000 Classic Online Bracelet [R&A] | $50 | $10,000 |
| | 7 p.m. | $6,000 GTD Online Championships Event #101 [8 Max, R&A] | $30 | $6,000 |
| | 7:30 p.m. | Satellite to WSOP Event #61 The $3,333 Big Grind Online Bracelet [R&A] | $50 | $3,333 |
| | 8 p.m. | [2 Seats GTD] $1,000 WSOP Seat Satellite [R&A] | $20 | $2,000 |
| | 8:30 p.m. | Satellite to WSOP Event #71 The $1,000 Classic Online Bracelet [R&A] | $20 | $1,000 |
| | 9 p.m. | $4,000 GTD Online Championships Event #102 [R&A] | $50 | $4,000 |
| | 10:30 p.m. | $1,000 WSOP Seat Satellite [Turbo, R&A] | $10 | $1,000 |
| | 11:30 p.m. | $1,000 WSOP Seat Satellite [ Super Turbo, R&A] | $30 | $1,000 |
| July 7 | 2 p.m. | WSOP Event #71 The $1,000 Classic Online Bracelet | $1,000 | |
| | 4 p.m. | $30,000 GTD Online Championships Event #103 [Re-entry + 1 Add-on] | $200 | $30,000 |
| | 5 p.m. | Satellite to WSOP Event #74 The Little One for One Drop [R&A] | $10 | $1,111 |
| | 6 p.m. | Satellite to the 2017 $10,000 Main Event [Re-entry] | $200 | $10,000 |
| | 7 p.m. | $10,000 GTD Online Championships Event #104 [6 Max, R&a] | $100 | $10,000 |
| | 8 p.m. | [2 Seats GTD] $1,000 WSOP Seat Satellite [R&A] | $20 | $2,000 |
| | 9 p.m. | $5,000 GTD Online Championships Event #105 [Turbo, R&A] | $15 | $5,000 |
| | 10:30 p.m. | $1,000 WSOP Seat Satellite [Turbo, R&A] | $10 | $1,000 |
| | 11:30 p.m. | $1,000 WSOP Seat Satellite [ Super Turbo, R&A] | $30 | $1,000 |
| July 8 | 2 p.m. | $2,000 WSOP Satellite [Turbo, R&A] | $20 | $2,000 |
| | 3 p.m. | The 25 Seat Scramble [25 Seats GTD to the $10,000 WSOP Main Event] | $200 | $250,000 |
| | 4 p.m. | $75,000 GTD Online Championships Event #106 [Re-entry] | $500 | $75,000 |
| | 5 p.m. | Satellite to WSOP Event #74 The Little One for One Drop [R&A] | $10 | $1,111 |
| | 7 p.m. | $30,000 GTD Online Championships Event #107 [Re-entry + 1 Add-on] | $200 | $30,000 |
| | 7:15 p.m. | Satellite to the 2017 $10,000 Main Event [Re-entry] | $200 | $10,000 |
| | 9 p.m. | $4,000 GTD Online Championships Event #108 [Turbo, R&A] | $20 | $4,000 |
| July 9 | 4:30 p.m. | Satellite to the 2017 $10,000 Main Event [Re-entry] | $200 | $10,000 |
| | 5 p.m. | Satellite to WSOP Event #74 The Little One for One Drop [R&A] | $10 | $1,111 |
| | 5 p.m. | $30,000 Weekly Sunday Guarantee [Re-entry] | $200 | $30,000 |
| | 7:15 p.m. | Satellite to the 2017 $10,000 Main Event [Re-entry] | $200 | $10,000 |
| | 8 p.m. | [2 Seats GTD] $1,000 WSOP Seat Satellite [R&A] | $20 | $2,000 |
| | 10:30 p.m. | $1,000 WSOP Seat Satellite [Turbo, R&A] | $10 | $1,000 |
| | 11:30 p.m. | $1,000 WSOP Seat Satellite [ Super Turbo, R&A] | $30 | $1,000 |
| July 10 | 5 p.m. | Satellite to WSOP Event #74 The Little One for One Drop [R&A] | $10 | $1,111 |
| July 11 | 5 p.m. | Satellite to WSOP Event #74 The Little One for One Drop [R&A] | $10 | $1,111 |
| July 12 | 5 p.m. | Satellite to WSOP Event #74 The Little One for One Drop [R&A] | $10 | $1,111 |