The Top Five Hands from 2017 PokerStars Championship Monte Carlo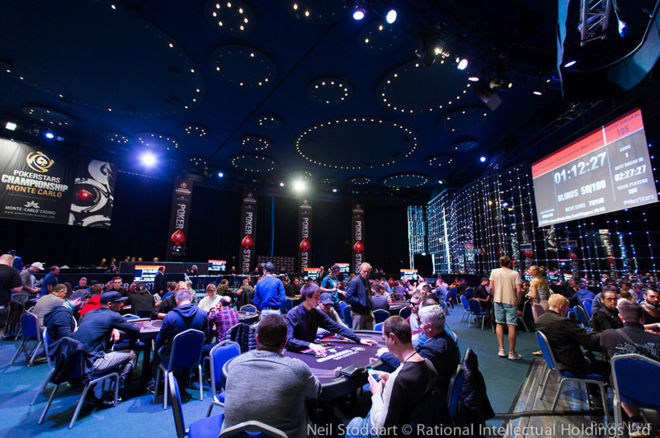 PokerStars Championship Monte Carlo presented by Monte-Carlo Casino® was the first PokerStars Championship event to be held on European soil, marking the final step in the transition away from the European Poker Tour.
Over almost two weeks, nearly 10,000 entries were logged over the course of dozens of tournaments in a venue overlooking the sea on the beautiful French Riviera. PokerNews was on hand for live reporting duties through the €5,300 Main Event and a number of high rollers, and we picked out five of the best hands from the grand event.
ElkY's Run Ends in 12th
While Patrik Antonius grabbed headlines early as a resurgent legend of the game making a run in the Main Event, it was PokerStars Team Pro Bertrand "ElkY" Grospellier who wound up threatening for the title with a drive to the penultimate day of play.
The French legend was once a staple of EPT final tables but hadn't really made his presence felt since 2012, when he finished third in the €100K in Monaco.
ElkY used to be widely known for an ultra-aggressive style, but he showed he could grind his way through long stretches while nursing a short stack as well. He survived repeated all ins when he desperately needed chips, laddering past dozens of foes who had healthier stacks than he did.
During Level 24 (15,000/30,000/5,000), Grospellier found himself under 15 big blinds with a stack of 425,000, with Russian online qualifier Maxim Panyak having come in for a raise to 60,000 under the gun. Grospellier looked down at


and moved all in. When it was back on Panyak, he thought only briefly before calling with


.
The race was on, and it looked like ElkY would survive once more as



hit the flop. The

turn made things a bit hairier as a ten would now give Panyak a winning straight. The river,

, doomed Grospellier.
In the immediate aftermath, it was clear how much the deep run meant to ElkY and how much he wanted that title. He was visibly devastated, hanging his head and cursing softly before heading out to collect his payout of €33,600.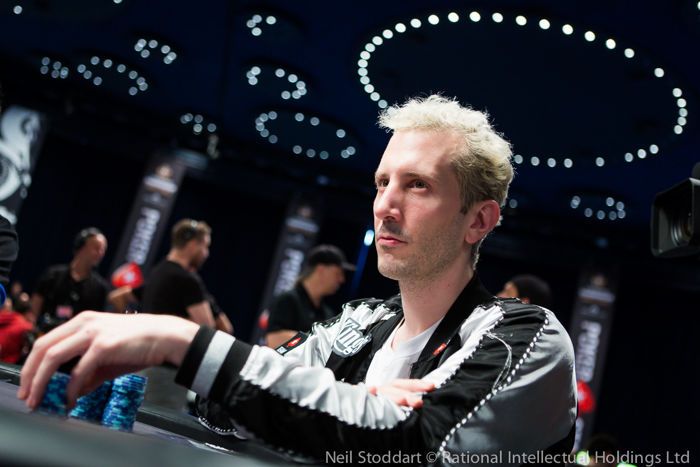 Romain Nardin Takes a Brutal Beat
While one Frenchman was grinding a short stack for all he was worth, another came into Day 5 with an immense stack, looking destined for the final table. Romain Nardin pulled over 160 big blinds from the bag when play began, giving him a sizable lead over his 15 competitors.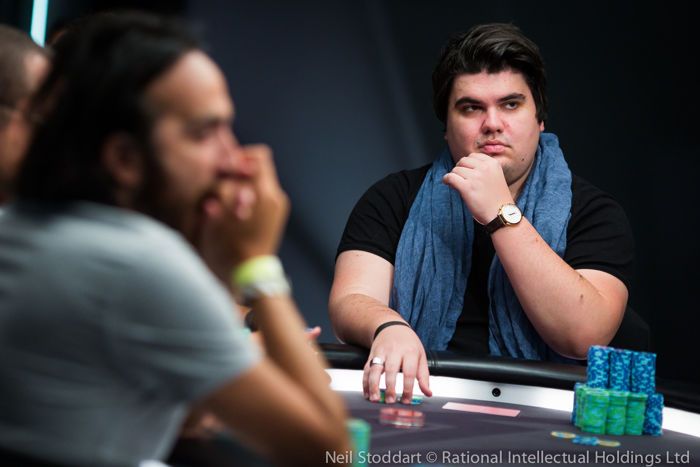 By the time the unofficial final table started, Nardin's lead had slipped away, but he still maintained a spot near the top of the counts. However, the early stages did not go well for him as a couple of aggressive moves wound up costing him chips. Still, he had over 25 big blinds when he played a hand for his tournament life at 30,000/60,000/10,000.
Nardin opened first to act to 180,000 and got called by both players in the blinds. On the



flop, the blinds checked to Nardin and he bet 260,000. Michael Kolkowicz raised to 860,000 in the small blind, and Nardin shoved for 510,000 more. Despite getting over 5-1 on a call, Kolkowicz took some time. In the end, he decided the math was right and called with


.
Nardin had the bullets,


, and he was a big favourite to double back up and retake his position among the leaders. However, a devastating

fell on the turn to give Kolkowicz his straight. Nardin needed a king to make a bigger straight, but the river was a

.
That hand gave Kolkowicz pole position at the final table...
Michael Kolkowicz Jams With Rags
...but it wasn't a lead he'd be able to maintain.
Kolkowicz looked like he had a good luck charm going for him in the form of the very room he sat in, as it was the room he'd been married in a decade ago. However, luck can only take a player so far, and for Kolkowicz, getting out of line at the wrong time with a couple of rags proved to be a spot from which his luck couldn't save him.
Kolkowicz had about 40 percent of the total chips early on, but a couple of failed bluffs and a tough spot where his two pair got counterfeited cost him some chips. Then, he doubled up Andrey Bondar and was suddenly fighting to keep his head above water.
Perhaps feeling desperate to stop the surging Raffaele Sorrentino, Kolkowicz shoved in about 12 big blinds over the Italian's button open holding


. Sorrentino looked him up with


, and the flop was a robust



for Sorrentino, giving him trips. After the

turn, he was dodging threes and eights on the river, and a

harmlessly paired the board again.
Sorrentino suddenly had more than half of the chips, a stack he'd ride to victory and €466,174.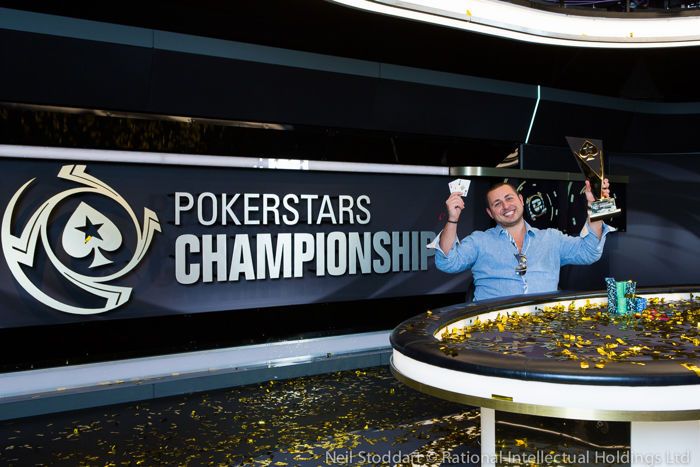 Holz Can't Hold in the €50K
In just a couple of years, Fedor Holz has gone from a name only hardcore online poker aficionados knew to one of the most feared and revered players on the planet as he has piled up some $20 million in cashes since the start of 2015. Success in high roller events has driven Holz's fame, and he made yet another deep run in the €50K Single-Day High Roller in Monte Carlo.
Adrian Mateos and Daniel Dvoress were pacing the field through the early stages of the final table, but Holz had hung around and wasn't far behind with about 30 big blinds during four-handed play.
He put in a button raise to 225,000 at 50,000/100,000/10,000, and Mateos defended his big blind. The flop brought



and Mateos check-called 200,000 from the German star. The turn was a

and Mateos checked again. Holz bet 495,000, and Mateos decided to put him all in.
"I knew it!" Holz exclaimed. "I could see it on your face!"
Holz decided to call it off with


, good for top pair and a spade flush draw. Mateos had the other flush draw and a gutshot to go with it:


. The river

gave the Spaniard his straight and eliminated Holz.
While Holz settled for €319,800, Mateos took control of two-thirds of the chips and turned it into a first-place finish and €908,000.
Stuer Stumbles into a Straight
High roller action was widespread throughout PokerStars Championship Monte Carlo, with a slew of high-stakes turbos running on the last day of the event. The biggest one was the €25K High Roller, which drew 187 runners and awarded €1,015,000 up top.
Eventual champ Julian Stuer couldn't be stopped late, working up a huge stack that none of his opponents could put a real dent in. A hand against Javier Gomez Zapatero showed just how good Stuer was running.
Five players were left, and Stuer raised to 90,000 in the small blind at 15,000/30,000/5,000. Zapatero called in the big, and the flop came



. Zapatero called 75,000 and then 220,000 more on the

turn. When the

arrived, Stuer put his Spanish opponent to the test for his final 650,000.
Zapatero didn't take long to call, as he had


for trips and top kicker, but Stuer had backdoored his way to a straight with


.
Stuer collected his second straight knockout — he'd just eliminated Charlie Carrel — and moved to over 173 big blinds, which none of his remaining opponents could hope to compete with.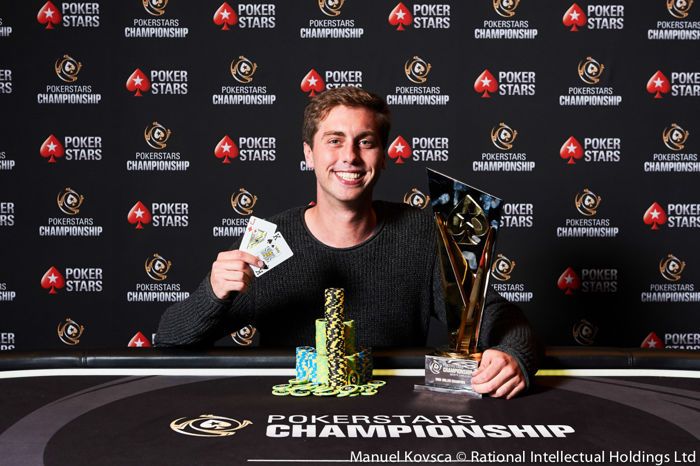 Photos courtesy of PokerStars