Speranza Leads After Day 1b PokerStars Championship Monte Carlo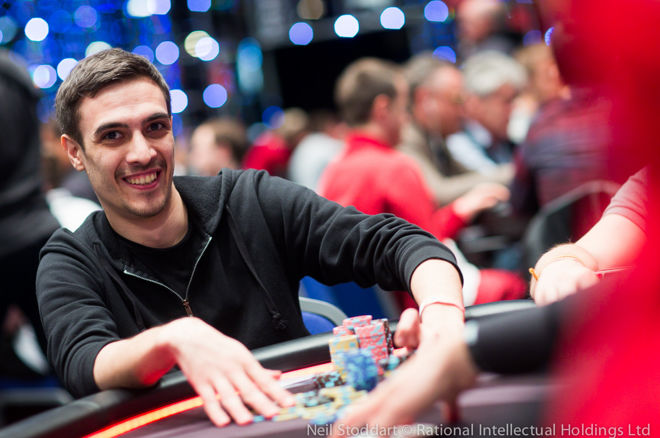 On Day 1b of PokerStars Championship presented by Monte-Carlo Casino® €5,300 Main Event, Italian player Gianluca Speranza finished with a narrow lead atop a tightly bunched group of players as 222 of 481 runners made it through the day. Speranza's stack of 201,500 means Day 1a leader Jeff Hakim still paces the field by a wide margin.
| Position | Player | Country | Chip Count |
| --- | --- | --- | --- |
| 1 | Gianluca Speranza | Italy | 201,500 |
| 2 | Michael Kolkowicz | France | 197,300 |
| 3 | Makram Saber | Lebanon | 192,000 |
| 4 | Xavier Rouayroux | France | 192,000 |
| 5 | David Urban | Slovakia | 188,700 |
| 6 | Raffaele Sorrentino | Italy | 175,200 |
| 7 | Remi Castaignon | France | 160,000 |
| 8 | Christopher Frank | Germany | 152,000 |
| 9 | Vasyl Zabrodskyy | Ukraine | 146,400 |
| 10 | Aleksei Istomin | Russia | 144,600 |
Meanwhile, one of poker biggest superstars of a few years also put in a good performance. Patrik Antonius, who still is one of the most recognizable faces in poker, turned back the clock a bit as he ran up the chip lead by dinner break before ultimately finishing with 102,200.
Antonius sat in during Level 4 and doubled his starting stack almost immediately.
Antonius, best known for his high-stakes cash exploits, also has over $6.7 million in tournament winnings but has only booked a single cash in the past three years as he moves farther and farther from the global tournament scene.
Antonius sat in during Level 4 and doubled his starting stack almost immediately with a discerning call when he and an opponent each missed flush draws. Antonius did make a pair of fives, however, and called off on the river when his opponent put him all in.
Right before dinner, Antonius made a big move up the chip counts when four players saw an ace-king-three flop for a three-bet. Antonius held ace-three for two pair, and the player who three-bet was unable to get away from ace-queen, helping the Fin go to dinner with over 300 big blinds after he faded his opponent's outs on the turn and river.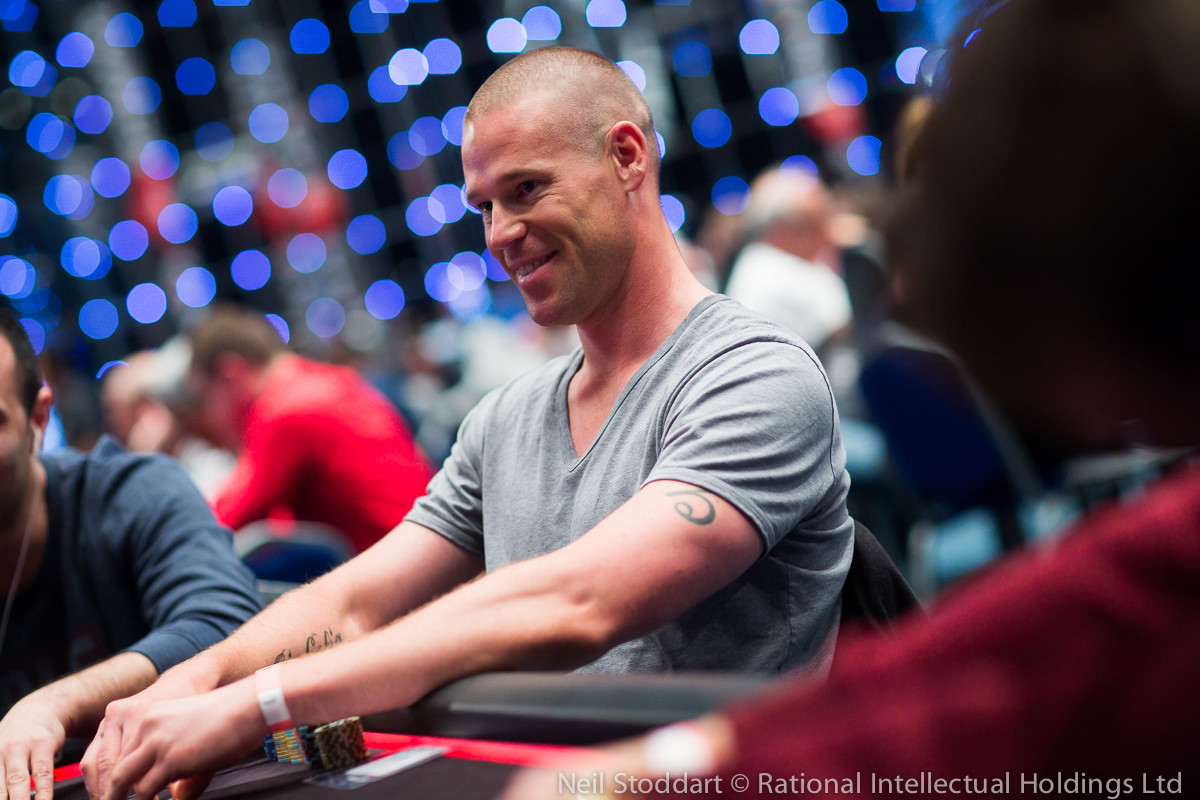 Other notables bagging over six figures included EPT Barcelona champ Sebastian Malec (140,200), PokerStars Team Pro Liv Boeree (127,400), recent PokerStars National Championship winner Andreas Klatt, Davidi Kitai and Tom Hall.
Jan Bendik who won the last EPT event here last year, also made it through, as did PokerStars Team Pros Daniel Negreanu, Igor Kurganov and Bertrand "ElkY" Grospellier.
Ryan Riess' recent heater, including a WPT title in Florida, did not continue as he fizzled out after losing most of his stack to Jason Wheeler. Players joining him on the rail included Anthony Zinno, Paul Newey, Ami Barer, Ivan Luca and PokerStars Team Pro Felipe Ramos.
Day 1b's field pushed the two-flight total for the event to 716 runners, and there's still time for more to join them. Registration remains open until the noon restart, and PokerNews will pick up the coverage again then, so be sure to return for Day 2.
| Table | Seat | Name | Country | Chip Count |
| --- | --- | --- | --- | --- |
| 1 | 1 | Stefan Schillhabel | Germany | 203.000 |
| 1 | 2 | Francesco Grieco | Italy | 58.900 |
| 1 | 4 | Craig Varnell | United States | 115.700 |
| 1 | 5 | Vicente Delgado | Spain | 107.000 |
| 1 | 6 | Jose Vendrell Schwaiger | Germany | 27.000 |
| 1 | 7 | Marcin Wysocki | Denmark | 19.000 |
| 1 | 8 | Mikko Turtiainen | Finland | 37.700 |
| | | | | |
| 2 | 1 | Matthew Hopkins | United Kingdom | 94.600 |
| 2 | 2 | Ran Azor | Israel | 24.100 |
| 2 | 3 | Patrik Tkac | Slovakia | 37.600 |
| 2 | 4 | Salvatore Pepi | Italy | 39.500 |
| 2 | 5 | Maria Ho | United States | 16.500 |
| 2 | 6 | Mark Teltscher | United Kingdom | 90.100 |
| 2 | 7 | Dominik Nitsche | Germany | 26.200 |
| 2 | 8 | Romain Nardin | France | 86.000 |
| | | | | |
| 3 | 1 | Igor Kurganov | Russia | 76.000 |
| 3 | 2 | Peter Eichhardt | Sweden | 121.900 |
| 3 | 3 | John Juanda | Indonesia | 45.900 |
| 3 | 4 | Christoph Vogelsang | Germany | 69.500 |
| 3 | 5 | Jack Salter | United Kingdom | 75.800 |
| 3 | 6 | Preben Stokkan | Norway | 54.600 |
| 3 | 8 | Charlie Carrel | United Kingdom | 48.400 |
| | | | | |
| 4 | 1 | Dmitrii Deviatov | Russia | 15.400 |
| 4 | 2 | Valerii Lubenets | Ukraine | 83.700 |
| 4 | 3 | Daniel Negreanu | Canada | 27.600 |
| 4 | 5 | Ryan Franklin | United States | 106.000 |
| 4 | 6 | Leo Nordin | Sweden | 28.700 |
| 4 | 7 | Paul Hoefer | Germany | 12.100 |
| 4 | 8 | Manuel Sadornil | Spain | 50.500 |
| | | | | |
| 5 | 2 | Jason Mercier | United States | 83.400 |
| 5 | 3 | Alin Grasu | Romania | 43.500 |
| 5 | 4 | Vitaliy Imertsaki | Ukraine | 37.100 |
| 5 | 5 | Hossein Ensan | Germany | 80.000 |
| 5 | 6 | Dermot Blain | Ireland | 37.000 |
| 5 | 7 | Walid Bou Habib | Lebanon | 35.000 |
| 5 | 8 | Luigi Conti | Italy | 94.700 |
| | | | | |
| 6 | 1 | Firas Nassar | Lebanon | 51.600 |
| 6 | 2 | Micha de Graaf | Belgium | 93.400 |
| 6 | 3 | Jimmy Guerrero | France | 48.000 |
| 6 | 4 | Sam Grafton | United Kingdom | 12.000 |
| 6 | 6 | Anton Hrabchak | Ukraine | 48.700 |
| 6 | 7 | Keven Stammen | United States | 38.700 |
| 6 | 8 | Pascal Hartmann | Germany | 152.100 |
| | | | | |
| 7 | 1 | Tiberiu Zanfirache | Romania | 46.300 |
| 7 | 2 | Andreas Klatt | Germany | 118.000 |
| 7 | 3 | Yan Li | China | 50.500 |
| 7 | 4 | Ariel Malnik | Lithuania | 78.300 |
| 7 | 5 | Sindre Tvedt | Norway | 76.800 |
| 7 | 7 | Steven Mulder | Germany | 20.600 |
| 7 | 8 | Davy Chamorro | France | 3.600 |
| | | | | |
| 8 | 1 | Cosmin Mihai Petrica | Romania | 109.600 |
| 8 | 2 | Govert Metaal | Netherlands | 19.800 |
| 8 | 3 | Lukasz Kubicki | Poland | 92.700 |
| 8 | 4 | Onur Unsal | Turkey | 115.800 |
| 8 | 5 | Daniel Smith | Monaco | 90.100 |
| 8 | 7 | Johan Guilbert | France | 47.400 |
| 8 | 8 | Remi Castaignon | France | 160.000 |
| | | | | |
| 9 | 1 | Morten Mortensen | Denmark | 96.800 |
| 9 | 3 | Martin Lunde | Norway | 87.000 |
| 9 | 4 | Benjamin Pollak | France | 53.800 |
| 9 | 5 | Patrik Antonius | Finland | 102.200 |
| 9 | 6 | Hideki Takafuji | Japan | 70.700 |
| 9 | 7 | Andrejs Maklecovs | Latvia | 81.500 |
| 9 | 8 | Alexandru Papazian | Romania | 95.300 |
| | | | | |
| 10 | 1 | Nabil Chaya | Canada | 31.700 |
| 10 | 2 | Vladimir Demenkov | Russia | 70.000 |
| 10 | 3 | Roger Tondeur | Switzerland | 77.000 |
| 10 | 4 | Sergio Aido | Spain | 52.300 |
| 10 | 5 | Steve O'Dwyer | Ireland | 24.200 |
| 10 | 6 | Jogvan Glerfoss | Faroe Islands | 25.600 |
| 10 | 7 | Paul-Francois Tedeschi | France | 60.400 |
| | | | | |
| 11 | 1 | Carlos Chang | Taiwan | 109.300 |
| 11 | 2 | Aurelien Guiglini | France | 28.900 |
| 11 | 3 | Børge Sandsgaard | Norway | 37.600 |
| 11 | 4 | Krisztian Fejerdi | Hungary | 7.500 |
| 11 | 5 | Michel Pereira Marques | Brazil | 168.900 |
| 11 | 7 | Giovanni Lena | Italy | 67.900 |
| 11 | 8 | Luke Cerklewicz | United Kingdom | 36.400 |
| | | | | |
| 12 | 2 | Nikolay Nikolov | Bulgaria | 40.400 |
| 12 | 3 | Markus Durnegger | Austria | 106.400 |
| 12 | 4 | Nick Petrangelo | United States | 63.000 |
| 12 | 5 | Moritz Dietrich | Germany | 77.900 |
| 12 | 6 | Jeremy Mamou | France | 23.300 |
| 12 | 7 | Nicolas Pouzenc | France | 24.500 |
| 12 | 8 | Henrik Tollefsen | Norway | 22.300 |
| | | | | |
| 13 | 2 | Tsugunari Toma | Japan | 70.500 |
| 13 | 3 | Martin Jacobson | Spain | 25.900 |
| 13 | 4 | Viktor Shener | Russia | 16.200 |
| 13 | 5 | Emil Patel | Finland | 46.100 |
| 13 | 6 | Arne Coulier | Belgium | 127.700 |
| 13 | 7 | Rabah Ait-Abdelmalek | France | 69.400 |
| 13 | 8 | Michal Vitkovsky | Slovakia | 94.000 |
| | | | | |
| 14 | 1 | Benjamin Heptinstall | Australia | 84.000 |
| 14 | 2 | Carlos Mironiuk | Argentina | 55.300 |
| 14 | 3 | Hauke Fick | Germany | 49.700 |
| 14 | 4 | Bas De Laat | Malta | 56.200 |
| 14 | 5 | Michel Pomaret | France | 55.000 |
| 14 | 6 | Macsim Robert | Romania | 42.400 |
| 14 | 7 | Sergei Petrushevskii | Russia | 91.800 |
| 14 | 8 | Philipp Kober | Austria | 51.300 |
| | | | | |
| 15 | 1 | Karim Nabi | France | 59.500 |
| 15 | 2 | Karim Souaid | France | 131.000 |
| 15 | 3 | Javier Gomez Zapatero | Spain | 23.600 |
| 15 | 4 | Franck Makaci | France | 56.200 |
| 15 | 5 | Marcin Dziembala | Poland | 70.900 |
| 15 | 6 | Mikalai Vaskaboinikau | Belarus | 57.500 |
| 15 | 7 | Victoria Coren Mitchell | United Kingdom | 35.500 |
| 15 | 8 | Clemente Malheiro Carreira | Portugal | 61.500 |
| | | | | |
| 16 | 1 | Sylvain Loosli | France | 47.500 |
| 16 | 2 | Ibrahim Ghassan | Lebanon | 44.500 |
| 16 | 3 | Fabiano Kovalski | Brazil | 35.000 |
| 16 | 4 | Renaud Lejal | France | 115.500 |
| 16 | 5 | Jerome Arnould | France | 26.200 |
| 16 | 6 | Kliment Roussev Tarmakov | Canada | 32.300 |
| 16 | 7 | Thomas Popov | Canada | 28.200 |
| 16 | 8 | Michael Kolkowicz | France | 197.300 |
| | | | | |
| 17 | 1 | Maxim Panyak | Russia | 84.600 |
| 17 | 2 | Adrien Allain | France | 73.000 |
| 17 | 3 | Istvan Birizdo | Hungary | 61.200 |
| 17 | 4 | Sergio Cabrera | United Kingdom | 24.000 |
| 17 | 5 | Bart Lybaert | Belgium | 82.600 |
| 17 | 6 | Marius Gierse | Germany | 77.700 |
| 17 | 7 | Vasileios Charalampakis | Greece | 72.000 |
| 17 | 8 | Michael Koran | Switzerland | 30.200 |
| | | | | |
| 18 | 1 | Viliyan Petleshkov | Bulgaria | 129.600 |
| 18 | 2 | Sebastian Ruiz Figueroa | Chile | 80.800 |
| 18 | 3 | Andrew Chen | Canada | 28.600 |
| 18 | 4 | Paul Guichard | France | 45.400 |
| 18 | 5 | Ramin Hajiyev | Azerbaijan | 97.000 |
| 18 | 6 | Ionut Bodogai | Romania | 49.200 |
| 18 | 7 | Adolfo Vaeza | Uruguay | 65.300 |
| 18 | 8 | Carole Segoura | France | 73.400 |
| | | | | |
| 19 | 1 | Tommaso Briotti | Italy | 17.400 |
| 19 | 2 | Ramon Miquel Munoz | Spain | 121.500 |
| 19 | 3 | Frederic Casalta | France | 25.500 |
| 19 | 4 | Isaac Haxton | United States | 65.200 |
| 19 | 5 | Manig Loeser | Germany | 195.700 |
| 19 | 6 | Arezki Belaidi | Canada | 49.200 |
| 19 | 7 | Jeffrey Hakim | Lebanon | 305.300 |
| 19 | 8 | Jullian Feriolo | France | 98.900 |
| | | | | |
| 20 | 1 | Tommy Hjornerud | Norway | 84.100 |
| 20 | 3 | Makram Saber | Lebanon | 192.000 |
| 20 | 4 | Emin Aghayev | Azerbaijan | 41.300 |
| 20 | 5 | Dmytro Shuvanov | Ukraine | 136.100 |
| 20 | 6 | Adi Alkalay | Israel | 105.800 |
| 20 | 7 | Marco Masutti | Slovakia | 39.900 |
| 20 | 8 | Jean Koja | France | 90.000 |
| | | | | |
| 21 | 1 | Dan Colman | United States | 13.600 |
| 21 | 2 | Ruslan Mityayev | Ukraine | 28.100 |
| 21 | 3 | James Mitchell | United Kingdom | 109.000 |
| 21 | 4 | Adrian Ionescu | Romania | 38.400 |
| 21 | 5 | Kilian Kramer | Germany | 35.200 |
| 21 | 6 | Bradley Marsh | Canada | 88.300 |
| 21 | 7 | Adrien Delmas | France | 33.300 |
| 21 | 8 | Robert Pankowski | Poland | 33.000 |
| | | | | |
| 22 | 1 | Jerome L'Hostis | United Kingdom | 80.500 |
| 22 | 3 | Michel Eid | Lebanon | 49.900 |
| 22 | 4 | Dan Smith | United States | 49.100 |
| 22 | 5 | Dzmitry Rabotkin | Belarus | 49.300 |
| 22 | 6 | Simonet Stephane | France | 53.400 |
| 22 | 7 | Kosumosu Yamanaka | Japan | 23.800 |
| 22 | 8 | Faraz Jaka | United States | 98.100 |
| | | | | |
| 23 | 1 | Carlos Lopes | France | 9.200 |
| 23 | 2 | Waldemar Nowak | Poland | 19.000 |
| 23 | 3 | Dirk Van Luijk | Belgium | 52.300 |
| 23 | 4 | Vytautas Laurinaitis | Lithuania | 94.000 |
| 23 | 5 | Jerome Sgorrano | Belgium | 28.300 |
| 23 | 6 | El Amir Ziad Chehab | Lebanon | 30.000 |
| 23 | 7 | Jawad Bengourane | France | 82.000 |
| 23 | 8 | Nicholas Galtos | Switzerland | 24.100 |
| | | | | |
| 24 | 1 | Besiana Antoni | Albania | 13.600 |
| 24 | 2 | Hau Minh Nguyen | Australia | 78.200 |
| 24 | 3 | Jean Montury | France | 35.000 |
| 24 | 4 | Diego Vilela | Brazil | 140.000 |
| 24 | 5 | Raffaello Locatelli | Italy | 64.800 |
| 24 | 6 | Lee Hon Cheong | Hong Kong | 10.400 |
| 24 | 7 | Natasha Barbour | Canada | 91.600 |
| 24 | 8 | Florian Kossler | Germany | 35.500 |
| | | | | |
| 25 | 1 | Benjamin Saada | France | 22.000 |
| 25 | 2 | Matthew Whiting | United Kingdom | 42.100 |
| 25 | 3 | Juri Mereu | Italy | 55.000 |
| 25 | 4 | Vishwanath Manjunath | United Kingdom | 51.700 |
| 25 | 5 | Jean Paul Zaffran | Israel | 41.400 |
| 25 | 6 | Alexander Debus | Germany | 36.600 |
| 25 | 7 | Leonardo Vilela | Brazil | 107.200 |
| 25 | 8 | Benny Glaser | United Kingdom | 56.100 |
| | | | | |
| 26 | 1 | Didier Ortiz | Colombia | 38.100 |
| 26 | 2 | Jason Wheeler | United States | 30.900 |
| 26 | 3 | Oliver Weis | Germany | 41.900 |
| 26 | 4 | Mudasser Hussain | United Kingdom | 20.100 |
| 26 | 5 | Thomas Berg | Norway | 83.100 |
| 26 | 6 | Igor Yaroshevskyy | Ukraine | 156.700 |
| 26 | 7 | Maria Lampropulos | Argentina | 53.000 |
| 26 | 8 | Laurynas Levinskas | Lithuania | 23.400 |
| | | | | |
| 27 | 1 | Isabel Baltazar | France | 30.200 |
| 27 | 2 | Lander Lijo | Spain | 40.800 |
| 27 | 3 | Gaelle Baumann | France | 49.200 |
| 27 | 4 | Thomas Muehloecker | Austria | 18.200 |
| 27 | 5 | Hicham Moussa | Nigeria | 56.500 |
| 27 | 6 | Fabrice Soulier | France | 105.100 |
| 27 | 7 | Xavier Rouayroux | France | 192.000 |
| 27 | 8 | Muhyedine Fares | Senegal | 54.900 |
| | | | | |
| 28 | 1 | Jacques Torbey | Lebanon | 107.300 |
| 28 | 2 | Bruno Lopez | France | 73.200 |
| 28 | 3 | Stephen Woodhead | United Kingdom | 55.800 |
| 28 | 4 | Julio Martini Filho | Brazil | 60.800 |
| 28 | 5 | Levan Karamanishvili | Ukraine | 53.300 |
| 28 | 6 | Jean-Jacques Zeitoun | France | 60.000 |
| 28 | 7 | Ole Schemion | Germany | 144.900 |
| 28 | 8 | Shijirbaatar Sanjaasuren | Mongolia | 130.000 |
| | | | | |
| 29 | 1 | Tom Hall | United Kingdom | 102.000 |
| 29 | 2 | Kent Roed | Norway | 41.700 |
| 29 | 3 | Maksim Shulga | Russia | 80.800 |
| 29 | 4 | Alexandre Moreau | France | 63.200 |
| 29 | 5 | Rocco Palumbo | Italy | 105.900 |
| 29 | 6 | Paul Testud | France | 103.000 |
| 29 | 7 | Aliaksei Boika | Belarus | 77.000 |
| 29 | 8 | Edouard Mignot | France | 55.000 |
| | | | | |
| 30 | 1 | Harry Touil | France | 18.700 |
| 30 | 2 | Usman Siddique | United Kingdom | 51.500 |
| 30 | 3 | William Saad | Ivory Coast | 47.900 |
| 30 | 4 | Kaue De Souza | Brazil | 44.300 |
| 30 | 5 | Walery Engel | Germany | 57.300 |
| 30 | 6 | Espen Solaas | Norway | 35.300 |
| 30 | 7 | Cosmin Ionut Dumitricu | Romania | 78.200 |
| 30 | 8 | Gerald Karlic | Austria | 45.000 |
| | | | | |
| 31 | 1 | Raffaele Sorrentino | Italy | 175.200 |
| 31 | 2 | Daniel Dvoress | Canada | 44.200 |
| 31 | 3 | Paul Gresel | Netherlands | 50.600 |
| 31 | 4 | Aleksandar Tomovic | Serbia | 57.500 |
| 31 | 5 | Rony Halimi | France | 49.800 |
| 31 | 6 | Romain Lewis | France | 82.100 |
| 31 | 7 | Benoit Lam | France | 86.500 |
| 31 | 8 | Celina Lin | Australia | 125.500 |
| | | | | |
| 32 | 1 | Narcis-Gabriel Nedelcu | Romania | 103.300 |
| 32 | 2 | Andrey Bondar | Russia | 49.200 |
| 32 | 3 | Aleksandrs Golubevs | United Kingdom | 25.900 |
| 32 | 4 | Marius Cazacu | Romania | 5.100 |
| 32 | 5 | Kyrylo Kudyma | Ukraine | 73.000 |
| 32 | 6 | Sebastien Compte | France | 26.000 |
| 32 | 7 | Donald Duarte Sierra | Nicaragua | 43.200 |
| 32 | 8 | Andrey Vlasenko | Russia | 12.800 |
| | | | | |
| 33 | 1 | Artur Sahakyan | Armenia | 102.800 |
| 33 | 2 | Christian Stokkeland | Norway | 75.600 |
| 33 | 3 | Bertrand "ElkY" Grospellier | France | 50.800 |
| 33 | 4 | Christophe Larquemin | France | 6.100 |
| 33 | 5 | Fatima Moreira De Melo | Netherlands | 32.300 |
| 33 | 6 | Peyman Luth | Germany | 78.800 |
| 33 | 7 | Shakhabiddin Muradov | Latvia | 142.500 |
| 33 | 8 | Salvatore Candido Graziano | Switzerland | 22.600 |
| | | | | |
| 34 | 1 | Anton Deglinne | Belgium | 18.800 |
| 34 | 2 | Thiago Crema | Brazil | 128.700 |
| 34 | 3 | Christopher George | United States | 24.000 |
| 34 | 4 | Alexey Tkachenko | Russia | 21.700 |
| 34 | 5 | Patrick Sacrispeyre | Morocco | 25.900 |
| 34 | 6 | Adrian Mateos | Spain | 58.900 |
| 34 | 7 | Aladin Reskallah | France | 20.000 |
| 34 | 8 | Ove Stenberg | Norway | 33.400 |
| | | | | |
| 35 | 1 | Dick Postel | Malta | 12.000 |
| 35 | 2 | Iliodoros Kamatakis | Greece | 105.000 |
| 35 | 4 | Salvatore Bianco | Italy | 127.900 |
| 35 | 5 | Luiz Duarte | United States | 43.100 |
| 35 | 6 | Rafael Moraes | Brazil | 53.400 |
| 35 | 7 | Viacheslav Goryachev | Russia | 23.100 |
| 35 | 8 | Jose Gonzales | Argentina | 62.000 |
| | | | | |
| 36 | 1 | Karen Oliver | United Kingdom | 78.000 |
| 36 | 2 | Jerome Brion | France | 55.400 |
| 36 | 3 | Justin Bonomo | United States | 71.200 |
| 36 | 5 | Hannes Speiser | Austria | 88.400 |
| 36 | 6 | Konstantinos Nanos | Germany | 22.300 |
| 36 | 7 | Kirill Ivanov | Russia | 86.900 |
| 36 | 8 | Gianluca Speranza | Italy | 201.500 |
| | | | | |
| 37 | 1 | David Urban | Slovakia | 188.700 |
| 37 | 2 | Tom-Aksel Bedell | Norway | 17.500 |
| 37 | 3 | Giuseppe Zarbo | France | 36.000 |
| 37 | 4 | Davidi Kitai | Belgium | 109.800 |
| 37 | 5 | Liv Boeree | United Kingdom | 127.400 |
| 37 | 6 | Maxim Lykov | Russia | 87.300 |
| 37 | 8 | Diego Zeiter | Switzerland | 52.500 |
| | | | | |
| 38 | 2 | Marco Weidner | Germany | 31.600 |
| 38 | 3 | Ke Chen | China | 84.300 |
| 38 | 4 | Douglas Ferreira Souza | Brazil | 79.000 |
| 38 | 5 | Wesley Wong | Canada | 21.000 |
| 38 | 6 | Jean Auberval | France | 49.600 |
| 38 | 7 | Robert Haigh | Germany | 55.600 |
| 38 | 8 | Chebli Chebli | Lebanon | 61.900 |
| | | | | |
| 39 | 1 | Andrea Rocci | Italy | 56.200 |
| 39 | 2 | Alexandros Kolonias | Greece | 29.000 |
| 39 | 4 | Victor Zabukas Begara | Brazil | 83.800 |
| 39 | 5 | Lucas Greenwood | Canada | 28.100 |
| 39 | 6 | Aleksei Istomin | Russia | 144.600 |
| 39 | 7 | Christopher Frank | Germany | 152.000 |
| 39 | 8 | Davor Lanini | Italy | 90.100 |
| | | | | |
| 40 | 1 | Evgenii Sboev | Russia | 18.700 |
| 40 | 2 | Alexandre Luneau | France | 69.400 |
| 40 | 3 | Andreas Hoivold | Norway | 83.900 |
| 40 | 4 | Vasyl Zabrodskyy | Ukraine | 146.400 |
| 40 | 5 | Ivan Glushkov | Russia | 25.200 |
| 40 | 6 | Ian Gillespie | United States | 34.000 |
| 40 | 7 | Yury Salikaev | Russia | 63.200 |
| 40 | 8 | Oystein Christensen | Norway | 38.500 |
| | | | | |
| 41 | 2 | Simon Taberham | United Kingdom | 61.800 |
| 41 | 3 | Julien Pirard | Belgium | 28.300 |
| 41 | 4 | Marius-Catalin Pertea | Romania | 82.700 |
| 41 | 5 | Gavin O'Rourke | Ireland | 11.000 |
| 41 | 6 | Norberto Korn | Germany | 71.300 |
| 41 | 8 | Alexios Zervos | Greece | 31.800 |
| | | | | |
| 42 | 1 | Sebastien Lebaron | France | 21.500 |
| 42 | 2 | Allan Dyrstad | Norway | 14.400 |
| 42 | 3 | Lauren Monosson | United States | 64.100 |
| 42 | 4 | Mickael Mamou | France | 50.800 |
| 42 | 5 | Sebastian Malec | Poland | 140.100 |
| 42 | 6 | Johny Jabra | Romania | 31.800 |
| 42 | 7 | Gediminas Kareckas | Lithuania | 62.700 |
| 42 | 8 | Arno Thuy | Belgium | 39.500 |
| | | | | |
| 43 | 1 | Jan Bendik | Slovakia | 67.800 |
| 43 | 2 | Stefan Vagner | Slovakia | 11.500 |
| 43 | 3 | Michele Bianchi | Switzerland | 58.700 |
| 43 | 4 | Artan Dedusha | United Kingdom | 96.700 |
| 43 | 6 | Stefan Huber | Switzerland | 96.000 |
| 43 | 7 | Anil Ozdemir | Turkey | 39.500 |
| 43 | 8 | Giorgio Donzelli | Italy | 26.700 |
| | | | | |
| 44 | 1 | Geoffroy Combette | France | 44.800 |
| 44 | 3 | Minh Phuc Nguyen | Australia | 75.100 |
| 44 | 4 | Francesco Favia | Italy | 101.000 |
| 44 | 5 | Nicola D'Anselmo | Italy | 53.600 |
| 44 | 6 | Diego Ventura | Peru | 126.100 |
| 44 | 7 | Nicolas Fuentes Vidal | Chile | 76.400 |
| 44 | 8 | Sonny Franco | France | 33.700 |