'ElkY' Among Top Stacks After Day 3 of PSC Monte Carlo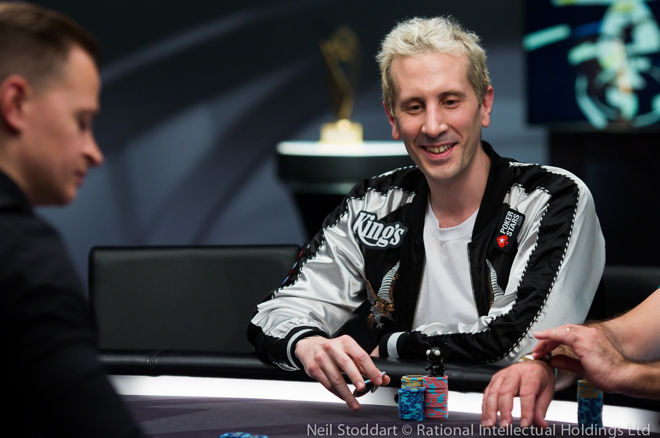 France's Michael Kolkowicz claimed the overnight chip lead with 1,445,000 after Day 3 of the 2017 PokerStars Championship presented by Monte-Carlo Casino €5,300 Main Event®.
Start-of-day chip leader Nick Petrangelo bowed out early after losing a couple of big hands in short succession
Also out were Daniel Negreanu and Patrik Antonius.
On Day 3, a field of 143 players were reduced to just 45 hopefuls.
Each of them will be back tomorrow with eyes set on the first-place payout of €500,800, which will be handed out to the victor of the first European PokerStars Championship Main Event this Friday night in "Le Sporting" at Monte-Carlo Bay Hotel & Resort.
After four levels of 90 minutes, play was suspended for the day and chips were bagged and tagged for the night.
At noon local time, 143 players took their seats with money already in the bag. Early exits that received the minimal cash of €7,580 included Alex Luneau, Preben Stokkan, Rocco Palumbo, Usman Siddique, Tsugunari Toma and Viliyan Petleshkov.
Team PokerStars Pro Liv Boeree also left with the minimum amount. Short stacked, Boeree shoved king-nine into Sebastian Malec's ace-queen and failed to catch up. Shortly after, Maria Ho busted as well after losing a coin flip situation with king-jack against pocket eights.
During the second level of the day, Team PokerStars Pro Celina Lin flipped out with ace-queen against pocket tens. It was also the level that spelled the end for start-of-the-day chip leader Nick Petrangelo.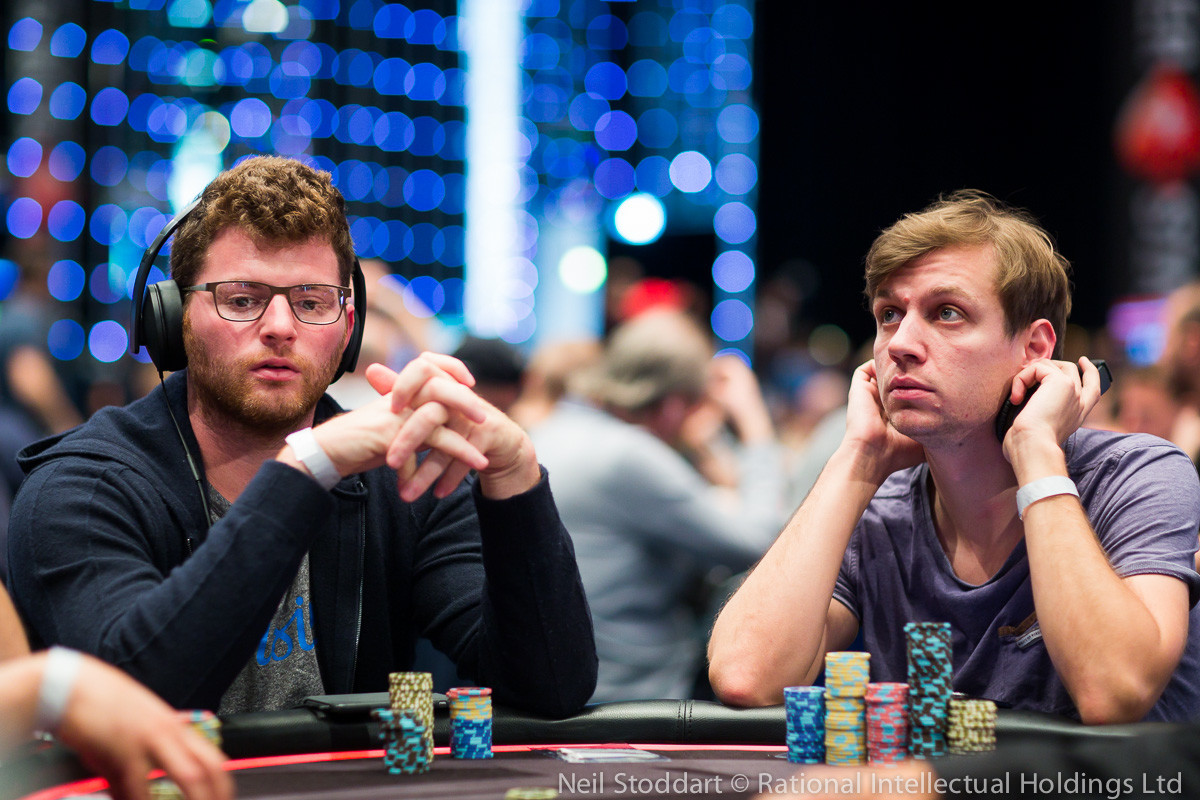 The American high roller found his nemesis in Romain Nardin and shockingly hit the rail early on. Nardin first got lucky with ace-eight against Petrangelo's ace-king. Then, he won a massive confrontation with ace-king against Petrangelo's pocket jacks; 2014 WSOP Main Event champion Martin Jacobson also bit the dust on this one. And just like that, Petrangelo was out.
Antonius, Mark Teltscher, Luke Schwarz, Andreas Hoivold, Igor Yaroshevskyy, Jason Wheeler and Fabrice Soulier joined Petrangelo soon after. Nicolas Fuentes Vidal joined them as well with a story to tell: a lost pot of more than one million chips with kings against Stefan Schillhabel's aces. This hand ended Vidal's run in one big blow.
Team PokerStars Pro's Daniel Negreanu and Bertrand "ElkY" Grospellier were seated at the feature table the entire day. ElkY had a fantastic day and ran his stack up to 771,000 in chips, courtesy of two massive hands with pocket aces. In the first, he doubled through Negreanu's king-queen, only to double again later on through Hossein Ensan, who misstepped with ten-seven.
After losing some of his chips to ElkY, Negreanu found himself on the downward slope. With queen-jack, his last chips went in on a jack-six-five board against Ensan. Unfortunately for the Canadian superstar, Ensen held pocket fives for bottom set and forced Negreanu out the door.
Kolkowicz leads. Schillhabel is second with 1,380,000, Belgian crusher Davidi Kitai sits in third with 1,087,000. Other notables that made it through include Alexandru Papazian (670,000), Jeff Hakim (511,000), Sebastian Malec (509,000), Arne Coulier (394,000) and Stefan Huber (235,000).
The remaining players will return tomorrow at 12 p.m. noon local time to play five scheduled levels of 90 minutes each with a 20-minute break after every level. Play will resume in level 19 with blinds of 5,000/10,000 and a running ante of 1,000. Follow PokerNews for all the live reporting action from the floor until the PokerStars Championship Main Event winner is crowned on Friday night.
Day 4 Seat Draw
| Table | Seat | Player | Country | Chip Count |
| --- | --- | --- | --- | --- |
| 1 | 1 | Diego Vilela | Brazil | 358,000 |
| 1 | 3 | Moritz Dietrich | Germany | 821,000 |
| 1 | 4 | Raffaele Sorrentino | Italy | 197,000 |
| 1 | 5 | Diego Zeiter | Switzerland | 476,000 |
| 1 | 6 | Remi Castaignon | France | 142,000 |
| 1 | 7 | Vicente Delgado | Spain | 501,000 |
| 1 | 8 | Peyman Luth | Germany | 533,000 |
| | | | | |
| 2 | 1 | Lukasz Kubicki | Poland | 315,000 |
| 2 | 2 | Marius-Catalin Pertea | Romania | 860,000 |
| 2 | 3 | Sergio Aido | Spain | 719,000 |
| 2 | 4 | Sergei Petrushevskii | Russia | 541,000 |
| 2 | 5 | Hossein Ensan | Germany | 718,000 |
| 2 | 6 | Arne Coulier | Belgium | 394,000 |
| 2 | 7 | Jeffrey Hakim | Lebanon | 511,000 |
| 2 | 8 | Maxim Panyak | Russia | 921,000 |
| | | | | |
| 3 | 1 | Dan Smith | USA | 99,000 |
| 3 | 2 | "Bertrand ""ElkY"" Grospellier" | France | 766,000 |
| 3 | 3 | Sebastian Malec | Poland | 509,000 |
| 3 | 5 | Paul Testud | France | 100,000 |
| 3 | 6 | Alexandru Papazian | Romania | 670,000 |
| 3 | 7 | Marius Gierse | Germany | 383,000 |
| 3 | 8 | Dmytro Shuvanov | Ukraine | 604,000 |
| | | | | |
| 4 | 1 | Lee Hon Cheong | Hong Kong | 637,000 |
| 4 | 2 | Michael Kolkowicz | France | 1,445,000 |
| 4 | 4 | Stefan Schillhabel | Germany | 1,380,000 |
| 4 | 5 | Shijirbaatar Sanjaasuren | Mongolia | 145,000 |
| 4 | 6 | Paul-Francois Tedeschi | France | 560,000 |
| 4 | 7 | Krisztian Fejerdi | Hungary | 130,000 |
| 4 | 8 | Douglas Ferreira Souza | Brazil | 428,000 |
| | | | | |
| 5 | 1 | Andrey Bondar | Russia | 180,000 |
| 5 | 2 | Jerome Brion | France | 406,000 |
| 5 | 3 | Chebli Chebli | Lebanon | 291,000 |
| 5 | 4 | Stefan Huber | Switzerland | 235,000 |
| 5 | 5 | Manig Loeser | Germany | 350,000 |
| 5 | 6 | Gianluca Speranza | Italy | 347,000 |
| 5 | 7 | Jan Bendik | Slovakia | 223,000 |
| 5 | 8 | Diego Ventura | Peru | 371,000 |
| | | | | |
| 6 | 1 | Philipp Kober | Austria | 149,000 |
| 6 | 2 | Davidi Kitai | Belgium | 1,087,000 |
| 6 | 3 | Romain Nardin | France | 577,000 |
| 6 | 4 | Karim Souaid | France | 510,000 |
| 6 | 5 | Luiz Duarte | USA | 204,000 |
| 6 | 6 | Andreas Klatt | Germany | 254,000 |
| 6 | 7 | Shakhabiddin Muradov | Latvia | 170,000 |
| 6 | 8 | Renaud Lejal | France | 477,000 |