Wynn Poker Summer Classic 2017 Schedule Announced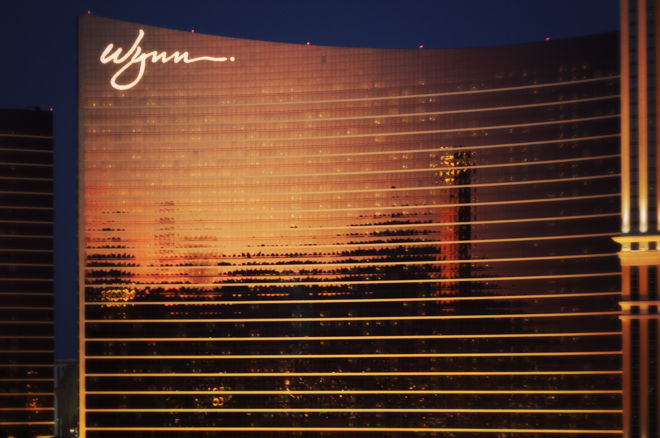 While the World Series of Poker is the biggest draw for poker players in Las Vegas every summer, there are several great tournament series around town to participate in. One of them is at the Wynn, where the annual Wynn Summer Classic returns this year with more than $5 million in guaranteed prize pools.
The series kicks off Friday, June 2 and runs through Sunday, July 16, with a new event starting almost every day. Some of the highlights:
June 14-18:$1,100 No-Limit Hold'em ($1 Million Guaranteed)
June 27-29: $600 No-Limit Hold'em ($250,000 Guaranteed)
June 12: $600 Seniors Event ($100,000 Guaranteed)
July 4-7: $1,600 No-Limit Hold'em Championship ($1 Million Guaranteed)
Below you'll find the full schedule for the 2017 Wynn Summer Classic.
2017 Wynn Summer Classic Schedule
| Date | Time | Event | Guarantee | Buy-In |
| --- | --- | --- | --- | --- |
| 6/2 | 12 p.m. | NLH 5K SURVIVOR | $50,000 | $360 + 40 |
| 6/3 | 12 p.m. | NO LIMIT HOLD'EM | $100,000 | $500 + 50 |
| 6/4 | 12 p.m. | NO LIMIT HOLD'EM | $100,000 | $500 + 50 |
| 6/5 | 12 p.m. | NO LIMIT HOLD'EM | $100,000 | $500 + 50 |
| 6/6 | 12 p.m. | NO LIMIT HOLD'EM | $50,000 | $360 + 40 |
| 6/7 | 12 p.m. | POT LIMIT OMAHA | $50,000 | $360 + 40 |
| 6/8 | 12 p.m. | NO LIMIT HOLD'EM | $50,000 | $360 + 40 |
| 6/9 | 12 p.m. | NO LIMIT HOLD'EM | $50,000 | $360 + 40 |
| 6/10 | 12 p.m. | NO LIMIT HOLD'EM | $100,000 | $500 + 50 |
| 6/11 | 12 p.m. | NO LIMIT HOLD'EM | $50,000 | $360 + 40 |
| 6/12 | 11 a.m. | NLH SENIORS (50+) | $100,000 | $545 + 55 |
| 6/13 | 12 p.m. | NO LIMIT HOLD'EM | $50,000 | $360 + 40 |
| 6/14 | 12 p.m. | NO LIMIT HOLD'EM Day 1A* | $1,000,000 | $1,020 + 80 |
| 6/15 | 12 p.m. | NO LIMIT HOLD'EM Day 1B* | $1,000,000 | $1,020 + 80 |
| 6/16 | 12 p.m. | NO LIMIT HOLD'EM Day 1C* | $1,000,000 | $1,020 + 80 |
| 6/17 | 12 p.m. | NO LIMIT HOLD'EM Day 1D* | $1,000,000 | $1,020 + 80 |
| 6/19 | 12 p.m. | NO LIMIT HOLD'EM | $50,000 | $360 + 40 |
| 6/20 | 12 p.m. | NO LIMIT HOLD'EM | $50,000 | $360 + 40 |
| 6/21 | 12 p.m. | NO LIMIT HOLD'EM | $50,000 | $360 + 40 |
| 6/22 | 12 p.m. | NO LIMIT HOLD'EM | $50,000 | $360 + 40 |
| 6/23 | 12 p.m. | NO LIMIT HOLD'EM | $50,000 | $360 + 40 |
| 6/24 | 12 p.m. | NO LIMIT HOLD'EM | $200,000 | $1,025 + 75 |
| 6/25 | 12 p.m. | NO LIMIT HOLD'EM | $100,000 | $500 + 50 |
| 6/26 | 12 p.m. | NO LIMIT HOLD'EM | $50,000 | $360 + 40 |
| 6/27 | 12 p.m. | NO LIMIT HOLD'EM Day 1A* | $250,000 | $545 + 55 |
| 6/28 | 12 p.m. | NO LIMIT HOLD'EM Day 1B* | $250,000 | $545 + 55 |
| 6/29 | 12 p.m. | NO LIMIT HOLD'EM | $100,000 | $500 + 50 |
| 6/30 | 12 p.m. | NO LIMIT HOLD'EM | $50,000 | $360 + 40 |
| 7/1 | 12 p.m. | NO LIMIT HOLD'EM | $100,000 | $500 + 50 |
| 7/2 | 12 p.m. | NO LIMIT HOLD'EM | $50,000 | $360 + 40 |
| 7/4 | 12 p.m. | CHAMPIONSHIP EVENT Day 1A* | $1,000,000 | $1,500 + 100 |
| 7/5 | 12 p.m. | CHAMPIONSHIP EVENT Day 1B* | $1,000,000 | $1,500 + 100 |
| 7/6 | 12 p.m. | CHAMPIONSHIP EVENT Day 1C* | $1,000,000 | $1,500 + 100 |
| 7/8 | 12 p.m. | NO LIMIT HOLD'EM | $100,000 | $500 + 50 |
| 7/9 | 12 p.m. | NO LIMIT HOLD'EM | $50,000 | $360 + 40 |
| 7/10 | 12 p.m. | NO LIMIT HOLD'EM | $100,000 | $500 + 50 |
| 7/11 | 12 p.m. | NO LIMIT HOLD'EM | $50,000 | $360 + 40 |
| 7/12 | 12 p.m. | NO LIMIT HOLD'EM | $100,000 | $500 + 50 |
| 7/13 | 12 p.m. | NO LIMIT HOLD'EM | $200,000 | $1,025 + 75 |
| 7/14 | 12 p.m. | NO LIMIT HOLD'EM | $100,000 | $500 + 50 |
| 7/15 | 12 p.m. | NO LIMIT HOLD'EM | $100,000 | $500 + 50 |
| 7/16 | 12 p.m. | NO LIMIT HOLD'EM | $100,000 | $500 + 50 |
| 7/16 | 12 p.m. | NO LIMIT HOLD'EM | $200,000 | $1,025 + 75 |
*Multi-day event