Polishing the Trophy: A Look at Some of Poker's Championship Hardware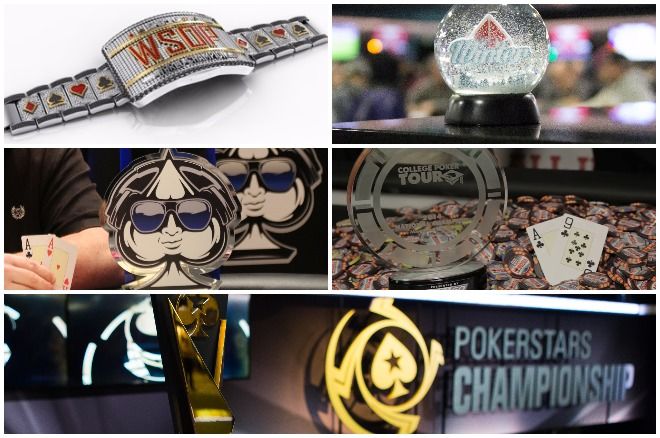 It's every poker player's dream: Navigating through a field of card-playing cutthroats and after days of play, sitting behind a mountain of cash and hoisting that championship trophy into the air.
While the big bucks are certainly great, poker offers some pretty nice keepsakes for that big win, from silver cups to trophies to bracelets and more.
PokerNews took a look at some of the interesting hardware offered throughout the poker world.
Playground Poker Club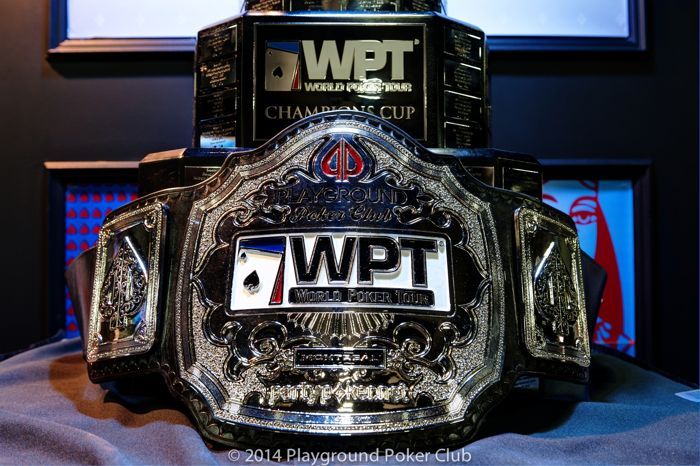 While a bracelet may be the ultimate goal for any rounder, the Playground Poker Club in Montreal may offer one of the most unique and cool winner's trophies on the poker scene: the championship belt. At Playground, you don't have to be Floyd Mayweather Jr. or Hulk Hogan to bring home the title belt; major tournament winners get to feel like a real champ.
The original belt was awarded for the second Playground Poker Classic festival in the spring of 2012, one for the $2,200 Main Event and the $10,300 High Roller event, said Michael Boyle, a member of the event marketing team.
"This was still in the early days - and pre-WPT - and the $2,200 event had 83 entries and the High Roller just nine, I think," he said. "In any case, local pro Jean-Philippe Piquette won both belts that year, and the tradition had begun."
That fall, Playground also hosted its first WPT Montreal in Season 11 and continued awarding a belt to the champion. It was followed in 2013 by the WPT Canadian Spring Championship and again the trophy was a belt. To add to the tradition, the final table was played in a boxing ring.
Since then, Playground has awarded one or two belts for each of the Classics and WPTs, the WPT High Roller, and once for the top spot on the Festival Tournament leaderboard. The poker club has completely abandoned bracelets and begun awarding trophies to festival side event winners as well.
One of the most interesting trophies came this past winter in the form of a customized working snow globe.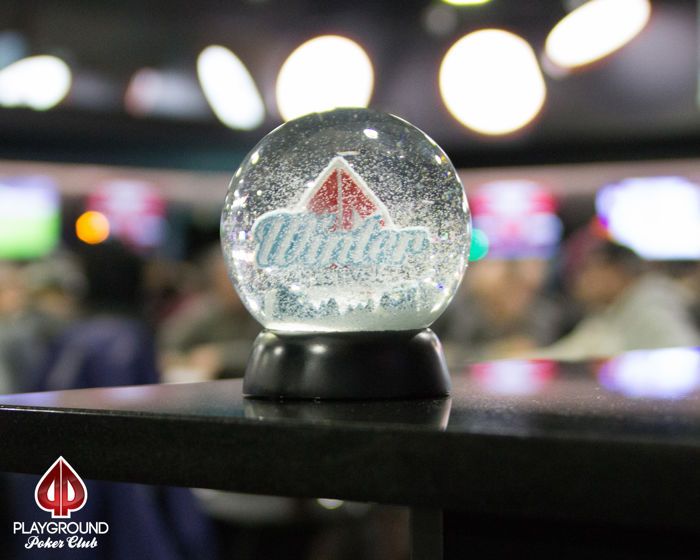 World Series of Poker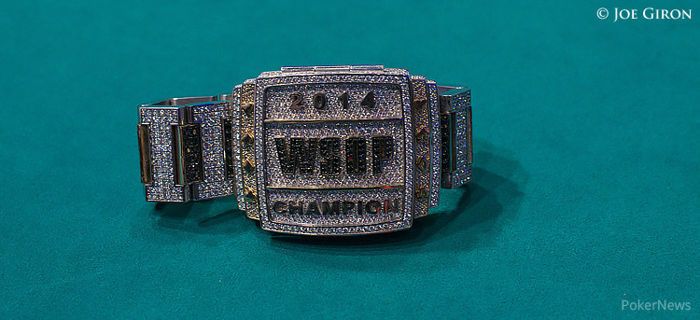 The ultimate bragging rights come with claiming a WSOP bracelet, the pinnacle of poker success. Qui Nguyen won the 2016 Main Event edition, which was designed and produced by Jostens' artisan jewelry team. The bracelet features a bold design assembled from over 40 uniquely-cast parts and was crafted with 427 grams of white and yellow gold.
Each link of the bracelet mimics a playing card linking a diamond-and-ruby-encrusted band to the stylish centerpiece with "WSOP" in rubies punctuated on all sides by a row of black diamonds. The entire centerpiece is set against a backdrop of rows of perfectly-placed white diamonds.
The bracelet contains 1,356 white diamonds totaling 25.5 carats, 626 black diamond's totaling 14.8 carats, and 194 rubies at 3.8 carats. Opening like a locket, the stunning centerpiece has a hidden compartment designed to house the two winning cards from the player's final tournament.
WSOP officials consider this the most expensive trophy in sports – valued at $500,000.
L.A. Poker Classic at Commerce Casino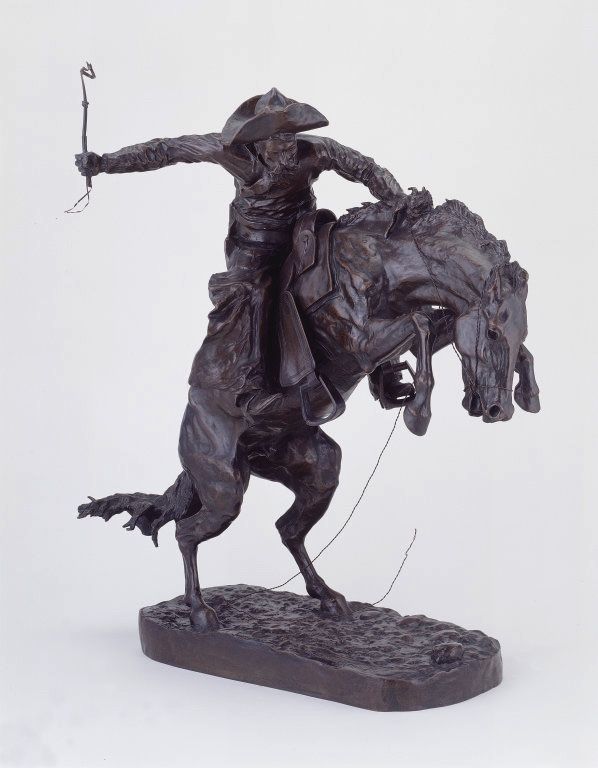 With a deep poker history, this casino awards one of the most unique and elegant trophies when its annual L.A. Poker Classic rolls around each January. The Remington Trophy has been a part of the LAPC since its inception 24 years ago, and is based on one of Frederic Remington's first pieces called "Bronco Buster," a real piece of Americana that would be a spotlight for any trophy case.
Remington (1861-1909) was an American artist and writer who specialized in depictions of the Old West including paintings of cowboys and poker. An original cast of the sculpture has been in the Oval Office since the Carter administration.
"His goal with the sculpture was to express his belief that only those who have ridden a bronco the first time it was saddled or have lived through a railroad accident can form any conception of the solemnity of such experiences," said Justin Hammer, Commerce tournament coordinator. "Seems fitting, as the same might be said for winning an event at the LAPC."
Many of the game's biggest names are able to boast that they've won one including Phil Hellmuth, Antonio Esfandiari and Phil Ivey. James Woods also took a Remington home recently.
"The trophy has a rich history in the L.A. market and is probably the second most sought-after prize in poker after a WSOP bracelet," Hammer said. "Players have given up thousands of dollars in final table deals in order to say they've acquired one."
PokerStars Championships & Festivals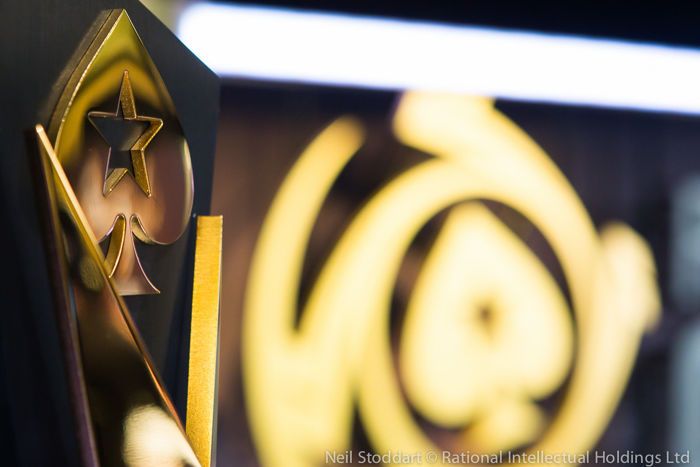 The king of online poker also brings some real weight to its live tournament experience with some slick trophies that any player would be proud to win.
The company announced in 2016 that its various tours would now fall under either the PokerStars Championship or Festival umbrellas, with major big buy-in events at the former and smaller buy-in events for the latter. Both feature high-quality championship hardware.
The shiny "shard" trophies offer class with an understated elegance; they stand almost 16 inches tall and weigh almost 11 pounds. They are featured in Main Events and are highly sought after.
PokerStars also awards some nice pieces for side events in the sleek "spade" trophies, which come in large, small and micro sizes, and range in weight from half a pound to almost 2.2 pounds.
California State Poker Championship at Commerce Casino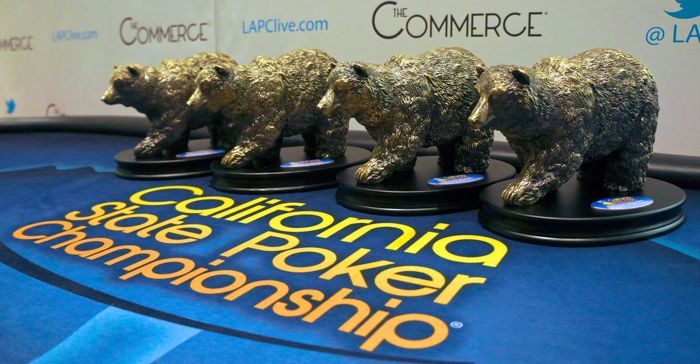 The Commerce Casino sets a trend when it comes to classic, artistic trophies and that includes the Cal State Poker Championship's Golden Bear. Its bear trophies are offered as part of the annual series in April and May.
The trophy is based on the California Grizzly, one of the state's most visible symbols. The animal became a part of the official state seal in 1849, went extinct around 1922 and became the official state animal in 1953.
"It has a special place as a symbol of California, and that's why it is used to represent the California State Poker Championship," Hammer said.
The state also boasts 25,000 to 30,000 black bears in its picturesque wild countryside. Actor Ben Affleck even took home the trophy and $356,400 in 2004 when it was a $10,000 buy-in event. Commerce offers some added value to winners, real pieces of art that complement the state's unique place in the American West.
Mid-States Poker Tour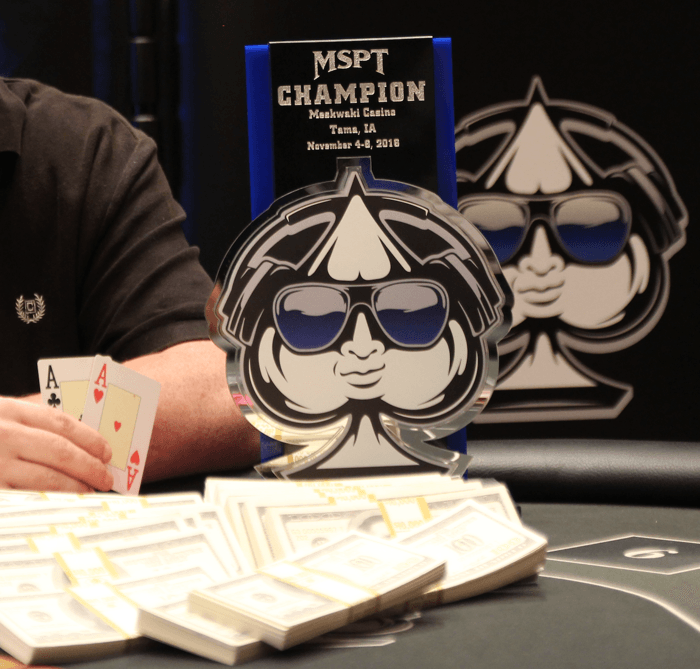 This poker tour, founded in 2009, has grown in recent years with numerous stops across the country.
The tour awarded bracelets until 2013, but switched to trophies in its fourth season. Winners' hardware are the same for each event and feature a sturdy trophy of the tour's logo, a cool "spade man" with sunglasses and headphones.
MSPT Media Director Chad Holloway said the spades are a foot tall, six inches wide, and weigh about five pounds. Each is inscribed with the date and venue of each tournament.
On a side note, the MSPT once offered a free $250 qualifier seat to anyone who was tattooed with the tour's logo (and would pay for the ink).
"Amazingly two people did," Holloway said recently. "Lee Hutchison got it done yesterday, and our spade logo looks fantastic. More details to come and more tattoos will be done soon!"
World Series of Poker Circuit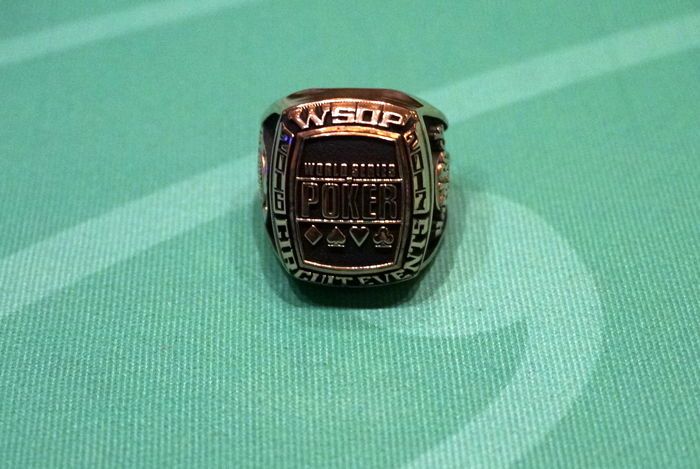 A bracelet may not be possible for everyone, but the WSOPC offers lower buy-ins with a chance at a pretty cool prize: the WSOPC Championship Ring. The rings feature a sleek design with the circuit logo and event location.
Through March 2017, Florida's Maurice Hawkins leads the pack with nine rings – one short of each finger – and more than $1 million in circuit winnings. No doubt most players would like a bit of this bling to show off to some of their buddies at that next home game.
RunGood Poker Series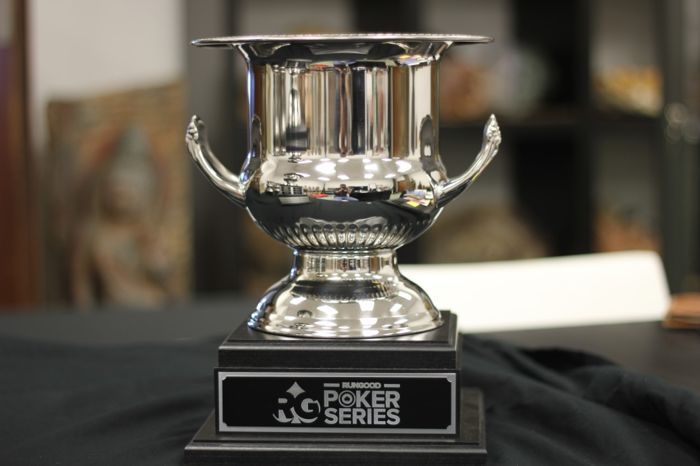 This fairly new tour offers several events across the country and features a gorgeous silver cup for some of its events. The shiny cup has been awarded at events on the tour at stops in Iowa, Kansas City and Oklahoma. The classy piece of hardware would certainly be nice to bring home and really shows some class.
College Poker Tour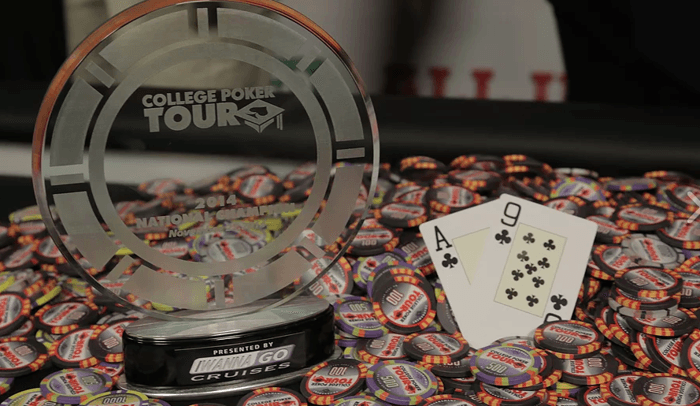 This unique tour bills itself as the first and only online poker league for U.S. college students, giving them a chance to play for a chance to win a final table seat in Scottsdale, Arizona, and secure a $10,000 scholarship.
The tour notes that it is under construction for the 2017 season, but previous winners were awarded a sweet poker-chip trophy. No doubt, any college student would enjoy having this glassware to get that poker career started.
***
Numerous others certainly exist, but a sharp trophy gives a tournament series a bit of extra panache.
Longtime Pittsburgh Pirate outfielder and National Baseball Hall of Famer Willie Stargell once said, "A World Series trophy is a wonderful thing to behold."
That sentiment carries over into card-playing as well, whether it's at a small tournament in Cambodia or on the world's biggest stage in Las Vegas.