Moritz Dietrich Leads Final 45 in partypokerLIVE MILLIONS Main Event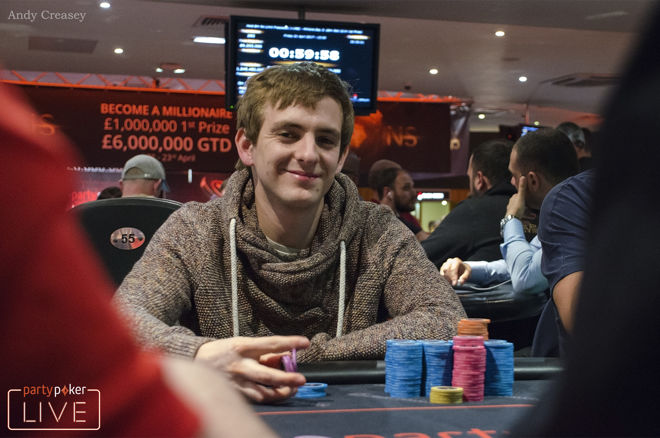 After eight levels of 75 minutes each on Day 3 of the record-breaking 2017 partypokerLIVE Millions Dusk Till Dawn £5,300 Main Event in the home of poker in the United Kingdom, only 45 players bagged up chips to remain in contention for the trophy and top-prize of £1,000,000.
Day 2 saw the field reduced to just 253 hopefuls and reached the money with a min-cash worth £5,000. On Day 3, the cardroom of the Dusk Till Dawn was filled with non-stop poker action once again and it was Moritz Dietrich (lead photo) who came out on top with 78,115,000. Dietrich is followed by the last two women in the field, £550 Phase 1 Online qualifier Katie Swift accumulated 74,040,000 while Maria Lampropulos follows in third with 57,540,000.
partypokerLIVE Millions Top 5 going into Day 4
| Position | Player | Country | Chip Count |
| --- | --- | --- | --- |
| 1 | Moritz Dietrich | Germany | 78,115,000 |
| 2 | Katie Swift | United Kingdom | 74,040,000 |
| 3 | Maria Lampropoulos | Argentina | 57,540,000 |
| 4 | Thomas Dunwoodie | United Kingdom | 54,470,000 |
| 5 | Mateusz Rypulak | Poland | 48,675,000 |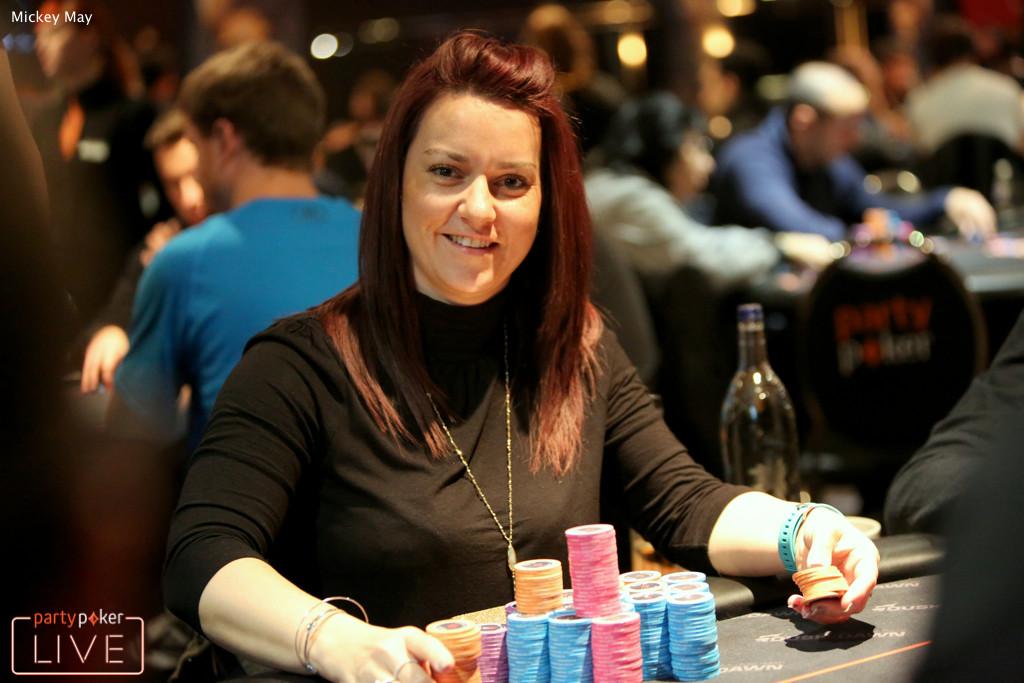 Five players are still in for another massive payday on top as part of a last special longer competition from the Caribbean Poker Party in Punta Cana last November as there's an additional £100,000 up for grabs for the last man standing.
Golden Chip £100,000 Last Longer Contenders
| Player | Country | Chip Count |
| --- | --- | --- |
| Thomas Dunwoodie | United Kingdom | 54,470,000 |
| Mateusz Rypulak | Poland | 48,675,000 |
| Jacob Mulhern | United Kingdom | 25,200,000 |
| Jonas Lauck | Germany | 23,710,000 |
| Thomas Boivin | Belgium | 10,250,000 |
Other notables and big stacks include Sergio Castelluccio (45,785,000), Vicente Delgado (44,750,000), David Peters (43,540,000), Jake Cody (40,000,000), Igor Kurganov (35,420,000), Jon Spinks (34,815,000), 2016 IO champion Daniel Wilson (20,385,000), David "MissOracle" Yan (19,250,000), Javier Gomez (13,800,000) Ben Jackson (12,560,000) and Iaron Lightbourne (10,900,000).
Tom "Jabracada" Hall, who reached the final table of the £10,300 High Roller and eventually finished third earlier this festival, advanced with 29,935,000 while Stephen Chidwick (2,085,000) will be the shortest stack when play resumes on Saturday with blinds at 400,000/800,000 with and a running ante of 80,000.
Within the first two levels of the day, 101 players were sent to the payout desk.
Within the first two levels of the day, 101 players were sent to the payout desk. Dejan Pustoslemsek arrived just in time to see his cards hit the muck in the first hand while he was forced all in for an ante. Others that also had to settle for the min-cash of £5,000 were Chris Moorman, Robin Ylitalo, 2016 World Series of Poker bracelet winner Peter Eichhardt, Christopher Frank, Rainer Kempe and Craig McCorkell. Moorman got his short stack in with king-ten suited against the ace-queen of Miguel Riera and the Spaniard made trips queens.
The second payout step saw plenty of notables run out of chips such as Faraz Jaka, Dario Sammartino, David Vamplew, Mustapha Kanit, Steve O'Dwyer and the partypoker ambassadors Tony Dunst and Sam Trickett. O'Dwyer saw his hopes destroyed in two confrontations with Ivan Gabrieli after the latter first called all-in with queen-high on the river and was good before doubling with ace-queen full versus ace-king on the river of an ace-high board. O'Dwyer was left with little chips left and busted soon after.
The eliminations kept coming at an incredible speed, and Manig Loeser, Ivan Luca, Mike Leah, partypoker pro Anatoly Filatov, Jussi Nevanlinna, Marvin Rettenmaier, and Andreas Hoivold were all gone before half-time and the dinner break. That left Mike Sexton as the last ambassador of the online poker giant, and the American saw his pocket kings cracked by the pocket eights of Tommaso Briotti after getting the chips in preflop via four-bet shove. Sexton eventually finished 82nd for £15,000, and Luciana Manolea, Dermot Blain and Ian Simpson all had to settle for the same amount as well.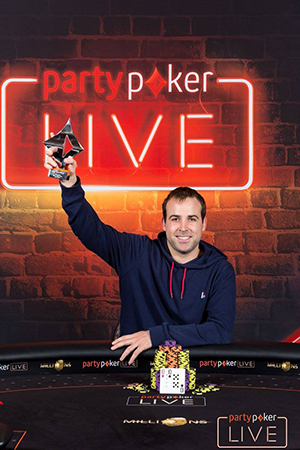 High Roller regular Sergey Lebedev lost a big flip with pocket queens against the ace-king of Jon Spinks and took home £17,500, and Anton Wigg, Jack Salter, Keven Stammen as well as Kristen Bicknell all claimed the same payday. Tobias Reinkemeier was among those to make it one payout step further and the German became the last casualty of Day 3 when his pocket tens failed to hold up against the king-jack suited of Javier Gomez.
All remaining 45 players have £20,000 locked up for their efforts, and Day 4 is scheduled to play down to the official nine-handed final table for the big showdown on Sunday.
Today also featured another starting day of the £2,500 Turbo 8-Max Event that features a guaranteed prize pool of £1,000,000. Furthermore, the £25,000 Super High Roller drew a field of 14 entries and the top three spots were paid. £10,300 High Roller runner-up Bartlomiej Machon finished third this time around, while Pascal Lefrancois and Mustapha Kanit agreed to an ICM deal and left £25,000 up for grabs. Ultimately, it was Lefrancois who emerged victoriously and took home £151,300.
£25,000 Super High Roller Final Result
| Place | Player | Country | Prize (in £) | Prize (in $) |
| --- | --- | --- | --- | --- |
| 1 | Pascal Lefrancois | Canada | £151,300* | $193,291* |
| 2 | Mustapha Kanit | Italy | £120,300* | $154,188* |
| 3 | Bartlomiej Machon | Poland | £67,900 | $87,027 |
*denotes ICM deal of the last two players
The PokerNews live reporting team will be on the floor to provide all the action until a winner is crowned, and there will also be a live stream of the final table on Sunday as well on a security delay of 30 minutes. Tune back in tomorrow as of 1 p.m. local time to find out who will make it to the big showdown at the Dusk Till Dawn!
Main Event Day 4 Seat Draw
| Table | Seat | Player | Country | Chip Count |
| --- | --- | --- | --- | --- |
| 21 | 1 | Ben Morrison | United Kingdom | 19,845,000 |
| 21 | 2 | Sergio Castelluccio | Italy | 45,785,000 |
| 21 | 3 | Mark Gardner | United Kingdom | 24,400,000 |
| 21 | 4 | Paul Byrne | United Kingdom | 26,590,000 |
| 21 | 5 | Dean Lyall | United Kingdom | 13,500,000 |
| 21 | 6 | Noah Vaillancourt | Canada | 21,060,000 |
| 21 | 7 | David Yan | New Zealand | 19,250,000 |
| 21 | 8 | Thomas Boivin | Belgium | 10,250,000 |
| | | | | |
| 25 | 1 | Javier Gomez | Spain | 13,800,000 |
| 25 | 2 | Antti Halme | Finland | 19,410,000 |
| 25 | 3 | Andrew Tuxworth | United Kingdom | 35,000,000 |
| 25 | 4 | Patrice Brandt | Germany | 15,930,000 |
| 25 | 5 | Soenke Jahn | Germany | 12,000,000 |
| 25 | 6 | Neel Murthy | United States | 38,990,000 |
| 25 | 7 | Daniel Stanway | United Kingdom | 20,670,000 |
| | | | | |
| 26 | 1 | Ben Jackson | United Kingdom | 12,560,000 |
| 26 | 2 | Tom Hall | United Kingdom | 29,935,000 |
| 26 | 3 | Katie Swift | United Kingdom | 74,040,000 |
| 26 | 4 | Warren Russell | Canada | 14,080,000 |
| 26 | 5 | Andreas Samuelsson | Sweden | 15,440,000 |
| 26 | 6 | Mark Kelsall | United Kingdom | 39,665,000 |
| 26 | 7 | Jon Spinks | United Kingdom | 34,815,000 |
| | | | | |
| 27 | 1 | Ashley Williams | United Kingdom | 23,685,000 |
| 27 | 2 | Moritz Dietrich | Germany | 78,115,000 |
| 27 | 3 | Christoffer Stahle | Sweden | 26,755,000 |
| 27 | 4 | Jonathan Lemon | United Kingdom | 9,200,000 |
| 27 | 5 | David Peters | United States | 43,540,000 |
| 27 | 6 | Jake Cody | United Kingdom | 40,000,000 |
| 27 | 7 | Maria Lampropoulos | Argentina | 57,540,000 |
| | | | | |
| 37 | 1 | Antonio Cosentino | Italy | 34,800,000 |
| 37 | 2 | Ben Farrell | United Kingdom | 6,000,000 |
| 37 | 3 | Stephen Chidwick | United Kingdom | 2,085,000 |
| 37 | 4 | Jeremy Pantin | United Kingdom | 38,715,000 |
| 37 | 5 | Grzegorz Grochulski | Poland | 16,225,000 |
| 37 | 6 | Mateusz Rypulak | Poland | 48,675,000 |
| 37 | 7 | Vicente Delgado | Spain | 44,750,000 |
| 37 | 8 | Daniel Wilson | Ireland | 20,385,000 |
| | | | | |
| 38 | 1 | Thomas Dunwoodie | United Kingdom | 54,470,000 |
| 38 | 2 | Tommaso Briotti | Italy | 42,525,000 |
| 38 | 3 | Kris Lee | United Kingdom | 10,945,000 |
| 38 | 4 | Jacob Mulhern | United Kingdom | 25,200,000 |
| 38 | 5 | Iaron Lightbourne | United Kingdom | 10,900,000 |
| 38 | 6 | Igor Kurganov | Russian Federation | 35,420,000 |
| 38 | 7 | Jonas Lauck | Germany | 23,710,000 |
| 38 | 8 | Xia Ke | China | 11,295,000 |