Calling the Clock with Lynn Gilmartin Sponsored by KO Watches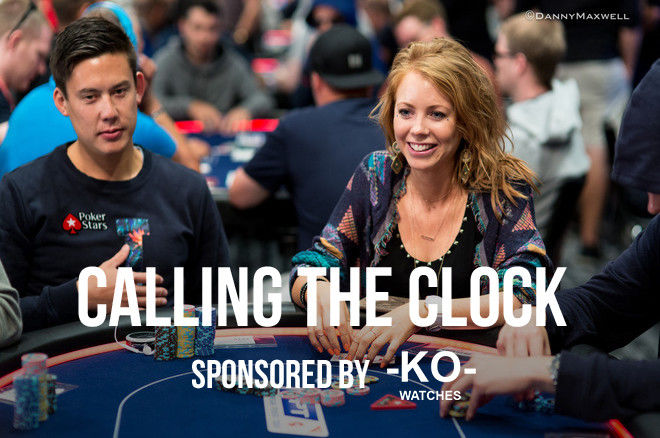 Beginning as a cutting-edge brand active in design, manufacturing and distribution of quality-finish watches from young Mexican entrepreneurs, KNOCK OUT -KO- Watches works to distinguish itself with its quality and clean design, allowing people to use time they have as they wish and without interruption. With our sponsor, KNOCK OUT -KO- Watches in mind, we're now going to "Call the Clock" on Lynn Gilmartin.
PokerNews' Sarah Herring called the clock on Lynn Gilmartin, giving her two minutes to answer as many questions as she can. This week's segment comes from a previous interview with Gilmartin on the PokerNews Podcast.
Most expensive thing you've ever splurged on?
Oh my God. I'm the worst at these.
Holy crap. Just say something expensive that you bought. Anything. Doesn't matter.
Clothes. It would definitely be some clothes. I don't know what but yeah.
Best thing about being a presenter?
Getting to meet amazing people.
Worst thing about being a presenter?
Awkward moments with quirky people.
Song that gets you on the dance floor every time?
Anything that's Latino. I love shaking my hips.
Viral video that you watched over and over again?
Anything that has dogs.
Movie that made you cry?
Almost all of them. Especially when I'm in an aeroplane because I get super emotional when I'm in the air for some reason and everything makes me cry.
Me too, me too. Might be the wine though. The first concert that you ever went to?
Hanson in 1997.
Chris Pratt or Chris Hemsworth?
Chris Hemsworth.
What is the name of your Wi-Fi?
LG.
Favourite Real Housewife?
Oh, I'd have to say Eileen Davidson.
Yeah, you'd have to. Somewhere still on your bucket list?
Japan.
Something still on your bucket list?
Buy a house.
What do you love most about Australia?
Oh gosh, everything. Just the feeling.
What do you love most about LA?
Oh, everything. There's always something happening. It's a creative city. Everywhere you go, there's some creative talking about their projects and I love that.
Describe yourself in three words.
Silly, happy, life's good. That's four words.
Who's your fashion icon?
Oh. I'm not really like a big fashion person. So fashion icon? Anyone that wears boho-y stuff. I don't know.
One last one just to wrap it up. What's a fashion trend that you've tried but regret?
Well, OK. I like it sometimes but I also really hate high-waisted pants. I like them sometimes but if you get the wrong pair it just goes really wrong. Really wrong. Your butt looks really long and your waist looks really wide because it adds like another inch. So yeah.
When the clocks stops, time comes to life. Get your hands on a Knock Out -KO- watch right here.