Aspers Casino to Host the 888Live Easter Edition April 13-17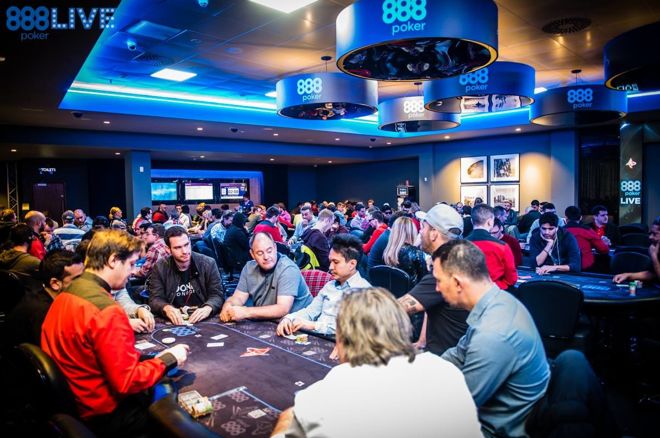 The 888Live Easter Edition is set to hit East London at Aspers Casino Westfield Stratford City April 13-17. Players will be competing for a huge £100,000 prize pool for a relatively small entry fee of £440.
The tournament will be a deep-stacked affair with players on all four starting flights kicking off the action with 30,000 chips. The first three starting flights on April 13-15 will feature 40-minute blind levels, while the last flight on April 15 features a turbo structure. Players can register late for any of the opening flights until the sixth blind level is on the books.
The structure is deeper on Day 2 (April 16) and the final day (April 17) with blind levels increasing every 60 minutes.
The PokerNews Live Reporting Team will be on hand to report the biggest hands starting on Day 1b April 14 until a winner is crowned.
Satellites and Side Event
Players looking to play in this tournament for a fraction of the cost will have plenty of opportunities to do so. On April 7 at 6:05 p.m. GMT, 888poker is hosting a $12 online satellite with at least one seat guaranteed.
All players will start off with 1,500 chips with the opportunity to rebuy another 1,500 chips for $11 during the 90-minute late registration period. After the rebuy period has concluded, players can add on 4,000 chips for $11.
Aspers Casino will also be hosting satellites leading up to and during the event. There will be two £30 satellites running per day on April 10-12 at 3 p.m. GMT and 7 p.m. GMT.
One turbo satellite will run per day on April 13 and 14 at 3.p.m. GMT with players beginning with 4,000 chips.
These tournaments allow for unlimited 4,000 chip rebuys for £30 during the 90-minute rebuy period and a £30 double add-on for an extra 8,000 chips.
Additionally, the schedule features two £110 one-day side events on April 16 and 17 at 6 p.m.
888 Easter Edition Schedule
| Date | Time (GMT) | Tournament | Buy-in |
| --- | --- | --- | --- |
| April 10 | 3 p.m. | Satellite | £30 |
| | 7 p.m. | Satellite | £30 |
| April 11 | 3 p.m. | Satellite | £30 |
| | 7 p.m. | Satellite | £30 |
| April 12 | 3 p.m. | Satellite | £30 |
| | 7 p.m. | Satellite | £30 |
| April 13 | 3 p.m. | Turbo Satellite | £30 |
| | 6 p.m. | 888 Easter Edition Day 1a | £440 |
| April 14 | 3 p.m. | Turbo Satellite | £30 |
| | 6 p.m. | 888 Easter Edition Day 1a | £440 |
| April 15 | 1 p.m. | 888 Easter Edition Day 1c | £440 |
| | 6 p.m. | 888 Easter Edition Turbo Day 1d | £440 |
| April 16 | 1 p.m. | 888 Easter Edition Day 2 | |
| | 6 p.m. | 888 Easter Edition Side Event | £110 |
| April 17 | 1 p.m. | 888 Easter Edition Final Day | |
| | 6 p.m. | 888 Easter Edition Side Event | £110 |