PokerStars Releases 2017 SCOOP Schedule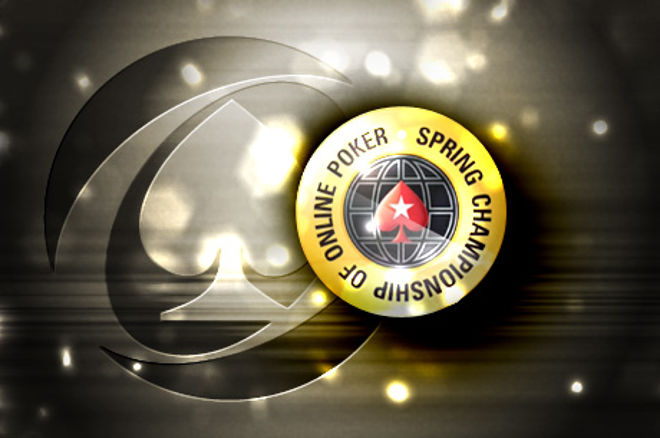 This year's Spring Championship of Online Poker boasts the largest PokerStars series guarantee ever, coming in at $55 million.
This SCOOP guarantees $15 million more than SCOOP 2016. This year's tournament also features 57 events and runs an extra week this year, from April 30 to May 23.
Team PokerStars Pros Jake Cody and Felipe Ramos discussed the schedule in this exclusive video.
The tournament has accessible buy-ins at $5.50, $55 and $530. New this year are the 'phase' tournaments of Event #1 and three high roller events. Back again this year is the Win the Button format, which will be featured in three events.
One event will use the progressive 100 percent Knockout format.
Here's the SCOOP Schedule:
| Date | Time | # | Buy In | Variant |
| --- | --- | --- | --- | --- |
| April 30 - May 6 | various | 01 | | Phase 1 tournaments for L, M and H |
| Sunday, May 7 | 08:00 | 02L | $11 | NLHE |
| | | 02M | $109 | NLHE [Sunday, Kickoff SE] |
| | | 02H | $1,050 | NLHE |
| | 11:00 | 03L | $27 | NLHE [Progressive KO] |
| | | 03M | $215 | NLHE [Progressive KO, Sunday, Warm-Up SE] |
| | | 03H | $2,100 | NLHE [Progressive KO] |
| | 14:00 | 04L | $27 | NLHE |
| | | 04M | $215 | NLHE [Sunday, Million SE] |
| | | 04H | $2,100 | NLHE |
| | 15:30 | 05L | $27 | PLO [6Max] |
| | | 05M | $215 | PLO [6Max] |
| | | 05H | $2,100 | PLO [6Max, Sunday, Grand SE] |
| | 17:00 | 06L | $11 | NLHE [6Max] |
| | | 06M | $109 | NLHE [6Max] |
| | | 06H | $1,050 | NLHE [6Max] |
| | | | | |
| Monday, May 8 | 11:00 | 07L | $27 | NLO8[6Max, Progressive KO] |
| | | 07M | $215 | NLO8[6Max, Progressive KO] |
| | | 07H | $2,100 | NLO8[6Max, Progressive KO] |
| | 13:30 | 08L | $5.50+R | NLHE |
| | | 08M | $55+R | NLHE |
| | | 08H | $530+R | NLHE |
| | 15:00 | 09L | $11 | HORSE |
| | | 09M | $109 | HORSE |
| | | 09H | $1,050 | HORSE |
| | 16:30 | 10L | $27 | NLHE [Win the Button] |
| | | 10M | $215 | NLHE [Win the Button] |
| | | 10H | $2,100 | NLHE [Win the Button] |
| | | | | |
| Tuesday, May 9 | 11:00 | 01L | $11 | NLHE [Phase 1] |
| | | 01M | $109 | NLHE [Phase 1] |
| | | 01H | $1,050 | NLHE [Phase 1] |
| | 12:00 | 11L | $5.50+R | PLO [6Max] |
| | | 11M | $55+R | PLO [6Max] |
| | | 11H | $530+R | PLO [6Max] |
| | 13:30 | 12L | $11 | NLHE |
| | | 12M | $109 | NLHE |
| | | 12H | $1,050 | NLHE [Super Tuesday, SE] |
| | 17:00 | 13L | $5.50 | NLHE [3Max, Turbo, Zoom, Progressive KO] |
| | | 13M | $55 | NLHE [3Max, Turbo, Zoom, Progressive KO] |
| | | 13H | $530 | NLHE [3Max, Turbo, Zoom, Progressive KO] |
| | | | | |
| Wednesday, May 10 | 11:00 | 14L | $27 | Razz |
| | | 14M | $215 | Razz |
| | | 14H | $2,100 | Razz |
| | 13:30 | 15L | $215 | NLHE [8Max, High Roller] |
| | | 15M | $2,100 | NLHE [8Max, High Roller] |
| | | 15H | $25,000 | [8Max, High Roller] |
| | 16:00 | 16L | $11 | PLO8 [6Max] |
| | | 16M | $109 | PLO8 [6Max] |
| | | 16H | $1,050 | PLO8 [6Max] |
| | 17:00 | 17L | $11 | NLHE |
| | | 17M | $109 | NLHE |
| | | 17H | $1,050 | NLHE |
| | | | | |
| Thursday, May 11 | 11:00 | 01L | $11 | NLHE [Phase 1] |
| | | 01M | $109 | NLHE [Phase 1] |
| | | 01H | $1,050 | NLHE [Phase 1] |
| | 12:00 | 18L | $27 | FL Triple Draw 2-7 |
| | | 18M | $215 | FL Triple Draw 2-7 |
| | | 18H | $2,100 | FL Triple Draw 2-7 |
| | 13:30 | 19L | $11 | NLHE [Progressive KO] |
| | | 19M | $109 | NLHE [Progressive KO] |
| | | 19H | $1,050 | NLHE [Progressive KO, Thursday, Thrill SE] |
| | 15:30 | 20L | $27 | PLO [Heads-Up] |
| | | 20M | $215 | PLO [Heads-Up] |
| | | 20H | $2,100 | PLO [Heads-Up] |
| | | | | |
| Friday, May 12 | 11:30 | 21L | $11 | FL Badugi |
| | | 21M | $109 | FL Badugi |
| | | 21H | $1,050 | FL Badugi |
| | 13:00 | 01L | $11 | NLHE [Phase 1] |
| | | 01M | $109 | NLHE [Phase 1] |
| | | 01H | $1,050 | NLHE [Phase 1] |
| | 14:30 | 22L | $11 | FLO8 [8Max] |
| | | 22M | $109 | FLO8 [8Max] |
| | | 22H | $1,050 | FLO8 [8Max] |
| | 16:00 | 23L | $27 | NLHE [6Max, Zoom] |
| | | 23M | $215 | NLHE [6Max, Zoom] |
| | | 23H | $2,100 | NLHE [6Max, Zoom] |
| | | | | |
| Saturday, May 13 | 09:00 | 24L | $5.50 | NLHE [6Max, Progressive KO] |
| | | 24M | $55 | NLHE [6Max, Progressive KO] |
| | | 24H | $530 | NLHE [6Max, Progressive KO] |
| | 11:00 | 25L | $27 | 8-Game |
| | | 25M | $215 | 8-Game |
| | | 25H | $2,100 | 8-Game |
| | 13:30 | 26L | $215 | NLHE [Heads-Up, High Roller] |
| | | 26M | $2,100 | NLHE [Heads-Up, High Roller] |
| | | 26H | $25,000 | NLHE [Heads-Up, High Roller] |
| | 14:30 | 01L | $11 | NLHE [Phase 1] |
| | | 01M | $109 | NLHE [Phase 1] |
| | | 01H | $1,050 | NLHE [Phase 1] |
| | 16:30 | 27L | $11 | NLO8[8Max] |
| | | 27M | $109 | NLO8[8Max] |
| | | 27H | $1,050 | NLO8[8Max] |
| | | | | |
| Sunday, May 14 | 05:00 | 28L | $5.50 | NLHE [Progressive KO] |
| | | 28M | $55 | NLHE [Progressive KO] |
| | | 28H | $530 | NLHE [Progressive KO] |
| | 08:00 | 29L | $11 | NLHE [8Max] |
| | | 29M | $109 | NLHE [8Max, Sunday, Kickoff SE] |
| | | 29H | $1,050 | NLHE [8Max] |
| | 11:00 | 30L | $27 | NLHE [6Max] |
| | | 30M | $215 | NLHE [6Max, Sunday, Warm-Up SE] |
| | | 30H | $2,100 | NLHE [6Max] |
| | 14:00 | 31L | $27 | NLHE |
| | | 31M | $215 | NLHE [Sunday, Million SE] |
| | | 31H | $2,100 | NLHE |
| | 16:30 | 32L | $11 | PLO [6Max, Progressive KO] |
| | | 32M | $109 | PLO [6Max, Progressive KO] |
| | | 32H | $1,050 | PLO [6Max, Progressive KO] |
| | 18:00 | 01L | $11 | NLHE [Phase 1] |
| | | 01M | $109 | NLHE [Phase 1] |
| | | 01H | $1,050 | NLHE [Phase 1] |
| | | | | |
| Monday, May 15 | 11:00 | 01L | $11 | NLHE [Phase 1] |
| | | 01M | $109 | NLHE [Phase 1] |
| | | 01H | $1,050 | NLHE [Phase 1] |
| | 12:30 | 33L | $27 | FLHE [6Max] |
| | | 33M | $215 | FLHE [6Max] |
| | | 33H | $2,100 | FLHE [6Max] |
| | 14:00 | 34L | $27 | NLHE [4Max] |
| | | 34M | $215 | NLHE [4Max] |
| | | 34H | $2,100 | NLHE [4Max] |
| | 16:30 | 35L | $5.50 | NLHE [Bubble Rush] |
| | | 35M | $55 | NLHE [Bubble Rush] |
| | | 35H | $530 | NLHE [Bubble Rush] |
| | | | | |
| Tuesday, May 16 | 11:00 | 01L | $11 | NLHE [Phase 1] |
| | | 01M | $109 | NLHE [Phase 1] |
| | | 01H | $1,050 | NLHE [Phase 1] |
| | 12:00 | 36L | $11 | PLO8 [8Max] |
| | | 36M | $109 | PLO8 [8Max] |
| | | 36H | $1,050 | PLO8 [8Max] |
| | 14:00 | 37L | $27 | NLHE |
| | | 37M | $215 | NLHE |
| | | 37H | $2,100 | NLHE [Super Tuesday, SE] |
| | 16:00 | 38L | $11 | Stud8 |
| | | 38M | $109 | Stud8 |
| | | 38H | $1,050 | Stud8 |
| | | | | |
| Wednesday, May 17 | 11:00 | 39L | $11 | NLHE [Progressive 100% KO] |
| | | 39M | $109 | NLHE [Progressive 100% KO] |
| | | 39H | $1,050 | NLHE [Progressive 100% KO] |
| | 13:30 | 40L | $109 | PLO [6Max, High Roller] |
| | | 40M | $1,050 | PLO [6Max, High Roller] |
| | | 40H | $10,300 | PLO [6Max, High Roller] |
| | 15:00 | 41L | $55 | NLHE [8Max] |
| | | 41M | $530 | NLHE [8Max] |
| | | 41H | $5,200 | NLHE [8Max] |
| | 16:30 | 42L | $5.50 | NLO [8Max, Win the Button] |
| | | 42M | $55 | NLO [8Max, Win the Button] |
| | | 42H | $530 | NLO [8Max, Win the Button] |
| | | | | |
| Thursday, May 18 | 11:00 | 43L | $5.50 | NLHE [Deep Stacks] |
| | | 43M | $55 | NLHE [Deep Stacks] |
| | | 43H | $530 | NLHE [Deep Stacks] |
| | 14:00 | 44L | $27 | NLHE [Progressive KO] |
| | | 44M | $215 | NLHE [Progressive KO] |
| | | 44H | $2,100 | NLHE [Progressive KO, Thursday, Thrill SE] |
| | 15:00 | 45L | $11 | NL 5-Card Draw |
| | | 45M | $109 | NL 5-Card Draw |
| | | 45H | $1,050 | NL 5-Card Draw |
| | 16:30 | 01L | $11 | NLHE [Phase 1] |
| | | 01M | $109 | NLHE [Phase 1] |
| | | 01H | $1,050 | NLHE [Phase 1] |
| | | | | |
| Friday, May 19 | 11:30 | 46L | $11+R | NLHE |
| | | 46M | $109+R | NLHE |
| | | 46H | $1,050+R | NLHE |
| | 14:30 | 47L | $27 | NLHE [6Max, Shootout] |
| | | 47M | $215 | NLHE [6Max, Shootout] |
| | | 47H | $2,100 | NLHE [6Max, Shootout] |
| | 16:00 | 48L | $11 | NLO8 5-Card [6Max,Turbo, Zoom] |
| | | 48M | $109 | NLO8 5-Card [6Max, Turbo, Zoom] |
| | | 48H | $1,050 | NLO8 5-Card [6Max, Turbo, Zoom] |
| | 17:00 | 01L | $11 | NLHE [Phase 1] |
| | | 01M | $109 | NLHE [Phase 1] |
| | | 01H | $1,050 | NLHE [Phase 1] |
| | | | | |
| Saturday, May 20 | 10:30 | 49L | $27 | NLHE [6Max] |
| | | 49M | $215 | NLHE [6Max] |
| | | 49H | $2,100 | NLHE [6Max] |
| | 12:00 | 50L | $5.50 | NLHE [Progressive KO, Win the Button] |
| | | 50M | $55 | NLHE [Progressive KO, Win the Button] |
| | | 50H | $530 | NLHE [Progressive KO, Win the Button] |
| | 13:30 | 51L | $27 | NLO8[6Max] |
| | | 51M | $215 | NLO8[6Max] |
| | | 51H | $2,100 | NLO8[6Max] |
| | 15:00 | 01L | $11 | NLHE [Phase 1] |
| | | 01M | $109 | NLHE [Phase 1] |
| | | 01H | $1,050 | NLHE [Phase 1] |
| | 16:00 | 52L | $11 | NL 2-7 Single Draw |
| | | 52M | $109 | NL 2-7 Single Draw |
| | | 52H | $1,050 | NL 2-7 Single Draw |
| | | | | |
| Sunday, May 21 | 08:00 | 53L | $5.50 | PLO [6Max] |
| | | 53M | $55 | PLO [6Max] |
| | | 53H | $530 | PLO [6Max] |
| | 09:00 | 01L | $11 | NLHE [Turbo, FINAL Phase 1] |
| | | 01M | $109 | NLHE [Turbo, FINAL Phase 1] |
| | | 01H | $1,050 | NLHE [Turbo, FINAL Phase 1] |
| | 11:00 | 54L | $27 | NLHE [8Max] |
| | | 54M | $215 | NLHE [8Max, Sunday, Warm-Up SE] |
| | | 54H | $2,100 | NLHE [8Max] |
| | 12:30 | 01L | $11 | NLHE [Phase 2] |
| | | 01M | $109 | [Phase 2] |
| | | 01H | $1,050 | NLHE [Phase 2] |
| | 14:00 | 55L | $109 | NLHE [Main Event] |
| | | 55M | $1,050 | NLHE [Main Event] |
| | | 55H | $10,300 | NLHE [Main Event] |
| | 17:00 | 56L | $11 | NLHE [Turbo, Progressive KO] |
| | | 56M | $109 | NLHE [Turbo, Progressive KO] |
| | | 56H | $1,050 | NLHE [Turbo], Progressive KO] |
| | | | | |
| Monday, May 22 | 14:00 | 57L | $11 | NLHE [Player's Choice] |
| | | 57M | $109 | NLHE [Player's Choice] |
| | | 57H | $1,050 | NLHE [Player's Choice] |