Poker & Pop Culture: Old Time Radio & Early 'Poker Programming'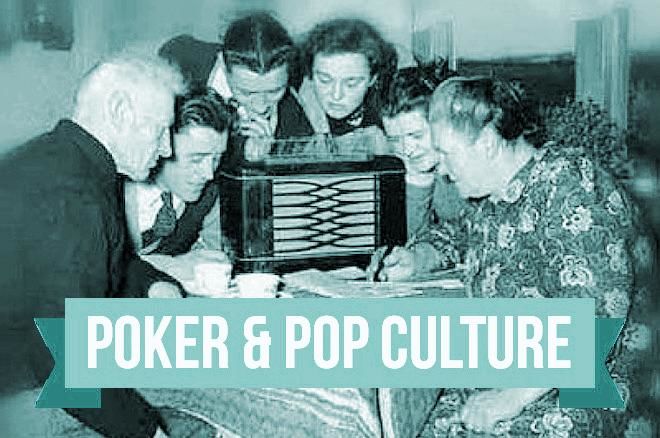 Following the First World War came the development of early radio, with KDKA of Pittsburgh being the first station to receive a federal license to begin broadcasting in late 1920. More stations and the establishment of major, nationwide networks soon followed. While the broadcasting of news was always a priority early on, it didn't take long before entertainment programming also began filling the schedules.
Thus would the next few decades — through the 1950s — become known as the "Golden Age of Radio," a period during which the great majority of American families regularly tuned in to hear radio plays, serials, soap operas, quiz shows, variety hours, children's shows, cooking programs, call-in talk shows and other types of programming.
Much as poker was frequently highlighted in films and later television shows throughout the 20th century, America's favorite card game also featured prominently during this Golden Age of Radio. Here's a sampling of just a few of the dozens of old time radio shows in which poker formed a central part of episodes' stories, further demonstrating the game's centrality to the culture at large.
Westerns
One of the most popular genres of film, early television and radio "theater" was the western, and thus we would expect to find a number of programs set in the Old West featuring poker in their plots.
The Lone Ranger radio show — with probably the most familiar theme song of all of them — premiered in 1933 and ran for nearly 3,000 episodes, and along with the later TV series and many films well established the mask-wearing title character as one of the most famous fictional heroes of the Old West.
An episode of The Lone Ranger titled "Gun Shy Gambler" from 1944 features a character, Jeff Atkins having to defend himself against the brother of a man he'd killed years before over a poker game. The killing has permanently frightened Atkins from using a gun, so he manages to convince his nemesis to duel him over cards instead of with guns.
"My business is stud, not draw," Atkins explains (pun intended).
The 1950s saw more examples of radio westerns featuring poker. Among them is a 1957 episode of The Cisco Kid, the popular show loosely based on a character from an O. Henry short story. "Poker Chip Draw" opens on a game of poker when a suspicion of cheating results in gunplay and a shooting,
Speaking of poker games turning violent, the story of Wild Bill Hickok and his fateful "dead man's hand" was dramatized many times over in film, television and on the radio, with an entire series, The Adventures of Wild Bill Hickok devoted to the legendary Old West marshal. Like many of the more popular radio series (including several mentioned in this article), that show made the transition to television.
Hickok turned up on other radio shows of the era, too, including on a lesser-known but entertaining radio show that ran only for 40-plus episodes in 1958 was Frontier Gentleman. That show's conceit involved a 19th-century Englishman reporting for the London Times who travels through the Old West and encountering various figures, both historical and imagined.
In one episode, titled "Aces and Eights," the reporter travels to Deadwood, encounters Hickock, Calamity Jane, Jack McCall and others and subsequently becomes witness to Hickok's violent end. The episode interestingly examines differences between truth and myth in Hickok's story while presenting its own inspired, invented version of Hickok's tale.
Mysteries
Mysteries of various kinds — from detective-based dramas to horror-filled frightfests — were a staple of old time radio as well, with poker games again frequently appearing as part of the their plots.
An early example comes from the short-lived show Nick Harris Detective in a 1938 episode titled "Fatal Ace of Spades." A "true detective" show that used actual cases for its stories, in this show a murder mystery is solved by the discovery of a deck of cards missing the ace of spades — a find that leads investigators back to a deadly game of stud.
Meanwhile in a 1946 episode of the similarly-named Nick Carter, Master Detective called "The Case of the Poker Murders," a killer known as the "Ace of Spades" leaves the playing card behind with each of his victims. And in a 1945 episode of the sometimes spooky Inner Sanctum Mysteries called "Dead Man's Deal," there occurs a hand of poker in which a player literally bets his life.
An even scarier show was the popular Suspense that ran from 1942-1962. An episode called "Hitchhike Poker" from 1948 stars Gregory Peck as a hitchhiker who plays "license plate poker" with a fellow who gives him a ride (making poker hands from license plate numbers). Things remain fun and innocent until the driver tries to kill the hitchhiker. As it happens, the license plate poker game enables the remembering of a tag number, a key clue that helps solve the crime.
Another popular show was Escape which ran from 1947-1954. The 1950 episode "The Ambassador of Poker" based on an Achmed Abdullah short story tells of a Virginian cast off a ship in Hong Kong for being too good at poker. He continues to play (and win) in his new locale before getting involved in an elaborate plan to recover a valuable seal worth a fortune, and uses his wits finely-tuned by poker to help him.
There are many more examples, with popular detective shows like The Adventures of Sam Spade ("The Hot Hundred Grand Caper" from 1948), Pat Novak, For Hire ("Jack of Clubs" from 1949), and The New Adventures of Nero Wolfe ("The Killer Cards" from 1951) all similarly marked by poker-centric plots. Such stories often exploited the game's legacy as a favoured pursuit of "outlaws," thereby further associating gambling on cards with criminal activity.
One latter-day entry in radio dramas worth mentioning — appearing well after radio's "Golden Age" — was the CBS Radio Mystery Theater which ran from 1974-1982 hosted by E.G. Marshall. Nearly 1,400 episodes of the show were produced over that period, including a poker-themed one that aired in the summer of 1977 titled "Come, Fill My Cup."
As in other contexts, the story presents poker as a risky, dangerous activity. A fellow named Don Jorgensen has played in a regular poker game aboard a commuter train for years, bothering his wife to the point that she's threatening divorce. Don decides to quit, but one of the other players, Jerry Garland, gets him to play one more time by offering to pay for any losses he might incur.
Unfortunately for Jerry, it becomes the last poker game he'll ever play after he drinks from a cup of coffee laced with poison. It's an engaging whodunit in which an interesting parallel emerges between paying attention to details at the poker table and keeping an eye on details when plotting a murder.
Comedies
Finally, it's also unsurprising to find many popular comedies of the golden age of radio talking turns presenting "poker episodes" in which the game serves as a way of generating laughs.
One of my favourite examples of an old radio comedy with a poker theme is an episode of Duffy's Tavern, a very popular show that ran on several different networks from 1941-1951. Kind of an early version of the TV show Cheers, the show took place in a bar with a cast of regulars and appearances by several guest stars. A running joke on the show was how the owner, Duffy, was never around, with the manager Archie played by Ed Gardner always left in charge.
If you're a fan of The Simpsons, when Moe answers the phone "Moe's Tavern, where the elite meet to drink," the writers were directly alluding to a line resembling the one Archie uses when answering the phone at Duffy's. (I'm not sure, but I suspect the name of the Duff beer they drink on The Simpsons was inspired by Duffy's Tavern as well.)
An episode from 1949 titled "Playing Poker with Charles Coburn" finds the Academy Award-winning actor Coburn stopping by and getting roped into a poker game. The idea is to fleece him, but as you might guess things turn out otherwise. The show is laugh-out-loud funny, and if you have a half-hour you can enjoy it right here:
Many other popular radio comedies of the day involved familiar, domestic settings with married couples at the heart of the shenanigans. And most of them had "poker episodes" that helped highlight the ongoing "battle of the sexes"-type stories that often inspired a lot of the humor.
In some husbands eager to play poker would go through various machinations to get away from their wives to play, often keeping their poker-playing secret in order to avoid their wives' wrath. In others the wives would play poker themselves, usually coming out victorious to the comical chagrin of the men.
Fibber McGee and Molly was one of the longest-running, most popular radio shows ever, airing from the 1930s through the 1950s, and an episode from 1943 simply called "Poker Game" revolves around Fibber trying to plan a night of poker without Molly finding out. The Burns and Allen Show was another much loved program, running for nearly two decades and starring the real-life husband-and-wife team of George Burns and Gracie Allen. An episode from 1944 with guest star Alan Ladd similarly concerns George trying to play a poker game and Gracie not letting him, with Ladd giving George grief for not being able to exert his influence over his wife.
My Favorite Husband followed a similar theme through more than 120 episodes from 1948 to 1951. The show starred Lucille Ball, and would serve as the basis for the groundbreaking I Love Lucy television show that debuted just after the radio show ended its run.
An episode from 1950 titled "Be a Pal" featured Ball as Liz Cooper looking for ways to enliven her marriage with her husband George (Richard Denning). She attends a ladies' luncheon where a professor billed as an authority on marriage is the featured speaker, and he encourages the women to "be a pal" to their husbands — that is, to "learn to like the things he likes, be interested in his hobbies... for this way lies peace in marriage."
"Why is it always the woman who has to give in?" asks Liz. Buy my book and find out, explains the speaker.
Pursuing the "be a pal" system leads to Liz joining George's poker game, despite not knowing the first thing about how to play. Dealt a hand of five-card draw, Liz cannot avoid giving away her cards.
"Oooh... a queen," she says. "Oooh... there's her sister!"
When it comes time to draw, it has to be explained to Liz that she should keep her best cards while discarding her worst ones. "Which ones should I throw away?" she asks in response. "The two queens or the three fives?"
The "Be a Pal" story would be redone by Ball and her husband Desi Arnaz as the second-ever episode of I Love Lucy. Arnaz was himself a poker player, and as the show took off stories of his high-stakes games became legendary.
If you're curious to hear any of the "OTR" shows mentioned here, just do a quick Google search with the show and episode titles — nearly all of them are in the public domain and can be heard online after just a few clicks.
From the forthcoming "Poker & Pop Culture: Telling the Story of America's Favorite Card Game." Martin Harris teaches a course in "Poker in American Film and Culture" in the American Studies program at UNC-Charlotte.