PokerStars Championship Panama: Gong Rides Late Double to Day 1b Lead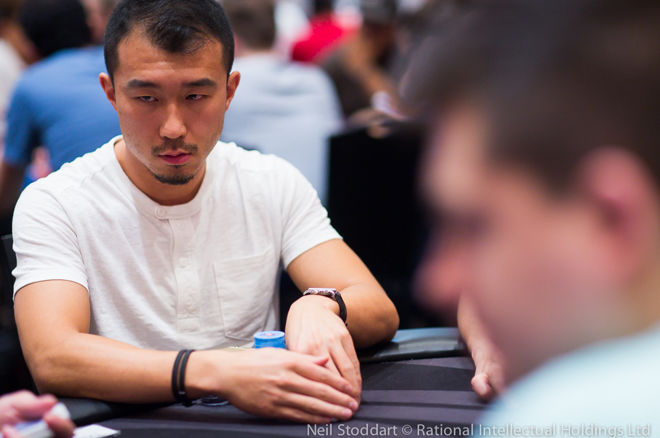 Day 1b of PokerStars Championship Panama $5,300 Main Event saw a strong turnout of 259 players show up at Sortis Hotel, Spa & Casino to push the two-day total to 363 runners.
In a fitting end to a day that saw a number of Canadians take turns near the top of the chip counts, Jiachen Gong ended up with the chip lead when he bagged 154,300, putting him barely ahead of American pro Caufman Talley (150,300).
End of Day 1b Top 5 Chip Count
| Position | Player | Chip Count |
| --- | --- | --- |
| 1 | Jiachen Gong | 154,300 |
| 2 | Caufman Talley | 150,300 |
| 3 | Kamal Bittar | 146,700 |
| 4 | Pablo Fernandez | 133,700 |
| 5 | Sergey Lebedev | 132,600 |
Gong played a massive pot at the end of the night, just after the six-hand countdown was announced. Fellow Canadian Patrick Serda, who spent a good portion of the day as one of the leaders, had what looked like a reraise to 6,000 in front of him in the hijack at 400/800. Gong had the button and put in another raise to 13,800. Serda called, and a king-high flop hit the felt.
Gong played a massive pot at the end of the night
Serda check-called a bet, check-called another bet on the turn, and checked when another king fell on the river. Gong moved all in for 40,000 into a pot of about 75,000, and Serda quickly called with king-jack. However, Gong held ace-king for a superior kicker with trips, and he dragged a huge pot to barely finish as the chip leader.
Caufmann Talley, meanwhile, doubled up early when he won a pot worth over 50,000, getting aces in on a seven-high flop against a player who held queens. He then hit a couple of boats and had opposing players build pots for him, helping him on the way to his second-place finish for the day.
Some other players who made it through included Sergey Lebedev (132,600), Mark Radoja (107,000), Jason Wheeler (105,8000, Ari Engel (70,000), Michael Rocco (57,300), Ben Heath (43,100) and Team PokerStars Pro players Jake Cody (36,100) and PokerStars Team Online Jaime Staples (4,700).
Dzmitry Urbanovich, Pratyush Buddiga, Marc-Andre Ladouceur, Fabrizio Gonzalez and PokerStars Team Pro Felipe Ramos were among those eliminated during the course of play.
Ramos got tens in on an all-baby board against the queens of Luc Greenwood, who bagged 56,700.
There were 127 players in total making it through, and they'll join up with the 43 survivors from Day 1a to create a Day 2 field on Thursday of at least 170. Registration remains open until the start of play, so that number still has the potential to increase.
As always, PokerNews will be bringing all of the live updates for the event, so be sure to come back and keep tabs on the PokerStars Championship Panama Main Event.
Photos by Neil Stoddart