Fourteen WSOP Circuit Rings to be Won at King's Casino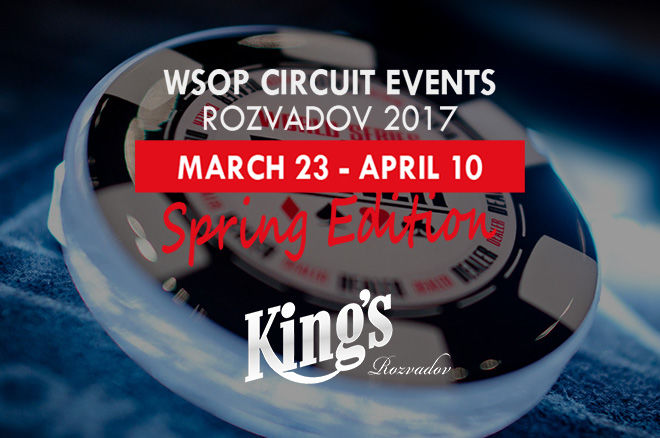 The World Series of Poker Circuit returns to the King's Casino in Rozvadov, Czech Republic March 23 through April 10 and will give poker players around the world the chance to win one of 14 coveted gold rings awarded to WSOPC champions.
"This is the first of two WSOP Circuit events we will hold at King's in 2017 and we are also really looking forward to hosting the WSOP Europe from the end of September with a 10K Main Event buy-in at our venue for the very first time!" King's Casino owner Leon Tsoukernik said. "The WSOP Circuit always brings the crowds to King's and we expect this spring to be no different."
Kicking off the Spring Edition of the WSOP Circuit event is a €299 buy in tournament with a €300,000 guaranteed prize pool. This event runs from March 23 through to March 27 and features four starting flights. This event sets the tone for the rest of the series, which boasts of more than €2 million in guaranteed prize pools.
The flagship tournament of the festival has to be the €1,650 buy in Main Event with its €1 million guaranteed prize pool. Day 1a of this re-entry event begins at 2:00 p.m. CET on April 7. Day 1b takes place at the same time on April 8 with Day 2. The final day's play also gets underway at 2:00 p.m. CET on the subsequent days.
Some of the other tournament highlights include a €550 WSOP Circuit Monster Stack, an €888 WSOP Circuit Mini Event, a €660 Bounty Hunter (€200 bounties), a €2,000 Pot-Limit Omaha High Roller and a €5,300 No-Limit Hold'em High Roller.
"King's is a huge partner of the WSOP and we are thrilled with the huge turnout for all the events have had there," WSOP Director Gregory Chochon said. "To think just two year's ago King's was hosting the very first WSOP event in the Czech Republic on the German border at Rozvadov. This year they host three including the WSOP Europe in late September!"
King's Casino is giving the winner of both the €1 million Main Event and the Player of the Series entries into the 2017 WSOP Global Casino Championship, a televised grand finale which brings the curtain down on the 2017 WSOP Circuit.
| Date | Time | Event | Guaranteed Prize Pool | Buy-In |
| --- | --- | --- | --- | --- |
| March 23 | 6 p.m. | Ring Event #1A: €299 No-Limit Hold'em Opening Event | €300,000 | €299 |
| March 24 | 6 p.m. | Ring Event #1B: €299 No-Limit Hold'em Opening Event | €300,000 | €299 |
| March 25 | 1 p.m. | Ring Event #1C: €299 No-Limit Hold'em Opening Event | €300,000 | €299 |
| March 25 | 5 p.m. | Ring Event #1D: €299 No-Limit Hold'em Opening Event | €300,000 | €299 |
| March 29 | 6 p.m. | Ring Event #2A: €550 No-Limit Hold'em Monster Stack | €200,000 | €550 |
| March 30 | 2 p.m. | Ring Event #3: €50 No-Limit Hold'em Seniors Event | 50+ years only | €250 |
| March 30 | 6 p.m. | Ring Event #2B: €550 No-Limit Hold'em Monster Stack | €200,000 | €550 |
| March 31 | 4 p.m. | Ring Event #2C: €550 No-Limit Hold'em Monster Stack | €200,000 | €550 |
| April 1 | 6 p.m. | Ring Event #2D: €550 No-Limit Hold'em Monster Stack | €200,000 | €550 |
| April 1 | 6 p.m. | Ring Event #4: €270 Pot-Limit Omaha Hi-Lo | | €300 |
| April 2 | 5 p.m. | Ring Event #5: 888 No-Limit Hold'em Mini Event - 1 | | €888 |
| April 3 | 4 p.m. | Ring Event #6: €330 Limit Seven Card Stud | | €330 |
| April 3 | 5 p.m. | Ring Event #5: 888 No-Limit Hold'em Mini Event - 2 | | €888 |
| April 5 | 5 p.m. | Ring Event #7: €2,000 Pot-Limit Omaha Highroller | €100,000 | €2,000 |
| April 5 | 5 p.m. | Ring Event #8: €660 No-Limit Hold'em Bounty Hunter | €200 bounties | $660 |
| April 6 | 4 p.m. | Ring Event #9: €440 No-Limit Hold'em Freezeout | €400 | |
| April 6 | 6 p.m. | Ring Event #10: €5,300 No-Limit Hold'em Highroller | | €5,300 |
| April 7 | 2 p.m. | Ring Event #11A - €1,650 No-Limit Hold'em MAIN EVENT | €1,000,000 | €1,650 |
| April 7 | 4 p.m. | Ring Event #12: €550 Mixed No-Limit Hold'em / Omaha | | €550 |
| April 7 | 6 p.m. | Ring Event #13: €220 No-Limit Hold'em Ladies Event | | €220 |
| April 8 | 2 p.m. | Ring Event #11B - €1,650 No-Limit Hold'em MAIN EVENT | €1,000,000 | €1,650 |
| April 8 | 4 p.m. | Ring Event #14: €660 No-Limit Hold'em 6-Handed | | €660 |