Calling the Clock with Tristan Wade Sponsored by KO Watches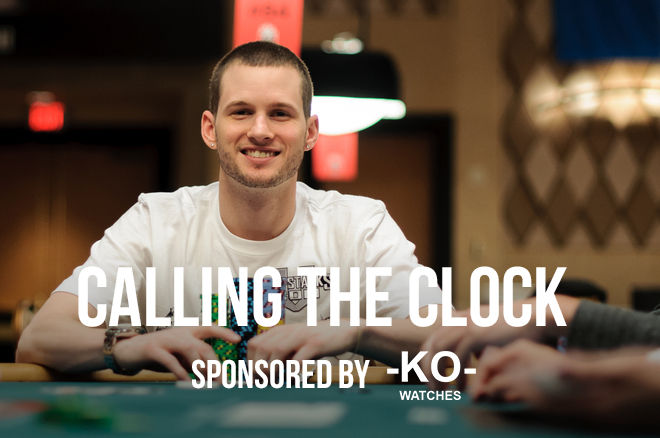 Beginning as a cutting-edge brand active in design, manufacturing and distribution of quality-finish watches from young Mexican entrepreneurs, KNOCK OUT -KO- Watches works to distinguish itself with its quality and clean design, allowing people to use time they have as they wish and without interruption. With our sponsor, KNOCK OUT -KO- Watches in mind, we're now going to "Call the Clock" on Tristan Wade.
PokerNews' Sarah Herring called the clock on Tristan Wade, giving him two minutes to answer as many questions as he can. This week's segment comes from a previous interview with Wade on the PokerNews Podcast.
What is the most exciting thing going on in your life right now?
The freedom to create.
What is a night from your past that you would want to relive again?
I've had some great moments down in Brazil with all my Brazilian guys and they really took care of me down there. I would like to go back.
OK. One thing every poker player should own?
A laptop.
Best advice you ever received?
Oh, that's tough. Be yourself.
Who is your poker icon?
Timothy Adams.
Favourite country to visit?
Japan. Japan. I visited there twice. I've got a buddy – yeah, I won't give too much about Japan.
Last person you texted?
Tim Kelliher.
Boxers or briefs?
Boxer briefs.
App you use most on your phone?
iMessage.
Best movie you've watched in the last five years?
Hmm. What about Nocturnal Animals?
So good. Favourite TV show of all time?
The Simpsons.
If you could be in a band, what band would it be?
A band? Huh. The Beatles.
Coffee or tea?
Tea.
What was your first pet?
A hamster.
What was its name?
Harry. Harry the hamster.
What's your biggest turnoff?
Bad personalities.
Movie you watched over and over as a kid?
Forrest Gump.
When the clocks stops, time comes to life. Get your hands on a Knock Out -KO- watch right here.