Calling the Clock with Dan O'Brien Sponsored by KO Watches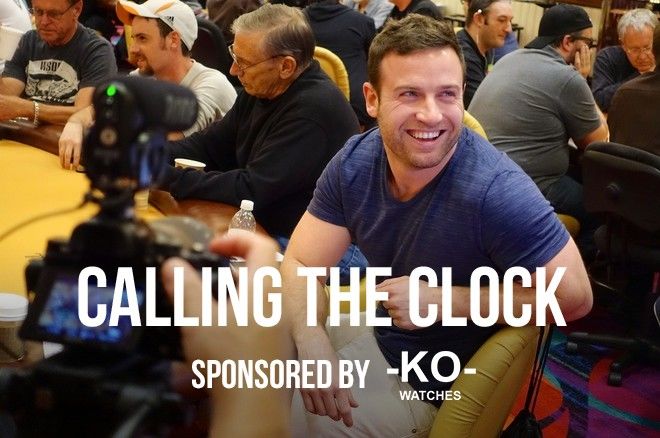 Beginning as a cutting-edge brand active in design, manufacturing and distribution of quality-finish watches from young Mexican entrepreneurs, KNOCK OUT -KO- Watches works to distinguish itself with its quality and clean design, allowing people to use time they have as they wish and without interruption. With our sponsor, KNOCK OUT -KO- Watches in mind, we're now going to "Call the Clock" on Dan O'Brien.
PokerNews' Sarah Herring called the clock on Dan O'Brien, giving him two minutes to answer as many questions as he can. This week's segment comes from a previous interview with O'Brien on the PokerNews Podcast.
Game night: What's your favourite game?
Balderdash.
Oh me too. If you could invite three people to game night, who would you choose?
Do you have to know them?
No.
It's not even fun if you don't know them. I'll pick people you know. Alan Berry, Jason Mercier, Brent Hanks.
Good one. If you had to walk the runway to any song, what would it be?
Probably "Stayin' Alive" by the Bee Gees
What's the website you visit most frequently?
Amazon.
Yeah, me too. What are your dogs' names?
Gatsby and Scout.
In three words, describe your podcast with Cate Hall.
The worst podcast.
What's your favourite podcast?
Either Tim Feriss or Sam Harris.
Have you used Tindr?
Yes.
What is the hardest thing about being a poker player?
Finding people who want to hear you complain about shit.
What was your favourite subject in school?
It was math.
What was your least favourite subject?
Probably history.
What is the worst trend in poker?
I don't know.
You can skip it. Pass. What is one word you would like to remove from the cultural zeitgeist?
GTO.
What's the coolest thing about living in Las Vegas?
The weather and the pool parties. Eh, there's so many I know – and the affordability. So many things.
When the clocks stops, time comes to life. Get your hands on a Knock Out -KO- watch right here.