888poker Ranks the Most Influential Poker Books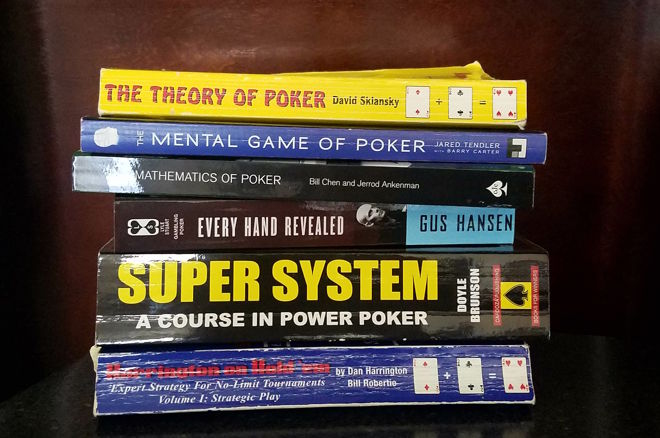 One of the most popular methods of improving as a poker player is to read a strategy book penned by either a top poker player or strategist; those two things usually come hand in hand.
There are hundreds of poker books available to buy today but they are not all created equally so 888poker decided to ask 56 professional poker players who have combined live tournament earnings in excess of $184 million for their opinions on what are the most influential poker books in history. Here are the top 10 results.
Most Influential Poker Books in History
| Rank | Book | Author(s) |
| --- | --- | --- |
| 1 | Harrington on Hold'em, Volume 1 | Dan Harrington and Bill Robertie |
| 2 | Super System: A Course in Power Poker | Doyle Brunson |
| 3 | Every Hand Revealed | Gus Hansen |
| 4 | The Mathematics of Poker | Bill Chen and Jerrod Ankenman |
| 5 | The Mental Game of Poker | Jared Tendler and Barry Carter |
| 6 | The Theory of Poker | David Sklansky |
| 7 | Let There Be Range | Cole South and Tri Nguyen |
| 8 | Power Hold'em Strategy | Daniel Negreanu |
| 9 | Super System 2 | Doyle Brunson |
| 10 | Applications of No-Limit Hold'em | Matthew Janda |
Harrington on Hold'em, Volume 1: Strategic Play: Expert Strategy for No Limit Tournaments hit the shelves in 2004 and became an instant hit with recreational and professional poker players alike.
This was the first of three books released in the series and although some of the concepts may be outdated – the book is more than a decade old – the books still hold plenty of solid fundamental tournament tips for players new to poker.
Second on the list is Doyle Brunson's Super System: A Course in Power Poker.
Brunson penned this book with the help of several notable professionals including Chip Reese and Bobby Baldwin and it was groundbreaking for the time: 1976. Brunson and his co-authors gave an insight into how to play looser than what was consider "the norm" and readers suddenly realized that you don't only raise with aces and kings but you can play the player in addition to the cards.
Coming in at No. 3 is Gus Hansen's recap of his 2007 Aussie Millions Main Event victory, Every Hand Revealed. Hansen had, and still has, a reputation for being one of the most loose-aggressive players in the game so when he wrote a book detailing almost every hand he played on his way to winning the Aussie Millions, it was guaranteed to be a hit, and it was.
While it may not be a strategy book as such, No. 4 on 888poker's list of influential poker books is The Mathematics of Poker by Bill Chen and Jerrod Ankenman. Released in 2009, the book quickly became a must-have for professional poker players as it gave them the tools to work out the mathematics behind this incredible game.
As 888poker ambassador Dominik Nitsche said, the book is "one of the only books on the list that will always be relevant. A clear winner!"
Rounding out the top five is The Mental Game of Poker by Jared Tendler and Barry Carter. This is another book that won't improve your knowledge of poker strategy by going through hand examples and similar situations, but instead, it will massively improve the mental side of your game and help you to understand your emotions which can and do affect the way you play.
Each of the top 10 most influential poker books, according to 888poker, are available to buy. Head over to the PokerNews Book section of the website. If you haven't already read them, why not treat yourself to one or two and see if they can take your game to the next level?