$20 Million Guaranteed Powerfest Announced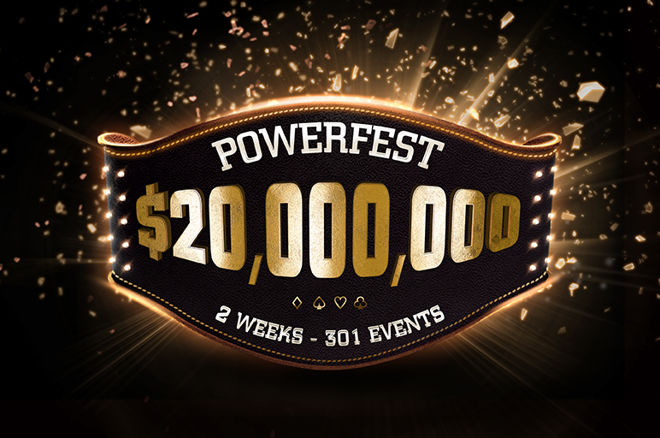 partypoker has announced the latest edition of its Powerfest series will feature 301 tournaments with combined guarantees of $20 million, making it the richest Powerest the online poker site has run.
When partypoker launched Powerfest in February 2016, the entire series featured $5 million worth of guaranteed prize pools. The second Powerfest series was announced two months later with $7.8 million up for grabs. Sept. 2016 saw another Powerfest run, this time with $10 million guaranteed before the guarantees were boosted to $11 million in Jan 2017.
This latest Powerfest takes place over the course of 15 days, starting on May 7 and coming to a thrilling conclusion on May 21. As with previous editions of the online festival, the upcoming Powerfest features a wide spectrum of buy ins ranging from $5.50 up to $25,500.
The $25,500 buy in Super High Roller is scheduled for May 17 and partypoker promises to donate all of the fees generated from buy ins, at $500 a pop, to a charity of the eventual champion's choosing. What's more, partypoker has pledged to add $50,000 to the charitable donation should at least 100 entrants compete in what is one of partypoker's biggest ever tournaments in terms of buy in.
Among the confirmed schedule are eight multi-phased tournaments – think along the lines of a live tournament with several starting flights – that have combined guarantees of $3.6 million. Phase 1s for these tournaments run several times daily throughout the Powerfest series and have buy ins from $5.50 up to $530.
Bringing the curtain down on the $20 million guaranteed Powerfest are a quartet of Main Events, each one with a different buy in level linked to partypoker's "weight divisions" of Featherweight, Middleweight, Heavyweight and High Roller. All four Main Events are scheduled for May 21 and there are a plethora of satellites feeding into each of them.
| Date | Event | Buy-in | Guarantee |
| --- | --- | --- | --- |
| Sun 21 May | Powerfest #291: Main Event $50K Gtd | $11 | $50,000 |
| | Powerfest #292: Main Event $100K Gtd | $55 | $100,000 |
| | Powerfest #293: Main Event $1m Gtd | $215 | $1,000,000 |
| | Powerfest #295: Main Event $1m Gtd High Roller | $1,050 | $1,000,000 |
Every week during Powerfest, player can compete in at least one tournament with a $1 million prize pool, not including the Main Events. Six events with $1 million guarantees are planned, giving players the chance to win potentially life-changing sums of money.
| Date | Event | Buy-in | Guarantee |
| --- | --- | --- | --- |
| Sun 7 May | Powerfest #013: $1m Gtd | $215 | $1,000,000 |
| Sun 14 May | Powerfest #152: $1m Gtd | $215 | $1,000,000 |
| | Powerfest #162: Final Phase - $1m Gtd | $530 via Phase 1 | $1,000,000 |
| Tue 16 May | Powerfest #301: $2m Gtd Super High Roller | $25,500 | $2,000,000 |
| Sun 21 May | Powerfest #296: $1m Gtd High Roller | $5,200 | $1,000,000 |
| | Powerfest #300: Final Phase $1m Gtd | $530 via Phase 1 | $1,000,000 |
Managing Director of partypoker, Tom Waters, said: "We decided to go for it this time and increase the total guaranteed prize pool for the upcoming Powerfest to over $20 million. There are some fantastic new headline events in the series, including three $1m guaranteed editions of the Title Fight, a $2m charity event and eight phased tournaments covering a range of buy-ins. I'm confident that the players will love the variety of events on offer and will relish the opportunity to become a Powerfest champion."
partypoker ambassador Sam Trickett said: "I will be playing more online events than ever in this new edition of Powerfest on partypoker. The addition of the $25K Super High Roller is great and it's a really nice touch from partypoker to donate all fees to charity."
$1 Million Guaranteed Title Fight on Apr. 2
partypoker is giving players the opportunity to experience what it is like to play poker for a share of a guaranteed $1 million by running a special edition of its Title Fight tournament on Apr. 2.
The buy in for the Title Fight Millions remains the same $215 but the $300,000 guarantee is being boosted to seven figures. It seems a bold move by the partypoker management as the Title Fight has overlaid almost every week since its creation in Oct. 2016 with a guarantee less than a third of the size of the Apr. 2 event.
Grab a £250 Welcome Bonus
Download partypoker via UK & Ireland PokerNews, enter the bonus code "UKPNEWS2016" when making your first deposit and partypoker will match it 100% up to a maximum of £250.