14 Chances to Win a WSOP Circuit Ring at King's Casino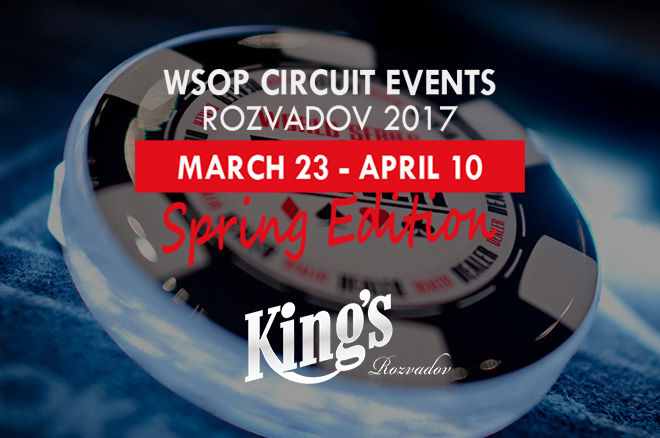 Poker players around the world are gearing up for the 2017 World Series of Poker in Las Vegas, but before the longest-running poker festival opens its doors to the poker-loving public, King's Casino is hosting a WSOP Circuit festival where there is a grand total of 14 championship rings to be won.
Running from March 23 through to April 8, the 2017 WSOP Circuit event at King's Casino, Rozvadov is a must-play festival. With buy-ins starting at only €50 and increasing steadily to a bankroll-testing €2,000, there is a WSOP Circuit tournament for everyone regardless of skill level and experience.
The opening event, a €299 buy in no-limit hold'em tournament, should attract a mixture of professionals and recreational players alike due to its affordable buy-in and its massive €300,000 guaranteed prize pool. There are four starting flights for the Opening Event and each one should see the lavish King's Casino poker room full.
One of the highlights of the 2017 WSOP Circuit festival is the €1,650 buy in Main Event thanks to it boasting of a gargantuan €1 million prize pool. In addition to a potentially massive first-place prize, the champion of the €1 million guaranteed Main Event also walks away with an entry to the televised grand finale of the 2017 WSOP Circuit, the WSOP Global Casino Championship. The Player of the Series also wins an entry to this spectacular event.
| Date | Time | Event | Guaranteed Prize Pool | Buy-In |
| --- | --- | --- | --- | --- |
| March 23 | 6 p.m. | Ring Event #1A: €299 No-Limit Hold'em Opening Event | €300,000 | €299 |
| March 24 | 6 p.m. | Ring Event #1B: €299 No-Limit Hold'em Opening Event | €300,000 | €299 |
| March 25 | 1 p.m. | Ring Event #1C: €299 No-Limit Hold'em Opening Event | €300,000 | €299 |
| March 25 | 5 p.m. | Ring Event #1D: €299 No-Limit Hold'em Opening Event | €300,000 | €299 |
| March 29 | 6 p.m. | Ring Event #2A: €550 No-Limit Hold'em Monster Stack | €200,000 | €550 |
| March 30 | 2 p.m. | Ring Event #3: €50 No-Limit Hold'em Seniors Event | 50+ years only | €250 |
| March 30 | 6 p.m. | Ring Event #2B: €550 No-Limit Hold'em Monster Stack | €200,000 | €550 |
| March 31 | 4 p.m. | Ring Event #2C: €550 No-Limit Hold'em Monster Stack | €200,000 | €550 |
| April 1 | 6 p.m. | Ring Event #2D: €550 No-Limit Hold'em Monster Stack | €200,000 | €550 |
| April 1 | 6 p.m. | Ring Event #4: €270 Pot-Limit Omaha Hi-Lo | | €300 |
| April 2 | 5 p.m. | Ring Event #5: 888 No-Limit Hold'em Mini Event - 1 | | €888 |
| April 3 | 4 p.m. | Ring Event #6: €330 Limit Seven Card Stud | | €330 |
| April 3 | 5 p.m. | Ring Event #5: 888 No-Limit Hold'em Mini Event - 2 | | €888 |
| April 5 | 5 p.m. | Ring Event #7: €2,000 Pot-Limit Omaha Highroller | €100,000 | €2,000 |
| April 5 | 5 p.m. | Ring Event #8: €660 No-Limit Hold'em Bounty Hunter | €200 bounties | $660 |
| April 6 | 4 p.m. | Ring Event #9: €440 No-Limit Hold'em Freezeout | €400 | |
| April 6 | 6 p.m. | Ring Event #10: €5,300 No-Limit Hold'em Highroller | | €5,300 |
| April 7 | 2 p.m. | Ring Event #11A - €1,650 No-Limit Hold'em MAIN EVENT | €1,000,000 | €1,650 |
| April 7 | 4 p.m. | Ring Event #12: €550 Mixed No-Limit Hold'em / Omaha | | €550 |
| April 7 | 6 p.m. | Ring Event #13: €220 No-Limit Hold'em Ladies Event | | €220 |
| April 8 | 2 p.m. | Ring Event #11B - €1,650 No-Limit Hold'em MAIN EVENT | €1,000,000 | €1,650 |
| April 8 | 4 p.m. | Ring Event #14: €660 No-Limit Hold'em 6-Handed | | €660 |