Stacy Matuson Beats William Kassouf at 888Live Rozvadov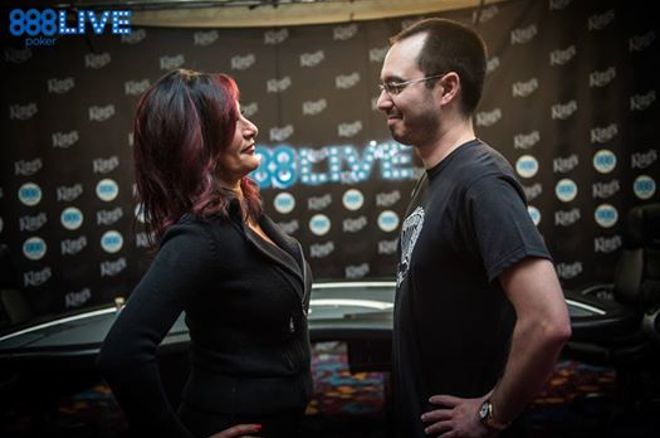 William Kassouf notoriously dominated the headlines during the 2016 World Series of Poker Main Event with his table talk.
In one big televised hand broadcast on ESPN, he got Stacy Matuson to lay down pocket queens on a ten-high board while only holding nine-high himself. After the hand, he shouted "nine high like a boss," which instantly became a catch phrase among many poker players.
Fast forward to 2017 when on Jan. 11 Matuson publicly challenged Kassouf via Instagram to a heads-up match during the 888Live at King's Casino Rozvadov. Kassouf quickly accepted the challenge via social media leading to tons of hype from fans and enemies of both players about who would come out on top.
The heads-up match was best of three and televised on the 888poker Twitch channel.
PokerNews' Sarah Herring interviewed Kassouf prior to the match. Kassouf, wearing a "9 High Like a Boss" T-shirt, said that he had "never played heads-up before" and was looking forward to a fun match. He also shared that he holds no grudges, and despite who wins, it doesn't prove anything or show who is the better player.
Herring subsequently interviewed Matuson before the match, who also shared she was looking forward to a fun battle. Matuson also said she wasn't bitter or upset about the infamous hand during the WSOP Main Event, but that she did think about it for a month afterward.
Early on during the first match, Kassouf was playing a little tight and Matuson was able to pick up small pots to build a substantial lead. Matuson was eventually able to clinch the win in the first match after her jack-eight suited completed a full house on the turn and river after Kassouf was all in with king-two.
During a big hand in the second match, Matuson pushed Kassouf off of a six-five-two flop after three-betting all in with ace-high. Kassouf was not surprisingly talking throughout the hand and eventually laid down his gut-shot straight draw holding king-four.
In the final hand of the second match, Kassouf raised from the button with ace-seven before Matuson three-bet with pocket jacks. Kassouf tanked for a bit before he declared that he felt he had the best hand and shoved all in. Matuson quickly called and her hand held, giving her the match after the board ran out





.
"It was actually kind of a pleasure to play with him," Matuson said to PokerNews. "He is not a bad guy. I ended up showing three or four bluffs. Five-high, six-high, seven high."
Herring asked with a smile, "Were there any nine-highs?"
"I actually tried one time, but it was impossible," explained Matuson.
Matuson said the win had other implications for her.
"I was happy that I won," said Matuson. "You can show women that you can come back and show that you can play. It doesn't have to be one clip you saw on ESPN and it was just a great time."