Calling the Clock with Joanna Kwak Sponsored by KO Watches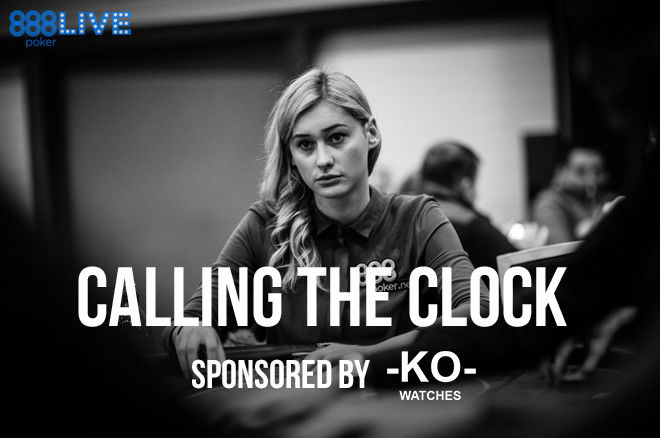 Beginning as a cutting-edge brand active in design, manufacturing and distribution of quality-finish watches from young Mexican entrepreneurs, KNOCK OUT -KO- Watches works to distinguish itself with its quality and clean design, allowing people to use time they have as they wish and without interruption. With our sponsor, KNOCK OUT -KO- Watches in mind, we're now going to "Call the Clock" on Joanna Kwak.
PokerNews' Sarah Herring called the clock on Joanna Kwak, giving her two minutes to answer as many questions as she can at 888Live Rozvadov.
First word you think of when I say the letter 'f'?
Fuck.
Yup. What's your favourite cocktail or booze of choice?
Wine.
What's your favourite city?
Paris.
Movie that you can watch over and over again?
Sex and the City.
Worst thing about being a poker player?
Getting bluffed?
Yeah that's pretty hard. Song that always brings you to the dance floor?
Pit Bull, I think, 'Get on the Floor' (Jennifer Lopez featuring Pit Bull, 'On the Floor').
It's very apropos. OK. Fill in the blank: Blondes have more…
Power.
Never not true. Tell us something people don't know about you.
Umm, wow. This is the deep stuff. I really don't know.
Everyone knows everything. She doesn't keep any secrets.
Yeah, I'm like so open.
OK, well let's get right into it.
I'm a good liar!
Let's get right into it then. Would you rather wake up with a stranger or wake up alone?
Alone.
What's your biggest life leak?
Being impatient. Yes, I don't have patience.
Would you rather never walk again or never talk again?
Never walk again. I love to talk.
Snap call. I knew what that was going to be. Jennifer Lopez or Jennifer Lawrence?
Jennifer Lawrence.
Even though she likes Pit Bull, she went straight in for the J-Law.
Yes, yes.
Has anyone ever told you that you have a celebrity doppelgänger?
No.
Because I'm going to right now, Patricia Arquette. Am I right? Do you know who that is?
No.
You are literally her and I have such a girl crush on her. So don't worry.
Is she a singer, an actress, a model, a poker player?
Basically all of the above.
Oh, so just like me? So I do a lot of things but I'm not very good at anything. Yeah. Great!
When the clocks stops, time comes to life. Get your hands on a Knock Out -KO- watch right here.