Calling the Clock with Jason Les Sponsored by KO Watches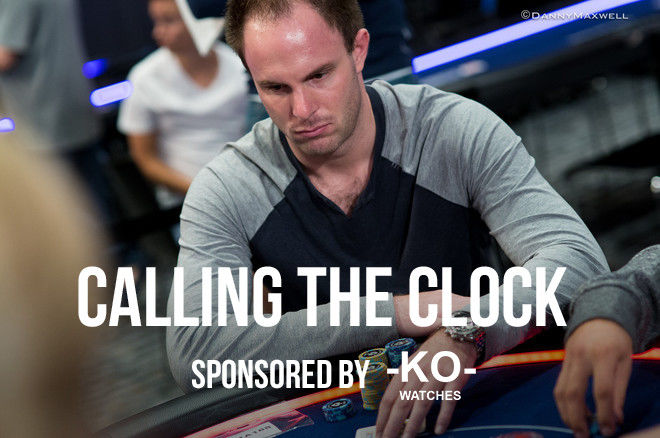 Beginning as a cutting-edge brand active in design, manufacturing and distribution of quality-finish watches from young Mexican entrepreneurs, KNOCK OUT -KO- Watches works to distinguish itself with its quality and clean design, allowing people to use time they have as they wish and without interruption. With our sponsor, KNOCK OUT -KO- Watches in mind, we're now going to "Call the Clock" on Jason Les.
PokerNews' Matthew Parvis called the clock on Jason Les, giving him two minutes to answer as many questions as he can. This week's segment comes from a previous interview with Les on the PokerNews Podcast.
Better name for your firstborn child: Claudico or Libratus?
Libratus.
More annoying to play heads-up against: William Kassouf or Libratus?
Libratus.
Thing you say regularly that reminds all of those around you that you're from California?
Dude.
That's a pretty good one. I use that one regularly myself. Proudest poker accomplishment?
Being selected to play versus Claudico and Libratus.
The perfect home game invite list? You got five other people to play in a home game with you.
It's got to be five other people that no one would have ever heard of before.
Fair. Just to make sure that it's spicing up the game a little bit.
Yeah.
What can't you leave home without when you're travelling?
USB battery pack for my phone.
Favourite poker tour stop?
Aussie Millions, love it.
Favourite player to watch play poker on television?
Uh, I guess (Phil) Hellmuth maybe. I don't know. He's just – he can be annoying but also entertaining.
I totally agree with you there. Biggie or Tupac?
Biggie, for sure.
Name a heads-up grudge match you'd pay to see?
Jungleman (Daniel Cates) versus Libratus.
What movie will you watch until the end every time it comes on television?
The Godfather.
Last app you used on your phone?
Uber Eats.
Instagram or Twitter?
Twitter, man, too many comedians on poker Twitter.
When the clocks stops, time comes to life. Get your hands on a Knock Out -KO- watch right here.