Top 10 Stories of 2016, #1: Qui Nguyen Wins the 2016 World Series of Poker Main Event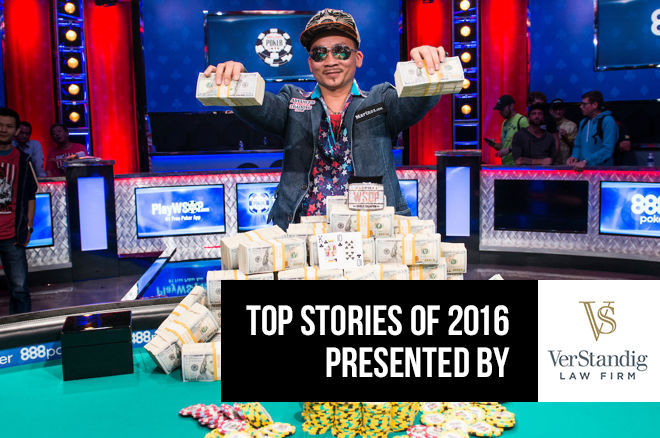 This year's Top Stories are brought to you by the VerStandig Law Firm, LLC. Combining a keen understanding of the gaming world and an equally keen understanding of the law, Mac VerStandig and his colleagues are devoted to fighting on behalf of the poker community and its members.
When play was halted on July 18, nine players remained in the World Series of Poker Main Event. The November Nine was set after seven days of tough battles. Cliff Josephy, often referred to as the godfather of online poker, led the final table. A set of (former) online poker players and regulars trailed him.
And then there was Qui Nguyen, second in chips and a wild card in every sense of the word. Right of the bat, he admitted to preferring baccarat to poker and the poker fans smiled.
"This is so crazy right now, I really did not expect this to happen," a giddy Nguyen said in the aftermath of the final elimination. "It's amazing."
While he had amassed almost 68 million in chips, placing him second behind Josephy, not many insiders put Nguyen on top of their players most likely to take down the title list; he was considered the least experienced player of the group and the gambler.
"I gamble a lot," he said with a laugh to PokerNews back in September.
While a simulation did tip Nguyen for the win, the betting markets placed him as the underdog to win it all.
The Qui Nguyen bot was an interesting outlier in the PokerNews and Advanced Poker Training simulations, suggesting that Nguyen would win 26 out of 100 times, the most of any player. Designed to gamble and to do so successfully, the Nguyen bot surprised by displaying savvy and aggression at the correct times and by getting lucky at the right times. So when the bot was advised to take advantage of timid opponents and use his reputation as a gambler to make others fear confrontation, no one knew how accurate and spot on those words of advice would be.
When the final stage of the year's most important poker tournament commenced, the fans came out for Nguyen. All nine players had brought their friends and family, often sporting matching T-shirts with a catchphrase and the name of the one they were rooting for on it. Every year, one group of fans stands out.
This year, it was without a doubt Qui Nguyen's fans that shouted the loudest, that were dressed up the best, that supported their man through the ups and downs and that were the most energetic. All of them, like the man in the spotlight they were supporting, wore the hat displaying Rocket from the movie, Guardians of the Galaxy.
As the final table got underway, Nguyen's wild style paid off. The high variance such a style brings along with it worked in his favor this time. While many players struggled to find a rhythm and were visibly impressed by the arena and setting, Nguyen shook off the added pressure like he was playing in his $5 home game: no bluff too crazy, no staredown too nerve wrecking for him to crack, no laydown too big to make.
After Josephy went out in third, Nguyen and Gordon Vayo went into heads-up play with Vayo leading the chip count. But that would quickly change, as Vayo's passivity in certain spots and hesitation would grind him down.
One of the most intense hands was when the two got all the chips in the middle for a queen-high board. Nguyen had the best hand with ace-queen, but Vayo had a queen-fie for top-pair without much of a kicker. Placing his hand around Nguyen, the pair awaited their fate and the board revealed spades on the turn and river to give Vayo a miraculous runner-runner flush.
Eventually the two gladiators went back to their corners and were forced to make a stand: Vayo pushed his last 18 big blinds with jack-ten suited over a button raise by Nguyen only to get called by the dominating king-ten.
Vayo flopped a double gutshot, but his draw failed to complete. Blanks on the turn and the river pushed Vayo out in second place for $4,661,228.
After those three intense days of November Nine action, Qui Nguyen lifted the trophy. The $8 million first-place prize was neatly bundled in front of him when the photographers started snapping their winner shots. He held the gigantic gold bracelet inlaid with diamonds firmly in his hands. Wearing his reflective sunglasses and distinctive hat could only distract you so much from his enormous smile. Nguyen had done it and the poker world had watched in awe!
The self-proclaimed gambler born in Vietnam but living in Las Vegas, was the new World Series of Poker champion and would donate a portion of his winnings to the Wounded Warrior Project.
2016 was most definitely his year and he's more than $8 million richer for it!
Qui Nguyen winning the World Series of Poker Main Event rightfully sits in the Top 10 stories of 2016. While it's true that the biggest tournament of the year almost automatically earns a spot in the recaps that appear upon closing of the year, Nguyen's win was a bit different. The article announcing the winner right here on PokerNews.com had almost three times as many views when compared to earlier years.
And while the 2015 final table had been met with a lot of complaints about slow, and sometimes boring play, not much critique was heard about this year's final table. Nguyen made a show out of it, sometimes doing the exact opposite of what the expert commentators predicted. He never backed down or shied away from big bluffs. He did whatever it took and his opponents didn't seem to have an answer. While variance plays a major part in every victory, it's undeniable that Nguyen made things work in his favor. Facing tough competition, he came up with a game plan and it worked.
So far, Nguyen hasn't done much traveling for poker tournaments. No Nguyen in (Super) High Rollers, no sightings of him in big Vegas cash games. The discussion about Main Event champions and their imposed role as an ambassador of the game is a useless one, but Nguyen at least entertained while he was on his way winning the biggest prize in poker.
Daniel Negreanu watched the final table from start to finish in his role as an analyst on the ESPN broadcast and wholeheartedly agrees that Qui Nguyen's win is good for the game of poker at large.
"I think the whole final table was good for poker," Negreanu said. "The speed of play for one, and Qui Nguyen specifically, played a style that, for lack of a better term, was not the boring, fundamentally correct and game-theory-optimal style. He was fascinating and exciting, because at any moment he could just be all in. He was doing things that were outside the box and unconventional and I think that gives hope to people that are not 23-year-old grinders who have studied game theory. They think if this guy can win, then I can win too."
Negreanu was happy to see Nguyen's approach work, that he played the game old school, with his gut, and gave the game personality. This year had a different tone from last year's play and kept people interested in live poker.
"We happened to have some exciting hands, but mainly the pace of play was way better and we got Qui Nguyen," Negreanu said. "He's the closest thing to Moneymaker since then, in that this guy wasn't expected to win and played a totally unconventional style, bluffing all the pros. I think it was easy for people at home to identify with Nguyen and root for him and all that stuff put together has to be great for the game."
Whatever the future may be for Nguyen and poker, 2016 was most definitely his year and he's more than $8 million richer for it!
https://uk.pokernews.com/video/qui-nguyen-is-the-2016-wsop-main-event-champion-10624.htm
Qui Nguyen's road through the Main Event days:
| End of Day | Chip Count | Ranking |
| --- | --- | --- |
| 1c | 112,500 | 348/3,252 |
| 2 | No chip count recorded | - |
| 3 | No chip count recorded | - |
| 4 | No chip count recorded | - |
| 5 | 4,080,000 | 35/80 |
| 6 | 4,790,000 | 25/27 |
| 7 | 67,925,000 | 2/9 |
| | | |
| 8 | 128,625,000 | 1/5 |
| 9 | 197,600,000 | 1/3 |
| 10 | 336,500,000 | 1/1 |
| Position | Player | Country | Prize |
| --- | --- | --- | --- |
| 1 | Qui Nguyen | United States | $8,005,310 |
| 2 | Gordon Vayo | United States | $4,661,228 |
| 3 | Cliff Josephy | United States | $3,453,035 |
| 4 | Michael Ruane | United States | $2,576,003 |
| 5 | Vojtěch Růžička | Czech Republic | $1,935,288 |
| 6 | Kenny Hallaert | Belgium | $1,464,258 |
| 7 | Griffin Benger | Canada | $1,250,190 |
| 8 | Jerry Wong | United States | $1,100,076 |
| 9 | Fernando Pons | Spain | $1,000,000 |
The VerStandig Law Firm, LLC represents poker professionals, sports bettors and advantage players across the United States. The firm assists clients in connection with legal issues including personal LLC formation and operation, tax planning that focuses on gaming deductions and exemptions, casino disputes, and personal matters spanning from divorce to criminal dust-ups.