Mike McDonald Hopes to Correct Poker Market, Cater to Fans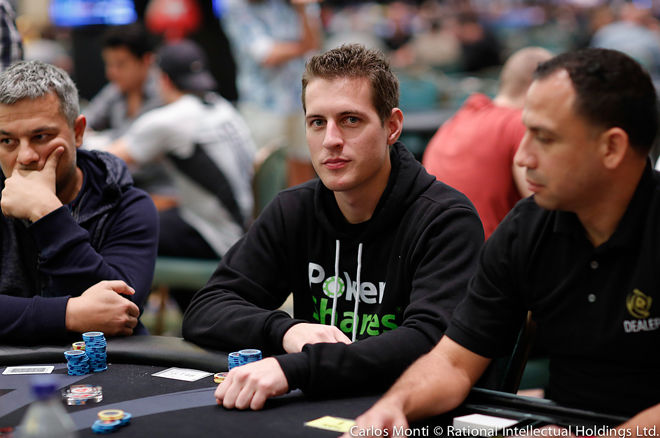 Any time a new poker-related business venture gets introduced, poker players and industry observers everywhere often collectively set lines on how long this venture will last.
With the new PokerShares website introduced by Mike "Timex" McDonald via a Twitter post Jan. 4, things feel a little different.
That's because the poker world has always been enamored with action and this represents more of it with the chance to bet on the performance of players. In part, it's because PokerShares has the potential to change the landscape of the tournament poker action-selling market and give poker fans a connection to players with real monetary incentives.
It all started as almost a joke on a poker forum nearly a decade ago.
What McDonald estimates was about nine years ago, selling bundles of action was becoming more and more the norm and pricing started to climb as sellers realized they could make out like bandits with high markup. Playing a $10,000 event? Sell 40 percent at 1.25 and you've made a cool $1,000 in no time.
Some felt things were getting out of hand. Players named their own prices and yet buyers still clamored for action — these are poker players, after all. McDonald was among those casting a skeptical eye on some of the prices he saw. He looked at one long-forgotten posting and wondered about the state of things.
"For a long time, I've felt the poker marketplace was not very fair to buyers."
"Someone was selling at some crazy markup and I was just like, I'd bet against this guy at this rate," he recalled. "For a long time, I've felt the poker marketplace was not very fair to buyers."
The seeds had been planted for what would become the Bank of Timex. In June 2013, McDonald opened the Bank of Timex Twitter account. He originally wasn't intending to make many bets, but he wanted to have a platform to have some fun and call out players selling action at absurd prices. The response from the community blew McDonald away.
"Within a week, it had like 1,000 followers," McDonald said. "People were messaging me... I never anticipated it would get as popular as it did."
With that popularity, though, came potential scrutiny. Veron Lammers, a friend "well-versed in the gambling industry", alerted McDonald to the perils of what he was doing: essentially acting as a bookmaker. McDonald, 23 at the time, decided he shouldn't take any chances and quickly opted to shut down the unofficial book, at least publicly.
Behind the scenes, the wheels spun for at least one associate of McDonald's. Lammers, who has now become McDonald's chief business partner in PokerShares, is "one of the best no-limit deepstack players in the world" according to Timex. He accepted an opportunity to provide McDonald some coaching and the two have become friends.
"Why don't you actually try to get it licensed?" Lammers asked. "Why don't you actually try to turn this into a business?"
McDonald's only answer was "laziness," so Lammers, who had experience setting up international companies, agreed to take on most of the behind-the-scenes duties if McDonald took charge of things like pricing and marketing on the front end. For the past 18 months, the two have worked to form what's become PokerShares.
The workload has become intense in recent weeks leading up the site's launch and McDonald arrived at the PokerStars Championship Bahamas with a new outlook on the game. Where he would once be looking to ship some of the biggest tournaments in the world with his trademark glare etched on his features, McDonald now throws on a PokerShares shirt and sees an opportunity to market a hit venture and relax away from the office.
Normally a familiar face in the $100,000 Super High Roller, McDonald skipped the event because he didn't feel ready for that caliber of competition. It's perhaps a surprising admission from a man who has built a ledger that makes him one of the true legends of both online and live poker. He's cashed for over $13 million live alone, with much of his success coming in some of the very nosebleeds he bypassed here.
"I feel like my game is fairly rusty right now," McDonald admitted. "I just don't think I'm very likely to bring my A-game or even my B-game."
McDonald estimates he's played about 200 hands of poker in the past four months and lost countless more potential playing hours working on PokerShares and other projects. The results bear that out: McDonald cashed for just $544,361 live in 2016, only his second year in the past seven scoring less than $1 million.
Now, he's here at PokerStars Championship Bahamas, which also happens to be the first big event with listed prices on PokerShares. McDonald himself was the primary force shaping those prices, which give an interesting look at how at least one person ranks the relative abilities of poker players.
For example, the $25,000 High Roller lists 23 players that users can invest in. At the top of the list price-wise are Fedor Holz and Christoph Vogelsang each with a markup of 1.5 — it costs €1.50 to buy €1 of action. On the other end of the spectrum, recreational players Paul Newey and Bill Perkins are listed at 1.07. Prices are listed in euros, as PokerShares doesn't accept action from American customers due to U.S. sports-betting laws.
McDonald knows he won't be making any friends in some cases when players see themselves priced down, something he said was an "inevitability."
"I'm sure there are some acquaintances and people in my friends circle that aren't thinking so highly of me"
"I'm sure there are some acquaintances and people in my friends circle that aren't thinking so highly of me," he said. "With all of the people that I actually care about, I don't think it'll have any sort of effect. It's purely business."
Another aspect of PokerShares that McDonald already sees the community getting excited for is the chance to sweat players like Daniel Negreanu and Erik Seidel. Such players, enriched by their vast poker success and having built a strong circle of friends, have no need to sell action to the general public.
That option now exists thanks to PokerShares.
"You would not believe how many people there are who just bet €1 on Daniel Negreanu in the $100K," Timex said. "It gives the viewer and fan at home an opportunity they've never really had before."
McDonald said buzz and response has been huge. Even people outside the poker and gambling worlds have responded. While enjoying a drink at a bar recently, a representative of a venture capital company recognized McDonald and asked if McDonald would get in touch with his employer.
Company emails have been inundated with résumés and job applications — PokerShares isn't currently hiring — from people who see an opportunity with a company that has upside.
Given all that, and McDonald's commitment to a large role with the company moving forward, he can envision a future where he's no longer a professional poker player.
"I don't know how big this will get," he said. "But, if it gets to be pretty big, I could see poker becoming my secondary thing and this being my primary thing."
Photos: Neil Stodart/PokerStars.