A Closer Look at the Revamped Global Poker Index Rankings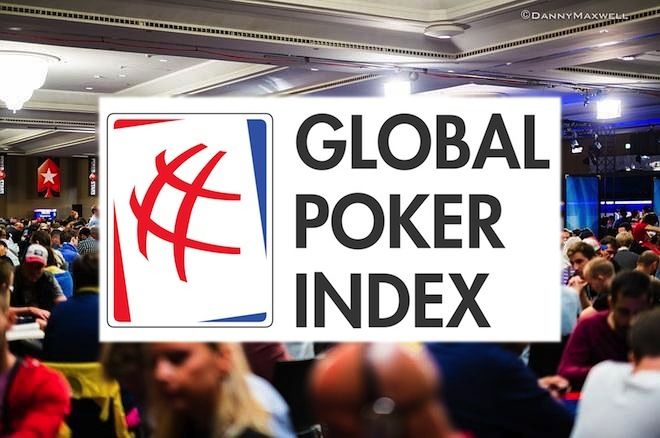 Poker players sometimes like to say how there is really only one obvious, ultimately most meaningful way of "keeping score" — the money.
Yet as far as tournament poker is concerned, the Global Poker Index has encouraged poker players to think differently about how to measure themselves against one another. First introduced in 2011, the tournament rankings system has now established itself as an ongoing, parallel competition that for many has become an especially diverting "side pot."
While the GPI revisits its rankings formula every year, for 2017 a more significant change was made to how the Global Poker Index World Poker Rankings are calculated. The new system being used for the overall GPI rankings considers similar criteria to the one used last year in the 2016 Global Poker Index Player of the Year race (won by David Peters) as well as for the 2016 World Series of Poker Player of the Year (won by Jason Mercier).
The "revamp" to the criteria (as the GPI calls it) now puts greater emphasis on larger field events while also decreasing the significance of the buy-ins. That means small-field high rollers and super high roller events drawing a few dozen entries now have a little less effect on the rankings, while deep runs in lower buy-in events drawing thousands of entries count a little more.
Among the specific changes, events with less than 32 total entries no longer count toward the GPI overall rankings, while those with buy-ins of less than $1,500 now count more than they did previously.
The new formula was first reflected in the GPI overall rankings during the week of January 11. That also happened to be the week that David Peters snared the top spot away from Fedor Holz following a record 30-week run at No. 1 for the young German.
In fact, Peters would have taken over the lead even without the new formula being introduced, thanks primarily to his third-place finish in the European Poker Tour Prague Main Event that also helped him edge Holz at the finish line for the 2016 GPI POY.
That said, the change did alter the status of a number of players in the rankings, some quite significantly. For example, here's a look at players whose rankings were markedly improved following the change:
| Player | Jan. 4 ranking (old system) | Jan. 11 ranking (new system) | Change |
| --- | --- | --- | --- |
| Joshua Turner | 717 | 281 | +436 |
| Michael Hahn | 643 | 300 | +343 |
| Mario Lopez | 569 | 268 | +301 |
| David Jackson | 412 | 190 | +222 |
| Michael Gagliano | 372 | 172 | +200 |
| Robert Hankins | 422 | 229 | +193 |
| Lihn Tran | 471 | 279 | +192 |
| Benjamin Winsor | 306 | 121 | +185 |
| Simeon Naydenov | 466 | 298 | +168 |
| Lance "Cord" Garcia | 308 | 145 | +163 |
| Benjamin Keeline | 272 | 112 | +160 |
| Vineet Pahuja | 236 | 84 | +152 |
| Johanssy Joseph | 246 | 99 | +147 |
| Maurice Hawkins | 243 | 101 | +142 |
| Matthew Stout | 249 | 113 | +136 |
Other notable upward moves were enjoyed by Thiago Nishijima (from No. 427 to No. 284), Tony Dunst (from No. 310 to No. 186), and Ryan Van Sanford (from No. 303 to No. 185).
Meanwhile there were many players who under the new system were ranked much lower than before, with the drops in some cases being quite steep. Here are a look at some of the more significant downward changes resulting from the "revamp":
| Player | Jan. 4 ranking (old system) | Jan. 11 ranking (new system) | Change |
| --- | --- | --- | --- |
| Bill Klein | 276 | 1759 | -1483 |
| Ali Fazeli | 81 | 796 | -715 |
| Brandon Steven | 299 | 841 | -542 |
| Jean-Noel Thorel | 262 | 775 | -513 |
| Andrey Zaichenko | 296 | 781 | -485 |
| Scott Seiver | 166 | 587 | -421 |
| Jason Les | 198 | 616 | -418 |
| Daniel Negreanu | 248 | 627 | -379 |
| Mikita Badziakouski | 293 | 644 | -351 |
| Andrew Lichtenberger | 68 | 401 | -333 |
| Isaac Haxton | 43 | 235 | -192 |
| Bryan Piccioli | 98 | 255 | -157 |
| Cary Katz | 19 | 162 | -143 |
| Ryan Riess | 133 | 275 | -142 |
| Liv Boeree | 124 | 263 | -139 |
Other players whose rankings dropped under the new format include Anthony Gregg (from No. 181 to No. 503), Brian Rast (from No. 112 to No. 343) and Antonio Esfandiari (from No. 110 to No. 302).
One can see at a glance how the players who moved up include many who play lower-stakes, big-field events like Joshua Turner who has collected many cashes of late on the Heartland Poker Tour, the Mid-States Poker Tour, the World Series of Poker Circuit and at the World Series of Poker.
Meanwhile among those who fell in the rankings are many who had collected cashes primarily from higher buy-in events. For example, among Bill Klein's seven recorded cashes in 2016, six came in high roller or super high roller events at the ARIA Resort & Casino.
Developing a Balanced Tournament Rankings System
Talking with GPI Head of Poker Content Eric Danis recently about the updated system, he reminded us of the rankings' history and how this actually represents a second significant change to how the original rankings system devised for the ill-fated Epic Poker League worked.
"When the GPI was first created by Annie Duke and her team, they had a minimum buy-in of $1,500 because it was supposed to reward the 'elite' playing elite events," Danis noted. Hoping to create a broader rankings system that wasn't so exclusive, the GPI in 2015 got rid of that minimum buy-in requirement.
The reasoning behind this new change was somewhat similar, Danis explained, done in an effort to it possible for all tournament players — and not just a select few — to have a chance to be part of the rankings.
"We liked the idea of 'Joe Somebody' from Iowa going to Chicago for the weekend and cashing in a $365 event at Hammond then seeing that he made the GPI rankings.... But the formula wasn't designed for that, and so it had to be revisited."
The changing nature of tournaments and the rise of many more high-profile, lower buy-in events and series helped necessitate a change to the rankings system as well.
"There has been a change in the tournament landscape, with overvaluing the high buy-in tournaments having become a thing of the past. Also, tournaments like the WPT500 and the WSOP's Colossus didn't exist before, so once those came around we had to decide how we could include them as well," explains Danis. "That being said, we didn't want to punish the high rollers too greatly, so we looked to find a system that provided a good balance between the two."
The update wasn't introduced and implemented overnight, but rather was the result of a lengthy examination by the GPI. "We accumulated about 18 months' worth of feedback from players and media members," says Danis. The 2016 GPI POY served as a kind of test run for the new system as well, helping confirm that it seemed to be working as intended before it was adopted for the overall rankings.
"The fact that David Peters — who played a lot of high rollers during the year — had to finish third in the biggest EPT Prague Main Event ever, a 1,500-player tournament, in order to clinch POY, kind of highlighted the balance for which we're aiming," said Danis.
That performance by Peters didn't just create some excitement surrounding the 2016 GPI POY race. It also helped make Danis appear somewhat of a prophet after he'd tweeted early in the Main Event (before Day 3) where exactly Peters would need to finish in order to clinch the top spot for the year:
Lots of poker to play, but a 3rd place or better in the Main at @PokerStarsEPT #Prague would see @dpeterspoker17 move into @gpi #PoY lead

— Eric Danis (@EricDanisPoker)
Danis noted as well how the consistently high rankings of other players like Holz, Ari Engel, Justin Bonomo, Benjamin Zamani and several others who won a variety of different kinds of tournaments while having great years was a positive sign the system was working.
"Of course, it's always a work in progress," Danis added.
No tournament rankings system is going to be perfect and please everyone, of course. Indeed, the debates such rankings inspire are a big part of their value, insofar as they encourage us to revisit ideas of skill and how best to "keep score" when measuring how players perform at the tables.
Other than by just looking at the money, that is.