Aspers Casino Giving Away £1m Worth of Champagne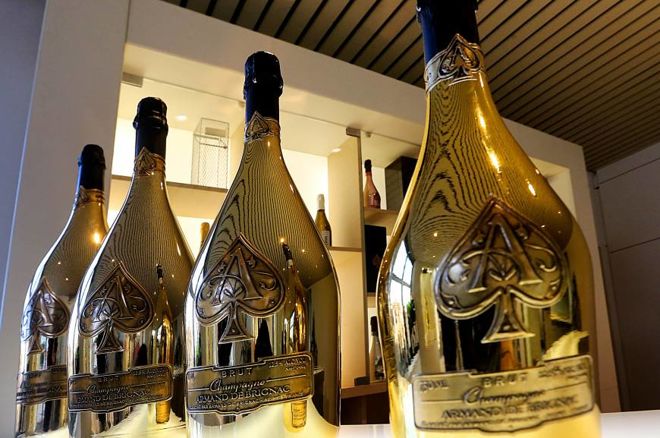 Champagne is a drink synonymous with celebration. Sports stars spray it around after they win a major event, newly married couples often crack open a bottle of bubbly to celebrate their coming together; it's just one of those drinks associated with success and jubilation.
Placing a winning bet on a single number of the roulette table is reason enough to celebrate on its own, but until Feb. 14, Aspers Casino, Stratford is giving its players a bottle of Armand de Brignac Ace of Spades Brut Gold champagne, worth £660, if their number comes in at a single zero roulette table.
To win the pricey bottle of champagne, players must win a promotional token by having a valid bet on a winning straight up number when a repeat number is spun, and then play the promotional token on either a column or dozen betting field on the next spin after it has been awarded.
This promotion ends on Jan. 14, one day before the Cash Game Festival begins. The latest edition of this cash game festival runs from Feb. 15 through to Feb. 19 and feature 120 hours of nonstop action. During the Cash Game Festival there will be sponsored feature tables, high hand bonuses and a host of special customer offers throughout the five-day event.
When the Cash Game Festival dropped anchor at Aspers in September 2016, it was a roaring success with hundreds of poker players descending on the Aspers poker room and playing a wide variety of games, including no-limit hold'em, pot-limit Omaha, open-face Chinese poker, and Sviten Special.
This latest edition of the Cash Game Festival should see upwards of 30-tables running continuously for five days. Blinds start at £1/£1, increase to £25/£50 and have a five percent rake capped at £10 with the exception of £1/£1 no-limit hold'em which is raked at 10 percent with a £5 cap.
Head of Poker for Aspers, John Scanlon, said: "After the massive success of the previous Cash Game Festival it was a no brainer to do it all again, in fact our players were even asking during the last event, when we would do it again? Well the dates are set and now everyone knows, the Cash Game Festival is coming back to London and everyone at Aspers is ready to make it bigger, better, more interactive and definitely more fun than ever before."
Lead image courtesy of Japan Times/