Top 10 Stories of 2016, #4: Big Changes at PokerStars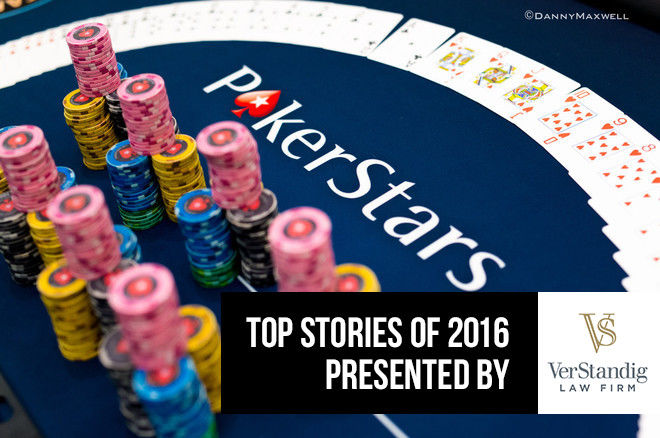 This year's Top Stories are brought to you by the VerStandig Law Firm, LLC. Combining a keen understanding of the gaming world and an equally keen understanding of the law, Mac VerStandig and his colleagues are devoted to fighting on behalf of the poker community and its members.
When PokerNews compiled its list of the top 10 stories of 2015, the online poker changes at PokerStars and Full Tilt sat atop the pile.
PokerStars overhauled its VIP program with the StarsCoin concept and massively reduced the value of the various VIP levels by removing SuperNova Elite, moves which were met with outcries, and ultimately strike action, by large numbers of PokerStars' vast customer base.
Over the past 12 months, PokerStars has been in the headlines seemingly every week, from its liquidity merge with Full Tilt, the scrapping of the popular European Poker Tour, its entrance into the U.S. market and the spotlight being placed on former director of parent company David Baazov for all the wrong reasons.
PokerStars and Full Tilt Merge
A statement from PokerStars in May 2016 revealed Full Tilt and PokerStars were to merge their player bases, creating a larger player pool and a wider choice of tournaments and cash games for Full Tilt customers.
The migration was successfully completed on May 17 and Full Tilt players were immediately able to play in tournaments that were previously only available to PokerStars' players. Many of Full Tilt's features and games, such as its Jackpot Sit & Go and The Deal side game, are present.
Players who only held a Full Tilt account could log in with their old details, but customers with a PokerStars account that was paired with a Full Tilt account were prompted to migrate their accounts to reflect their PokerStars details.
European Poker Tour Scrapped
The long-running European Poker Tour was scrapped towards the end of 2016, with EPT Prague being the last stop ever on the tour. Other minor tours, including the UK & Ireland Poker Tour (UKIPT), were also removed from the schedule and replaced by what PokerStars calls the Championship and Festival Tours.
PokerStars Championships will last between 10 and 11 days and culminate in a €/£/$5,000 Main Event, while the PokerStars Festivals will take place over the course of six or seven days, be more focused on recreational players and feature a €/£/$1,000-1,500 buy in Main Event.
Reactions to the changes were, on the whole, positive mostly because the new tour is heading to new locations such as Rozvadov in the Czech Republic, Panama and Macau.
PokerStars announced the first seven stops of the Championships and Festival schedule for 2017, which sees events take place in the Bahamas, London, Rozvadov, Panama, Macau, the Monte-Carlo Casino and Barcelona.
David Baazov Has a Busy Year
David Baazov started 2016 as the CEO of Amaya, PokerStars' parent company, planning an all-cash offer to take over the company he ran, but then hit the headlines for all the wrong reasons.
Just over a month after news broke of Baazov planning an all-cash offer for Amaya, he found himself having to take a leave of absence after accusations of insider trading were made against him. Baazaov was accused of five counts of insider trading after an investigation that began in late 2014.
"These allegations are false and I intend to vigorously contest these accusations. While I am deeply disappointed with the AMF's decision, I am highly confident I will be found innocent of all charges," Baazov said in a statement.
Baazov was ultimately removed from his role as CEO in August 2016, three months after announcing he would not seek reelection at Amaya's first quarter results meeting.
Less than a month after stepping down as Amaya's CEO, Baazov was struck with another blow when more insider trading evidence was allegedly uncovered, evidence that suggested Baazov made approximately $1.5 million in profit from illegal trading.
These allegations are false and I intend to vigorously contest these accusations.
Despite all the negativity surrounding Baazov, he refused to give up on his plans of buying Amaya and he fronted a group who proposed purchasing the gambling giant for a reported $6.7 billion. Investment Bank KBC denied any involvement in Baazov's purchase despite Baazov naming them as an equity funder in his ambitious bid, forcing Baazov to find alternative investors.
PokerStars Reenters U.S; Becomes a Major Player in New Jersey
PokerStars finally reentered the United States of America when it successfully launched its services in New Jersey.
Players in the Garden State of New Jersey have been able to play on PokerStars since it soft launched on March 18, 2016. Within a month, PokerStars announced it was running a 54-event Spring Championship Of Online Poker (SCOOP) with over $1 million guaranteed.
Currently, PokerStars NJ is the second-largest operator in the Garden State, narrowly behind WSOP/888 but some distance ahead of former leader party Borgata.
The VerStandig Law Firm, LLC represents poker professionals, sports bettors and advantage players across the United States. The firm assists clients in connection with legal issues including personal LLC formation and operation, tax planning that focuses on gaming deductions and exemptions, casino disputes, and personal matters spanning from divorce to criminal dust-ups.