Montreal Nationals Starts Slow, But Finish On Top of the GPL Americas Conference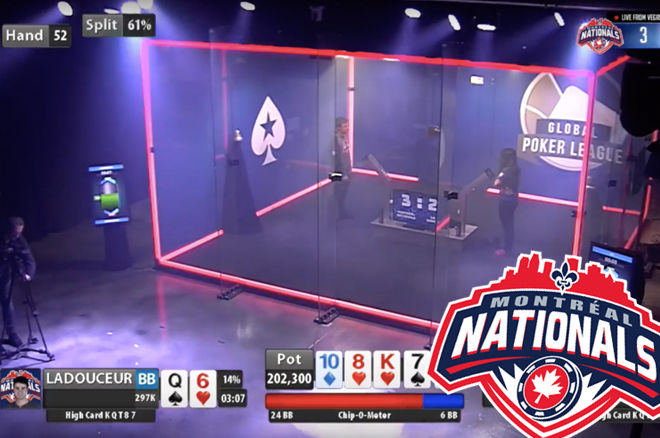 The Montreal Nationals are heading to the first Global Poker League Final after defeating the LA Sunset in six games. The final match saw team managers, Marc-Andre Ladouceur of the Montreal Nationals beat Maria Ho of the LA Sunset to guarantee a spot in Thursday's final.
The day started with the Nationals playing against the fourth seed San Francisco Rush. The Nationals went down 0-2 and it looked like the Rush might upset the top seed. Pascal Lefrancois had travel issues and missed his first match so Mike McDonald filled in, but he lost to Jonathan Jaffe. McDonald would, however, go on to win two of the next three matches, including a game seven victory over Jaffe to help the Nationals win the match. Lefrancois showed up in time to win game four against Jaffe as well.
The next series of the day was the second seed LA Sunset led by team manager Maria Ho playing against the third seed Sao Paolo Mets. The Mets brought in probably the hottest player, Thiago Nishijima, who was riding a heads-up winning streak that continued when he beat Ho in games three and six. However, in the deciding game, Olivier Busquet bested Nishijima to send his team through to the Americas Conference Final to face the Montreal Nationals.
The Conference finals started with the Sunset falling to 0-2 after McDonald and LeFrancois continued their winning ways beating Chance Kornuth and Busquet in games one and two. It was Ho that got things turned around in game three, defeating Ladouceur to bring the series to 2-1.
Kornuth followed up Ho's win by defeating McDonald in an epic 74 hand match. Lefrancois then beat Busquet for the second time in the series, going undefeated for the day. Ladouceur finished the Sunset off when he defeated Ho in a match where she got the hot seat for the third time today. With only four seconds to make her decisions, the hot seat had at least some influence on the outcome of the match.
The Montreal Nationals finished the regular season with the most points of both divisions and will await the winners of the Eurasia Conference. The Eurasia Conference Playoff starts at noon and the winners will face the Nationals on Thursday for the first GPL Championship.