EPT Prague Money Bubble Bursts With Chouity Leading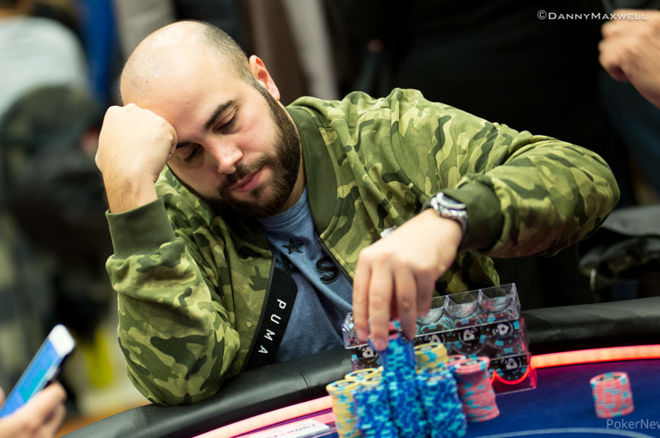 The last Main Event ever of the PokerStars European Poker Tour saw 591 players return to the tables of the Hilton Hotel in Prague and another 13 hopefuls ponied up €5,300 to boost the overall attendance to 1,192. This set a new record for the festival in the Czech capital and the massive prize pool of €5,781,200 will be shared among the top 231 spots, with a first-place payout of €774,600.
After six levels of 75 minutes each, the field had been cut down to the last 232 and the clock was stopped to set up hand-for-hand play. It would take another 45 minutes and several survived all ins to determine the bubble boy.
It was Attila Valentai, who lost a flip with ace-king against the black pocket eights of Mike Brandau. Valentai spiked a king on the flop, but Brandau caught one of the two remaining eights on the river to let the bubble burst and all survivors bag up. Niko Koop would have been forced all in two hands later and secured the min-cash of €7,560 with a mere 1,500 chips.
Once all was done and dusted, a familiar face appeared on top of the counts: EPT6 Grand Final champion Nicolas Chouity built his stack early on and always shined in the top 10, eventually claiming 644,000 to his name for the Day 2 lead. Other big stacks include Eduards Kudrjavcevs (547,000), Nandor Solyom (526,500), Matas Cimbolas (481,500), Pedro Lamarca (480,000), Apostolos Bechrakis (478,500), Ludovic Lacay (438,000), Thomas Muehloecker (430,000), Samuel Vousden (428,500), Artur Rudziankov (415,500) and Benjamin Pollak (407,500).
Lamarca would have been the likely chip leader after running hot and busting opponent after opponent, but Anton Petrov's jack-eight for two pair beat the six-three of Lamarca on the money bubble for a huge pot when both players had two pair on the turn.
Other notables returning tomorrow for Day 3 include Pablo Gordillo (313,000), David Peters (305,000), Fabrice Soulier (200,000), Nasr El Nasr (199,500), Juha Helppi (179,000), Ari Engel (106,500) and Team PokerStars Pros Felipe Ramos (106,500) and Vanessa Selbst (69,000).
Among the plethora of eliminations throughout the day were the two Day 1 chip leaders Ronald Morandini and Henrik Hecklen, the Team PokerStars Pros Luca Pagano, Theo Jorgensen and Johnny Lodden, France's Team PokerStars Pro Online Gabriel Nassif, PokerStars Sports Star Fatima Moreira de Melo, Ronny Kaiser, Roberto Romanello, EPT13 Barcelona champion Sebastian Malec and runner-up Uri Reichenstein, Dominik Panka and Charlie Carrel to name just a few.
Carrel was all in short with ace-four suited and failed to improve against ace-eight suited. The Brit then jumped into the newly added €25,500 Single-Day High Roller and reached yet another final table. Sergej Barbarez's move with ace-jack for second pair was no good against the ace-queen suited of Maxim Lykov. Tony Dunst ran with ace-ten into pocket kings on a ten-high board.
The last EPT Main Event ever will recommence with one hour and 11 minutes left in level 15 at blinds and antes of 2,000/4,000/500. Another four levels of 90 minutes each will follow up on that. The PokerNews live reporting team will be there to cover all the action until a winner is crowned next Monday, so make sure to tune back in regularly.
| Table | Seat | Player | Country | Chip Count |
| --- | --- | --- | --- | --- |
| 1 | 1 | Andy Black | Ireland | 39,000 |
| 1 | 2 | Anton Hrabchak | Ukraine | 345,000 |
| 1 | 3 | James Akenhead | UK | 145,500 |
| 1 | 4 | Demosthenes Kiriopoulos | Canada | 327,000 |
| 1 | 5 | Alain Goldberg | Switzerland | 32,500 |
| 1 | 6 | Walter Treccarichi | Italy | 24,500 |
| 1 | 7 | Oleg Vasylchenko | Ukraine | 327,000 |
| 1 | 8 | Joseph Sabe | France | 225,000 |
| | | | | |
| 2 | 1 | Jozef Bartalos | Slovakia | 17,500 |
| 2 | 2 | Juha Helppi | Finland | 208,000 |
| 2 | 3 | Erik Tamm | Sweden | 270,500 |
| 2 | 4 | Yuriy Gapon | Ukraine | 16,000 |
| 2 | 5 | Isidoro Barrena | Spain | 44,000 |
| 2 | 6 | Aleksey Ponakov | Latvia | 212,500 |
| 2 | 7 | Darren Delahunty | UK | 142,500 |
| 2 | 8 | Anooj Saareen | UK | 65,000 |
| | | | | |
| 3 | 1 | Martin Kabrhel | Czech Republic | 126,000 |
| 3 | 2 | Philipp Gruissem | Germany | 46,000 |
| 3 | 3 | Zvi Stern | Israel | 29,500 |
| 3 | 4 | Marius Enebakk | Norway | 163,500 |
| 3 | 5 | Ari Engel | USA | 106,500 |
| 3 | 6 | Beka Iordanishvili | Ukraine | 27,000 |
| 3 | 7 | Friedrich Meyer | Germany | 123,000 |
| 3 | 8 | Krzysztof Stuchlik | Poland | 107,000 |
| | | | | |
| 4 | 1 | Artur Rudziankov | Belarus | 415,000 |
| 4 | 2 | Janos Kurtosi | Hungary | 402,500 |
| 4 | 3 | Martin Bartos | Slovakia | 95,000 |
| 4 | 4 | Kent Roed | Norway | 194,000 |
| 4 | 5 | Aram Sargsyan | Armenia | 96,000 |
| 4 | 6 | Khabat Jahany | Switzerland | 115,500 |
| 4 | 7 | Eduards Kudrjavcevs | Latvia | 547,000 |
| 4 | 8 | Marius Gierse | Germany | 317,500 |
| | | | | |
| 5 | 1 | Robert Gill | Germany | 94,000 |
| 5 | 2 | Anatolii Ozhenilok | Russia | 159,500 |
| 5 | 3 | Ryan McEathron | Canada | 255,500 |
| 5 | 5 | Stefan Fabian | Romania | 214,500 |
| 5 | 6 | Andrea Rocci | Italy | 215,500 |
| 5 | 7 | Sergey Lebedev | Russia | 78,000 |
| 5 | 8 | Kitty Kuo | Taiwan | 65,300 |
| | | | | |
| 6 | 1 | Patrick Leonard | UK | 170,000 |
| 6 | 2 | Fabrice Soulier | France | 200,000 |
| 6 | 3 | Hulya Pehlivanlar | Turkey | 110,000 |
| 6 | 4 | Renjun Yang | China | 39,000 |
| 6 | 5 | Oleksii Kovalchuk | Ukraine | 67,000 |
| 6 | 6 | Anton Wigg | Sweden | 25,500 |
| 6 | 7 | Arne Kern | Germany | 147,500 |
| 6 | 8 | Tsugunari Toma | Japan | 77,500 |
| | | | | |
| 7 | 1 | Ramin Hajiyev | Azerbaijan | 160,000 |
| 7 | 2 | Thomas Taubenschuss | Austria | 50,000 |
| 7 | 3 | Yves Hallague | Israel | 55,500 |
| 7 | 4 | Sergei Petrushevskii | Russia | 143,500 |
| 7 | 5 | Nino Ullmann | Germany | 243,500 |
| 7 | 6 | Dermot Blain | Ireland | 265,500 |
| 7 | 7 | Michael Ho | Canada | 23,000 |
| 7 | 8 | Bobby Zhang | Australia | 59,500 |
| | | | | |
| 8 | 1 | Nicolas Chouity | Lebanon | 644,000 |
| 8 | 2 | Dmitrii Deviatov | Russia | 75,500 |
| 8 | 3 | Simon Charette | Canada | 213,000 |
| 8 | 4 | Seyed Homayoun Ghavam | Iran | 146,500 |
| 8 | 5 | Grigorii Rodin | Russia | 25,500 |
| 8 | 6 | Niko Koop | Germany | 1,500 |
| 8 | 7 | Dong Zhao | China | 133,000 |
| 8 | 8 | Jasper Meijer Van Putten | Netherlands | 111,000 |
| | | | | |
| 9 | 1 | Qinnan Wei | China | 49,000 |
| 9 | 2 | Thomas Lefort | Canada | 260,000 |
| 9 | 3 | Mihai Manole | Romania | 78,000 |
| 9 | 4 | Tobias Laubert | Germany | 106,500 |
| 9 | 5 | Dejan Pustoslemsek | Slovenia | 223,000 |
| 9 | 6 | David Sierra Merino | Spain | 88,000 |
| 9 | 7 | Cristinel Dumitru | Romania | 42,500 |
| 9 | 8 | Vojtech Cervinka | Czech Republic | 31,500 |
| | | | | |
| 10 | 1 | Krzysztof Dulowski | Poland | 154,000 |
| 10 | 2 | Vanessa Selbst | USA | 69,000 |
| 10 | 3 | Benjamin Philipps | UK | 216,500 |
| 10 | 4 | Jonathan Abdellatif | Belgium | 173,000 |
| 10 | 5 | Pablo Gordillo | Spain | 313,500 |
| 10 | 6 | Gergely Bartos | Hungary | 64,000 |
| 10 | 7 | Pascal Lefrancois | Canada | 11,500 |
| 10 | 8 | Clement Genon-Catalot | France | 177,000 |
| | | | | |
| 11 | 1 | Piotr Franczak | Poland | 32,000 |
| 11 | 2 | Johan Guilbert | France | 159,000 |
| 11 | 3 | Georges Chehade | Lebanon | 81,500 |
| 11 | 4 | Richard Toth | Hungary | 192,500 |
| 11 | 5 | Martin Nikolov | Bulgaria | 82,500 |
| 11 | 6 | Doron Davidovitz | Israel | 77,000 |
| 11 | 7 | Vojtech Horut | Czech Republic | 149,500 |
| 11 | 8 | Mitch Johnson | UK | 121,500 |
| | | | | |
| 12 | 1 | Karol Radomski | Poland | 197,000 |
| 12 | 2 | Jose Antonio Jaraiz Lopez | Spain | 68,000 |
| 12 | 3 | Marta Munoz | Spain | 112,000 |
| 12 | 4 | Michal Ozimek | Poland | 160,500 |
| 12 | 5 | Mikolaj Zawadzki | Poland | 38,000 |
| 12 | 6 | Benjamin Richardson | Australia | 285,000 |
| 12 | 7 | Michael Rocco | USA | 119,000 |
| 12 | 8 | Apostolos Bechrakis | Greece | 478,500 |
| | | | | |
| 13 | 1 | Stoyan Obreshkov | Bulgaria | 428,500 |
| 13 | 2 | Mykhailo Gutyi | Ukraine | 42,000 |
| 13 | 3 | Jean Souprayenmestry | France | 75,000 |
| 13 | 4 | Mikhail Petrov | Russia | 59,500 |
| 13 | 5 | Alexandros Vlachakis | Greece | 120,500 |
| 13 | 6 | Konstantinos Meliopoulos | Greece | 33,500 |
| 13 | 7 | Michiel Broskij | Netherlands | 324,500 |
| 13 | 8 | Tim Cerkvenik | Slovenia | 57,000 |
| | | | | |
| 14 | 1 | Kayhan Mokri Roshanfekr | Norway | 241,500 |
| 14 | 2 | Van Hiep Tran | Germany | 170,500 |
| 14 | 3 | Vage Melikyan | Russia | 36,500 |
| 14 | 4 | David Yan | New Zealand | 135,500 |
| 14 | 5 | Juan Bastida Perez | Spain | 265,000 |
| 14 | 6 | Jukka Paloniemi | Finland | 128,500 |
| 14 | 7 | Oren Rosen | Israel | 78,000 |
| 14 | 8 | Aleksandr Nemtcov | Russia | 300,000 |
| | | | | |
| 15 | 1 | Arnaud Peyroles | France | 148,000 |
| 15 | 2 | Hirokazu Kobayashi | Japan | 311,500 |
| 15 | 3 | Thomas Lentrodt | Germany | 136,000 |
| 15 | 4 | Alexandru Gavrilut | Romania | 33,000 |
| 15 | 5 | Dick Postel | Netherlands | 169,000 |
| 15 | 6 | Miha Travnik | Slovenia | 25,500 |
| 15 | 7 | Denis Pisarev | Russia | 32,000 |
| 15 | 8 | Anton Afanasyev | Russia | 281,000 |
| | | | | |
| 16 | 1 | Aivaras Bardauskas | Lithuania | 52,000 |
| 16 | 2 | Salvatore Bonavena | Italy | 68,000 |
| 16 | 3 | Joao Vieira | Portugal | 37,500 |
| 16 | 4 | Romain Lewis | France | 153,500 |
| 16 | 5 | Maxim Lykov | Russia | 323,000 |
| 16 | 6 | Cornelis Van Gent | Netherlands | 65,000 |
| 16 | 7 | Elias Talvitie | Finland | 89,000 |
| 16 | 8 | Adriaan Schaap | Netherlands | 6,000 |
| | | | | |
| 17 | 1 | Jason Wheeler | Mexico | 126,000 |
| 17 | 2 | Piotr Kuszczak | Poland | 31,000 |
| 17 | 3 | Mikhail Korotkikh | Russia | 210,000 |
| 17 | 4 | Matan Krakow | Israel | 166,000 |
| 17 | 5 | Ludovic Lacay | France | 438,000 |
| 17 | 6 | Lasse Aastad Kjos | Norway | 11,000 |
| 17 | 7 | Viteszlav Pesta | Czech Republic | 353,000 |
| 17 | 8 | Viacheslav Belyaev | Russia | 153,000 |
| | | | | |
| 18 | 1 | Andrew Hulme | UK | 148,500 |
| 18 | 2 | Vebjorn Monstad | Norway | 30,500 |
| 18 | 3 | Robert Schulz | Germany | 80,000 |
| 18 | 4 | Xavier Detournel | France | 22,000 |
| 18 | 5 | Viktor Litovchenko | Russia | 30,500 |
| 18 | 6 | Felipe Ramos | Brazil | 106,500 |
| 18 | 7 | Laszlo Bujtas | Hungary | 207,000 |
| 18 | 8 | Daniel Wilson | Ireland | 178,000 |
| | | | | |
| 19 | 1 | Josip Vidovic | Croatia | 200,000 |
| 19 | 2 | Koichi Nozaki | Japan | 212,500 |
| 19 | 3 | Samy Salah | France | 165,000 |
| 19 | 4 | Eoghan Odea | Ireland | 49,500 |
| 19 | 5 | Dmytro Samoilenko | Ukraine | 176,000 |
| 19 | 6 | Gang Wang | China | 157,000 |
| 19 | 7 | Francois Frejdles | Belgium | 135,000 |
| 19 | 8 | Klas Lofberg | Sweden | 184,500 |
| | | | | |
| 20 | 1 | Paul-Francois Tedeschi | France | 196,000 |
| 20 | 2 | Tomas Kubaliak | Slovakia | 200,000 |
| 20 | 3 | Elvis Petcu | Romania | 47,000 |
| 20 | 4 | Maxi Lehmanski | Germany | 211,500 |
| 20 | 5 | Konstantin Puchkov | Russia | 19,500 |
| 20 | 6 | Yosuke Sekiya | Japan | 32,500 |
| 20 | 7 | Mikhail Sokolovskiy | Russia | 149,500 |
| 20 | 8 | Viacheslav Goryachev | Russia | 49,000 |
| | | | | |
| 21 | 1 | Thomas Muehloecker | Austria | 430,000 |
| 21 | 2 | Padraig O'Neill | Ireland | 153,500 |
| 21 | 3 | Kliment Tarmakov | Denmark | 85,000 |
| 21 | 4 | Wael Sarkis | Lebanon | 29,000 |
| 21 | 5 | Joan Fabregas Capellas | Spain | 45,500 |
| 21 | 6 | Pedro Lamarca | Spain | 448,000 |
| 21 | 7 | Matas Cimbolas | Lithuania | 481,500 |
| 21 | 8 | Marton Czuczor | Hungary | 258,000 |
| | | | | |
| 22 | 1 | Adrien Allain | France | 304,000 |
| 22 | 2 | Antti Halme | Finland | 326,500 |
| 22 | 3 | Alexey Romanov | Russia | 186,500 |
| 22 | 4 | Seref Dursun Anar | Turkey | 77,500 |
| 22 | 5 | Yang Zhang | China | 92,500 |
| 22 | 6 | Vlado Banicevic | Montenegro | 109,000 |
| 22 | 7 | Steven Thompson Vila | Costa Rica | 30,000 |
| 22 | 8 | Andreas Samuelsson | Sweden | 231,500 |
| | | | | |
| 23 | 1 | Peter Jaksland | Denmark | 36,500 |
| 23 | 2 | Rumen Nanev | Bulgaria | 64,000 |
| 23 | 3 | Nandor Solyom | Romania | 526,500 |
| 23 | 4 | Illia Kainov | Ukraine | 110,500 |
| 23 | 5 | Roman Papacek | Czech Republic | 28,500 |
| 23 | 6 | Anton Petrov | Russia | 335,000 |
| 23 | 7 | Konstantin Bucherl | Germany | 117,500 |
| 23 | 8 | Julian Herold | Germany | 114,000 |
| | | | | |
| 24 | 1 | Mike Brandau | Germany | 209,500 |
| 24 | 2 | Sebanien Garrosi | Switzerland | 38,000 |
| 24 | 3 | Kristof De Bruycker | Belgium | 67,600 |
| 24 | 4 | Marek Grzeska | Poland | 128,500 |
| 24 | 5 | Levente Szabo | Hungary | 63,500 |
| 24 | 6 | Roman Korenev | Russia | 195,500 |
| 24 | 7 | Danut Chisu | Romania | 306,000 |
| 24 | 8 | Dzmitry Urbanovich | Poland | 83,500 |
| | | | | |
| 25 | 1 | Pierre Calamusa | France | 210,000 |
| 25 | 2 | Konstantin Uspenskiy | Russia | 88,000 |
| 25 | 3 | Josef Pavelka | Czech Republic | 336,500 |
| 25 | 4 | Aki Pyysing | Finland | 46,500 |
| 25 | 5 | David Peters | USA | 305,000 |
| 25 | 6 | Samuel Vousden | Finland | 428,500 |
| 25 | 7 | Vitezslav Cech | Czech Republic | 24,500 |
| 25 | 8 | Martin Staszko | Czech Republic | 13,000 |
| | | | | |
| 26 | 1 | Caufman Talley | USA | 187,500 |
| 26 | 2 | Roman Pavliuk | Ukraine | 379,500 |
| 26 | 3 | Ivan Deyra | France | 139,000 |
| 26 | 4 | Nasr El Nasr | Germany | 199,500 |
| 26 | 5 | Sam Cohen | USA | 211,500 |
| 26 | 6 | Benjamin Pollak | France | 407,500 |
| 26 | 7 | Ugur Coskun | Turkey | 142,000 |
| 26 | 8 | Kiryl Radzivonau | Belarus | 314,000 |
| | | | | |
| 27 | 1 | Kyosti Isberg | Finland | 388,000 |
| 27 | 2 | Netanel Amedi | Israel | 70,000 |
| 27 | 3 | Alexander Paygusov | Russia | 178,000 |
| 27 | 4 | Oleg Titov | Russia | 251,500 |
| 27 | 5 | Christian Christner | Germany | 228,000 |
| 27 | 6 | Arthur Conan | France | 238,000 |
| 27 | 7 | David Lopez Llacer | Spain | 179,000 |
| 27 | 8 | Thanh Ngo | Vietnam | 57,500 |
| | | | | |
| 28 | 1 | Carlo Savinelli | Italy | 99,500 |
| 28 | 2 | David Urban | Slovakia | 72,500 |
| 28 | 3 | Scott Margereson | UK | 221,000 |
| 28 | 4 | Navot Golan | Israel | 15,500 |
| 28 | 5 | Borge Sandsgaard | Norway | 282,000 |
| 28 | 6 | Joe Mouawad | Lebanon | 144,000 |
| 28 | 7 | Jerry Wong | USA | 313,000 |
| 28 | 8 | Christopher Andler | Sweden | 215,000 |
| | | | | |
| 29 | 1 | Jan Nakladal | Czech Republic | 122,500 |
| 29 | 2 | Andrii Nadieliaiev | Ukraine | 66,000 |
| 29 | 3 | Paul Hoefer | Germany | 115,500 |
| 29 | 4 | Dawid Borkowski | Poland | 42,500 |
| 29 | 5 | Charalampos Lappas | UK | 40,000 |
| 29 | 6 | Daniel Dvoress | Canada | 117,000 |
| 29 | 7 | Lucian Draghici | Canada | 55,000 |
| 29 | 8 | Aykutalp Yilmaz | Turkey | 118,500 |