UK & Ireland Sunday Briefing: Great Night Peter Rees, Rick Trigg, and Marc Wright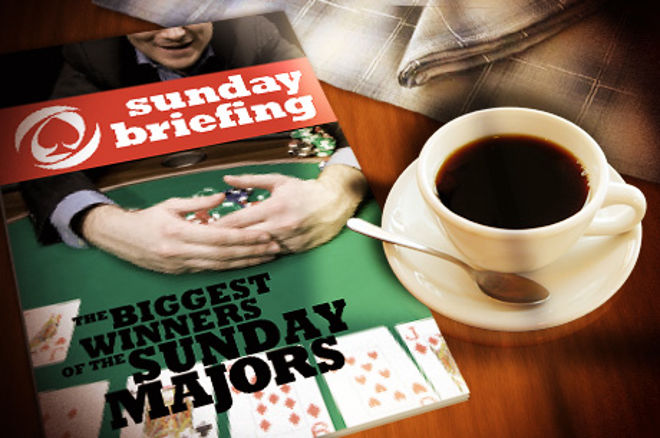 Peter "Solidthought" Rees enjoyed a superb night at the PokerStars virtual felt on Sunday 6 November thanks to winning on major tournament and reaching the final table of another.
The sit & go specialist took down the $215 Sunday Warm-Up and locked up $44,708.47 after a four-way chop before finishing in fourth place in the $109 Sunday Starter for an additional $2,738.61. Joining Rees at the final table of the Sunday Warm-Up were Jack "jAkDAriPAA" O'Neill and UK-based Pole "bartek901" who fell in eighth and ninth places for $6,304.39 and $4,575.10.
Another player reaching two PokerStars final tables was Sheffield's Rick "ThEcLaiMEer" Trigg who finished sixth in the $109 Sunday Kickoff for $4,494.24 and third in the Hot $162 for $8,538.98.
Other big PokerStars scores from Sunday include the $6,192.97 won by Robert "spitznspots" Snell who finished fifth in the $109 Sunday Kickoff, "david owie" who finished third in the Hot $162 for $4,427.95, "jackfive211" who won the $109 Bounty Builder for $16,047.50, and Ludovic "ludovi333" Geilich who collected $10,696.57 for finishing fifth in the $1,050 Sunday Grand PLO.
One of the biggest scores of the weekend is now nestled in the PokerStars account of UK-based Spaniard David "davaman" Lopez who won the $1,050 Sunday Grand NLHE for a cool $55,408.39, while "carpediem200" must be pleased with the $7,341.49 he won for his fifth place finish in the Big $215.
Shoutouts also to Louis "5pathic" Salter who won the $215 Sunday Supersonic for $23,174.90 after a three-way chop, to "PoluKalos" who banked the $18,118.90 first place prize in the Hot $215, and to Ireland's "Tipsymac" who finished third in the $109 Sunday Wrap-Up for $4,849.49.
Over at Partypoker, Marc "railthe23price" Wright won the $40,000 Gtd Drago for an $8,949.05 addition to his bankroll, and then took down the $50,000 Gtd Weigh-In for an additional $11,910.58.
Phil "PhilRoyal888" Mighall finished in eighth place in the inaugural $300,000 Gtd Title Fight, which overlaid by more than $40,000, and collected $5,850, with Oliver "ThreeBunPass" Price securing a $46,312.50 payout by emerging victorious in the $2,600 Super High Roller event.
Wrapping up the Sunday Briefing for another week are the results from 888poker.
This week's $120,000 Mega Deep saw "digby1964" finish in seventh place for $4,225 but that sum was crushed by the $20,673.06 that "djmtm" collected for winning the tournament, albeit after a heads-up deal.
Ireland's Dan "xXGlamBabeXx" Wilson added $1,130 to his bankroll by finishing eighth in the $45,000 Turbo Mega Deep, while "whyfloatme" continued their impressive run at 888poker by finishing eighth in the $60,000 Sunday Crocodile for $1,505.25.